ACC Entry Exam Syllabus: The ACC exam is conducted only for the candidates to be an officer in the Indian Army. A candidate who is already in service with the Indian Air force, Indian Navy and Indian Army, etc. They can apply for the Army Cadet college to be an officer in the Indian Army. Here in this article, I will share with you the complete details of the ACC Entry Exam Syllabus, ACC Exam selection process and Exam pattern of ACC Exam, etc. I will try to give you complete information about this. To get all the information about this, you can check the article below: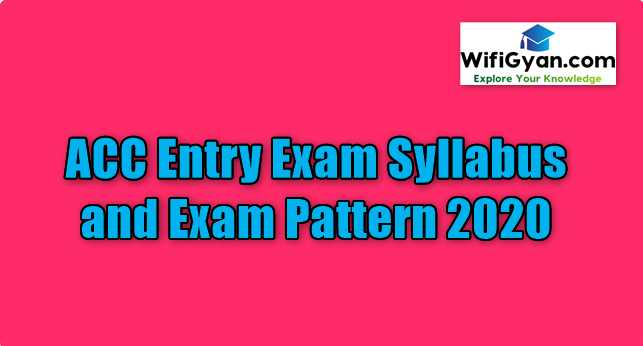 ACC Entry Exam Syllabus and Exam Pattern 2020:
In order to become an officer in the Indian Armed forces, one will have to clear the SSB Interview. It is mandatory to clear, you will need to prepare so well for this. here in this today, I will tell you today that Syllabus of Written exam only and will also give you little bit guidance about the SSB Interview. First, we will see the selection process of Army cadet College and after that, we will see the complete syllabus of this exam and its pattern, etc.
Selection Process of Army Cadet College:
The selection process of Army Cadet college seems very simple it is actually not. The selection of the candidates will be done on the basis of:
Written Exam
SSB INterview
Medical test
One will have to clear these all phases to be considered for the selection of the Army Cadet College. Here in this, we will see the syllabus of the ACC entry Exam and after that, we will see the exam pattern and marking Scheme of Army cadet college.
Syllabus of Army Cadet college Written Examination:
The Syllabus is pretty much simple, one can easily prepare this within time. The question paper of Army cadet college written examination will be divided into the 4 sections and those four sections are:
General Mental ability
Current General Awareness
Interactive Communication English
Academic Content Test
These are the subjects that one has to cover for the written examination. Let's discuss this syllabus in detail and see the topics that would be asked in the Examination.
General Mental Ability: In this section, you will have to cover this following topics:
Reasoning Ability
Non-verbal reasoning
Numerical ability
Current General Awareness: In this section, you have to prepare a complete general Knowledge Portion. A can be asked from anywhere. You can prepare these following topics in this:
Latest Current Affairs
Indian Constitution
History
Economy
Geography
Indian Politics
Indian Navy & Military
Religions
Books & Authors
Sports
Awards, etc
Interactive Communication English:  The paper of English would have two sections and one section would be Objective type question and section 2 would be descriptive. For section one, you can cover the following topics:
Sentence Improvement
Reading Comprehension
Synonyms
Antonyms
One Word Substitution
Para-Jumble
Sentence-Jumble
Spot the Error
Cloze Test
Academic Content Test: In this, you have to cover some academics subjects like:
Mathematics
General Science
Humanities
This is the complete syllabus of Army cadet college and a candidate will have to cover the complete syllabus of it to score well in the Examination. Now let's see the complete Exam Pattern and Marking Scheme of Army Cadet College. ACC Entry Syllabus done now check the exam pattern.
Exam Pattern of Army Cadet College:
Here is the exam pattern of the Army cadet College written Examination. You can check the complete details in the Given column below:
| | | |
| --- | --- | --- |
| Subject | No.of Question | Total Marks |
| General Mental ability | 150 | 300 |
| Current General Awareness | 150 | 300 |
| Interactive Communication English | 120 objective Questions + 30 marks descriptive question | 300 |
| Academic Content Test | 150 | 300 |
Each Section would be for 300 marks.
Each question carries 2 marks.
A candidate will be given 2 marks for each right answer.
For the complete details regarding the marking schemes of the Army cadet college, You can the official website of the ACC.
How to prepare for ACC Written Exam:
To prepare for any exam, it is always important to understand the syllabus and Exam pattern of the examination. ACC Entry Exam Syllabus seems a bit broad and hard to cover the entire syllabus at a time. Prepare a good study plan and try to balance your timing for each subject. Competitive Exams always need dedication and passion for your study and your dreams. Be motivated towards your dreams and keep chasing it.
Set a proper plan for each subject
Give equal timing to each subject.
The English portion is easiest among them, you can score better in this section.
Prepare your English a little bit better than other subjects
Start reading the newspaper for the update of the current affairs.
you can also download some apps on your mobile phone for the current affairs.
The preparation for this examination can be done in many ways like you can prepare through some books or can join a coaching institute for the preparation of this.
This is all about the ACC Entry Exam Syllabus and Exam Pattern 2020. If you like this article and find useful then share it with your friends. also, feel free to comment in the below section. if you guys want to appreciate my afford please share my post with your friends by which they can also avail of my services. For any Private add and other inquiry mails us at [email protected]