Indian Airforce AFCAT Syllabus 2020: The AFCAT Exam is conducted for the selection of the officers into the Indian Air force Service. All the candidates can join any branch of the Indian Air force like Technical Branch, Flying Branch or Ground Duty officers branch etc. they can join through the AFCAT entry. Here in this article, I am going to share with you the complete details about the examination that one to clear in the AFCAT Selection process. Here you will get to know the AFCAT Syllabus 2020 and Exam Pattern etc. To get the complete details about Air force standard Entrance test, check the entire article below. I have shared all the information that is related to the AFCAT Examination.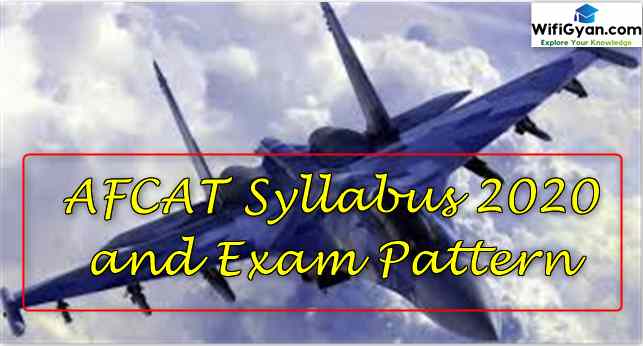 AFCAT 1/2020 Expected Cutoff, With Last 5 Year Cut off
AFCAT Syllabus 2020 and Exam Pattern:
In the AFCAT Selection Process, One will have to clear the Written Examination which is computer Based Online exam and all the candidates who clear, will proceed for the SSB Interview which is the toughest part of the selection and then Medical Examination at the Military Hospital. Here I will tell you the complete details about the Written Examination of the AFCAT and will tell you the full exam pattern and syllabus that you have to prepare for the written examination etc.
AFCAT Exam Pattern:
To join the Technical Branch in the Indian Air force, there is a special section in the examination that one has to clear which is called as EKT (Engineering Knowledge Test). For the Flying branch here is the exam pattern:
Subjects
Total Number of questions
General Awareness
25
 English
25
Military Aptitude Test
25
Numerical
Ability and Reasoning
25
EKT(Engineering Knowledge Test) Exam Pattern:
In this paper, A candidate will be given 50 questions of each stream of engineering. You have to select anyone. You will be given questions from mechanical Engineering, Computer Science Engineering, Electrical & Electronics engineering etc.
All the questions in both will be asked in Objective type with Multiple choice answer.
Total Time Duration:2 hours
Total Time Duration for EKT: 45 minutes
Total Marks: 300
Total Marks for EKT: 150
A candidate will be given 3 marks for each right answer.
There is also negative marking: 1 mark will be deducted for each wrong response.
No marks will be deducted for unattempted questions.
This is the complete AFCAT Exam Pattern 2020 Examination. It is mandatory to clear the EKT Paper to join the Technical Branch of the Indian Air force while for the other branches you need to clear the first paper only. Now let's see the complete syllabus of AFCAT 2020 Exam that one has to prepare for the Computer Based Online Examination.
AFCAT Syllabus 2020 of Online Exam:
For the AFCAT (Air force Common Admission Test) Computer Based Online Examination. One will have to prepare the four subjects for the flying branch and Ground duty officers branch.
General Awareness
English
Numerical Ability and Reasoning
Military Aptitude Test
These are the four subjects that you have to prepare for the AFCAT Written Exams. Here are the topics of these subjects. It may help in the preparation.
General Awareness:
History
Sports
Geography
Art and Culture
Current Affairs
Politics
Civics
Environment
Defence
Basic Science
You have to prepare all the topics that come under the general Knowledge. There are many books in the market that are named as AFCAT General Awareness book. You can take help from there to prepare better.
English:
Sentence Improvement
Reading Comprehension
Para-Jumble
Sentence-Jumble
Cloze Test
You just need to prepare the basics of grammar. You can take the help of grammar book from class 6th to class 10th. It would be enough to score better in this.
B.B Jain English Grammar Book, Pdf Download For SSC, Bank
Lucent General English Pdf Download For English Grammer
Numerical Ability:
Decimal and Fraction
Simple Interest & Compound Interest
Time & Distance (Trains/Boats & Streams)
Percentage
Ratio & Proportion
Time and Work
Average
Profit & Loss
R.S. Aggarwal Quantitative Aptitude Free e-book Download
Reasoning & Aptitude Free eBook Download By Nem Singh, IRS
Reasoning and Military Aptitude:
Number Series.
Non-Verbal Series.
Embedded Figures.
Mirror Images.
Figure Classification.
Clocks & Calendars.
Problem Solving.
Decision Making.
Relationship Concepts.
Verbal and Figure Classification.
Blood Relations.
Coding-Decoding.
Number Ranking.
Arithmetical Computation.
Arithmetical Number Series
The Military Aptitude one of the most challenging sections of the AFCAT exam. You need to work on attention and regular practice to prepare for this section. When preparing for Military aptitude, focus more on verbal skills and spatial ability.
This is the complete syllabus of th AFCAT Examination for the Flying branch and Ground Duty Branch. Now let's see the complete details about the EKT Syllabus that one has to prepare in this.
AFCAT EKT Syllabus:
In the Engineering Knowledge Test, A candidate will be asked questions from the Mechanical Stream, Computer Science and Electrical or Electronics etc.
AFCAT EKT Previous Papers PDF Download, Engineering Knowledge Test
Mechanical Streams:
Thermodynamics
Fluid Mechanics
Hydraulic Machines
Engineering Mechanics
Materials Science
Manufacturing Science
Machine Drawing
Computer Science:
Information Technology
Network Theory Design
Analog
Digital Electronics
Computer Networks
Switching Theory
Electronic Devices
Electronics & Electrical:
Microwave Engineering
Analog
Digital Electronics
Electronic Devices
Telecommunication Systems
Microwave Engineering
Control Engineering
Electrical Engineering
These are the given topics to make you understand the basics of this. You have to prepare your stream correctly. A question can be asked from any subjects. To prepare better for AFCAT, you must check the books that are specially made for this. It will help you a lot in the preparation.
You must solve the previous year question papers for better understanding of exam level. It will also give you a proper understanding and idea to solve the paper in less time. This is one of the best entry to join Indian Air force as an Officer after the Engineering. All the candidates who have done engineering or appearing in final year or semester are eligible to apply for this entry. Prepare better and do best in the examination.