Hello Our Readers! We have been always there to help you up with your preparations. This time its about Allahabad High Court RO Exam Pattern and Syllabus, 2019. As you know Allahabad High court is going to conduct examination for Review officer. Here we are telling you about AHC RO Exam pattern and Syllabus.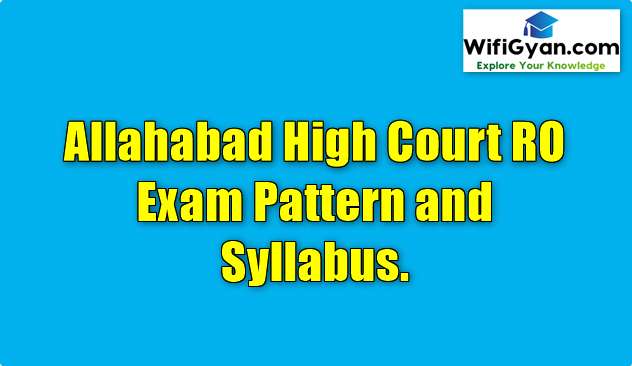 Allahabad High Court RO ARO Question Paper With Solution by Ghatna chakra
Allahabad High Court RO Exam Pattern and Syllabus, 2019:-
So Allahabad High Court RO is an examination which is a golden opportunity for those who are trying to get a government job. Online Applications are invited from the Indian citizens and the candidates of other categories recognized by the Government of India for filling up the posts of Review Officer(RO) in the Establishment of High Court, Allahabad. That is to say Under the ALLAHABAD HIGH COURT OFFICERS AND STAFF (CONDITIONS OF SERVICE AND CONDUCT) RULES, 1976 and orders issued by The Chief Justice of India from time to time in this regard.
Allahabad High Court ARO Practice Set by Youth Competition Times PDF
Process for Online Application:
Candidates are firstly required to go to the Allahabad High Court's official website www.allahabadhighcourt.in/ and click on the link "RECRUITMENT".
Above all, He/she should thoroughly go through the vacancy notification/ advertisement first to let him/her know the eligibility, age criteria etc.
Most Importantly All the Candidates are required to fill the Registration Form wherein basic details of the candidates will be filled, post with the Login ID and Password (Date of Birth in DDMMYYYY Format) will be displayed on the computer screen and also sent to Registered Mobile Number.
Meanwhile, Respected Candidates are required to preserve the same certainly until the result is declared
Candidates will have to upload the scanned copy of the following documents for instance:
(a) Recent Colored Photograph (b) Signature. The size of this scanned Photograph should be less than 80Kb and signature also should be less than 80Kb.
Further more Examinations for all the posts may be conducted simultaneously. All the candidates who, have completed and submitted the form. They shall be provisionally allowed to appear in the examination. To sum up, this will be on the basis of their particulars provided in the application form.
Allahabad High Court Previous Year Paper For Various Post Download
AHC RO Selection Procedure and Important Dates:-
There will be two stages of examination:
Stage-I– The Stage-I Examination shall be objective type test on OMR Sheet (offline) comprising of 200 Questions with maximum marks as 200. The duration of the objective type test shall be of 150 Minutes (Two and half hour). There shall be no Negative marking in objective type test.
Stage-II– The Stage-II Examination (Computer Knowledge Test) shall be of 50 marks and the time duration shall be 15 minutes. Candidates shall be provided a text in English of approximately 500 words which they shall be required to reproduce on the computer in the same format within 15 minutes for adjudging performance of the candidate on the computer.
No interview shall be held for selection.
Subsequently, Final merit list for the post of Review Officer shall be prepared on the basis of total marks obtained by the candidates in the written examination (Objective Type Test) (Stage-I) and Computer Knowledge Test (Stage-II) which will determine their position of the candidate. Moreover, If two or more candidates secure equal marks, the candidate older in age shall be placed above.
Important Dates:-
| | |
| --- | --- |
|  Opening date for Submission of On-Line Application |  30th September 2019 |
|   Opening date for submission of fees in the Bank |  01st October 2019 |
|   Last date for Submisson of On-Line Application |  21st October 2019 |
| Last date for submission of fee |  22nd October 2019 |
Note: Therefore, all the dates are hereby given for all the candidates to remember, so as to perform well in the examination.
Allahabad High Court RO Syllabus, 2019
Therefore, at this single place. You will be provided with all types of content and study material. But you have to do a simple thing likewise to sit back and click on Wifigyaan.com for all your queries. Firstly, all your questions will be solved here. Secondly, all the extra doubts from your side will be also solved just here.
Examination syllabus for all the two stages regarding Allahabad RO examination are hereby tabulated as below:-
Stage-I
Written Examination

(200 MCQ Type Questions)

Time : 02 Hours & 30 Minutes

(Objective Type Test on O.M.R. Answer Sheet)

Syllabus 
Maximum Marks
(A) General Science
200
(B) History of India
(C) Indian National Movement
(D) Indian Polity, Economy and Culture
(E) Indian Agriculture, Commerce and Trade
(F) Population, Ecology and Urbanisation (in India Context)
(G) World Geography & Geography and Resources of India
(H) Current National and International Important Events
(I) General Intelligence
(J) Special Knowledge regarding Education, Culture, Agriculture, Industry, Trade, Living and Social Traditions of Uttar Pradesh
(K) Knowledge of General English and General Hindi of Graduation Level
(L) Elementary Knowledge of Computers.
Note: Stage-II will consist of a Computer Knowledge-based Test for 15 Minutes only. The aggregate marks of that examination will be 50 marks.
Hence, the Grand Total for the RO examination is 250 marks for both the stages of examination. Hope we help you in your preparations. Continue to study hard, and be connected with us. We will try to provide you with all the required content and material as soon as possible.
Must See:- 
For Better Preparation and Better Study material Please Visit Wifigyan.com on a regular basis. Here You will find all the books related to all subjects free of cost. My main aim to help the students who are not able to buy all the expensive books. if you guys want to appreciate my afford please share my post with your friends by which they can also avail my services.