BA LLB Course: There are many career options available for the candidates right after the 12th. Most of the candidates opt for professional courses like MBBS, B.pharma, or LLB, etc. In this article, I will talk about the BA LLB course that one can pursue after class 12th. You will get to know the BA LLB Course: Career Scope and Job Opportunities after the completion of the course etc. To get complete information about the BA LLB course, you must check the entire article below. I have shared all the information about this, that you must know before taking admission.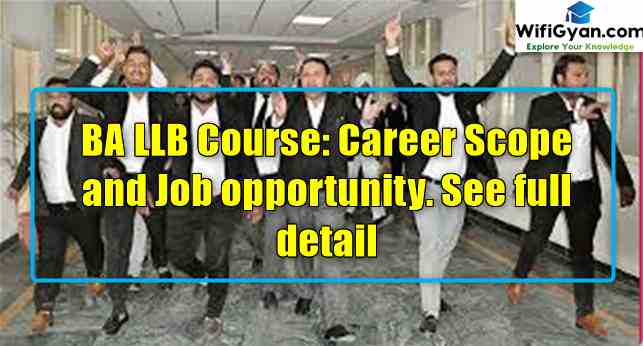 List of professional courses after 12th
BA LLB Course:
All the candidates who have passed class 12th with Science Stream, Commerce Stream, or Arts Stream, etc., all are eligible to pursue this course. There is no age barrier in this. The law is one of the most sought courses in India also the most respected profession. But as we know, many jobless lawyers are roaming around the street. They do have any job, and they are working in other occupations for survival. The degree is just not enough to be a good lawyer. Most of the candidates just pass the course somehow, and they expect to get a flourishing career after the course. The law is the profession where your knowledge matters a lot than your degree. Your experience is the only thing that can make you a better lawyer.
The real struggle in this profession starts after the Course, Once you get a degree from college. Now you have to think about what you have to do with the degree. One of the easiest ways, which is done by most of the peoples, is to start practicing at the lower courts under any senior lawyer. Now we will see all the options that are available after the Course. So we will discuss that one by one.
List of Professional Courses after Graduation
Start Practice:
Right after the completion of your BA LLB Course, you can start practice at the lower Court. There is no restriction for the law students regarding the practice. You can even come to the Court for training in your 2nd or 3rd year of your college. For the better practice and to learn to quick, you must start practicing under the senior lawyers. You will get to learn a lot from them. After the year or the same year, you can apply for the BAR council registration to become an advocate. This is one of the easiest ways to grow your career in this field. There are also many other options that you can do after the course.
Government jobs:
There are many government jobs available for law graduates. One can apply for the Judiciary Examination to become a judge. Many exams are conducted state-wise and at all India level etc. There are many other vacancies too. You can check on the government exam portals regarding the law vacancies.
Join Indian Army as Judge:-
You can join the Indian Army after BA LLB Course as Judge through the JAG Entry Scheme, For more detail, you can see the below article.
[su_button url="https://wifigyan.com/jag-entry-selection-procedure/" target="blank" style="noise" background="#ffe3e4″ color="#0a0908″ size="7″ wide="yes" center="yes" radius="10″ icon_color="#ffff1c" text_shadow="0px 0px 0px #000000″]Army JAG Entry Selection Procedure full detail Click Here[/su_button]
Public Prosecutor:
The central government and every state government hire public prosecutor, and The Public Prosecutor is the essential lawyer for criminal cases. They are basically from the government's side. All the charge sheets that are filed in the court by the police personnel, the public prosecutor is responsible for the further process.
The Public prosecutor is also called as the Government lawyer. To get selected as a Government lawyer. There is no exam or any selection process. The senior judges suggest to them, and later the government approves the name.
BA LLB Course: Career Scope as Legal Advisor:
You can also work as a legal advisor for any company or factory. This is a private job. The government also offers this job, but there is no recruitment for this. Mostly the government lawyers act as Legal advisors in need. Every company needs a legal advisor who can manage all the company's activities legally.
Allahabad High Court RO Exam Pattern and Syllabus.
Pursue LLM:
If you want to study further, you can pursue LLM after the course. You will have more opportunities after the LLM course. You can start teaching at any private law college or opt for government exams preparation. As I said above, that knowledge is the only thing that can make you a better lawyer. It would be easy for you to start practice.
It can not be said that the BA LLB Course is not proper. It entirely depends on you that how you have completed your course. If you have studied well in your college, it will be easy for you to survive after college. The law is the profession that needs tough work and dedication in the initial days. You must have a proper mindset and commitment to do better in this. Whichever field you choose, you will have to work hard.
Scope of BSc in Physics Honours in India
You can make a very good income from this profession but in the initial days, try to focus more on learning. make proper notes of every lawyer's way of arguing and way of judge's hearing etc.
This is the best profession for people who want to be independent in life. There is no one in this profession who can command you. You are your own boss. You have no time-bound. whenever you want, you can get out of the court.
If you have decided to be a lawyer, do not look for Job opportunities after BA LLB. Start your practice right away. You can look for the other field but do not leave your practice. Be a better and qualified lawyer. Our country really needs good lawyers.