Chemistry for the NEET Students is very scoring, but you need a Best Chemistry book for NEET Examination. If you are a hard-working student and wanted to be a doctor in the near future then you have to appear in NEET Examination right after 12th class. Here in this article, we are telling you about the best book for neet chemistry. We are listing below all the essential NEET Chemistry books.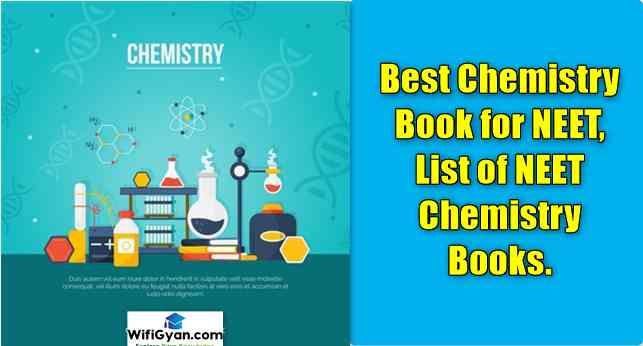 Best Chemistry Book for NEET Examination.
In the NEET examination, you have to solve the 45 questions of Chemistry, which is divided into three-part, Organic, Inorganic and Physical Chemistry. Most of the questions asked for the Organic and Inorganic part but you should focus on every part as equal if you have proper time for preparation. Below we are mentioning the Most Important NEET Chemistry books that you should follow to gain good marks.
First of all, you should complete the NCERT books for basic knowledge-
NCERT Chemistry book of Class XI
NCERT Chemistry Books of Class XII
After Completing the basic you need the reference books for the chemistry, Some of the questions are very tough and you need to apply so many concepts in a single question to solve it, and for this, you need to solve questions from the reference chemistry books. Here below we are listing some of the Important Chemistry books for reference which is referred by the expert teachers and toppers.
List of NEET Chemistry Books 2020:-
Chemistry Practice Book for NEET 2020:-
You have to buy these Best Chemistry Book for NEET from online websites like Amazon or Flipkart and do not try to go out due to corona Virus pandemic. So Stay Home and Stay safe. Keep Study online as much as possible. And Plan your Time table accordingly the weightage of topic or Subject. Below we are listing some free NEET Study Material along with chemistry book for neet examination.
Free Download NEET Study Material 2020:-
NEET Exam Pattern 2020:-
Subjects
No of Questions
Marks
Duration
Physics
45
180
3 Hours
Chemistry
45
180
Biology
90
360
Total
180
720
Marking Scheme
+4 for right and -1 for the wrong answer
Mode of Exam
Offline (Paper Pen)
Type of Question
Multiple Choice Question
NEET 2020 Exam Date
26 July 2020
Syllabus of NEET Chemistry with Weightage of Topics:- 
I have listed Full syllabus of NEET Chemistry along with the weightage of the topic, so you can plane your study in a better way.
Name of Topic
Weightage of Topic
Coordinate Chemistry
3-4 Questions Asked from every topic
Thermodynamics
Equilibrium
Alcohols, Phenols and Ethers
Minimum 2 Questions asked from every topic
Aldehydes, Ketones and Carboxylic Acids
d-and f-block elements
Chemical bonding
p-block elements(13 14 16 17 18)
Solutions
Chemistry in everyday life
Less Important At lease 1 Questions from Every Topic
Electrochemistry, Environmental Chemistry
Chemical Kinetics, General Principles and Process of Isolation elements
Haloalkanes and Haloarenes; Amines
Hydrocarbons, Hydrogen, N containing Organic Compounds
Organic chemistry some basic principles and techniques – 1 & 2
Bio-Molecules, Periodic table, Polymers, Redox reactions, s-block elements
The states of Matter, Structure of Atom
Surface Chemistry, The Solid State
Frequently Asked Questions (FAQ):-
Que- Which book is best for NEET Chemistry Exam?
Ans- Books are the best friend of students, First, you should read NCERT class 11 and 12th of chemistry then choose the best reference book to solve high-level questions like RC Mukherjee chemistry book.
Que- How much books need for NEET Chemistry?
Ans- There is three-part of Chemistry, Physical, Organic, and Inorganic, So you need only three books to complete the syllabus of NEET Chemistry. One more thing should remember that always choose that book which is easy to understand by you.
Que- How to Complete NEET Chemistry Syllabus?
Ans- Choose one book which is easy to understand, and read the entire book once, then solve all the questions given in the book. You can also Repeat at least twice before the final examination.
Que- Should I Solve the high level of the question above the NEET?
Ans- No it is not compulsory to solve a much higher level of question which is above than the NEET Standard. If you do this then you will be demotivated. The best way to understand the level of NEET is to solve the previous year question paper as much as possible.