Bihar Amin Salary:-Friends, today we will give you information about Bihar Amin salary, promotion, posting, and job profile. Recently Amin application form has been released by Bihar Joint Entrance Competition Examination Councilor(BCECEB). To fill this application form, candidates have to pass the 12th examination. Now we will give you all the information related to Bihar Amin job profile, promotion and salary. So you remained with us till the end so that you can get all the information about the Salary of Bihar Amin through this article.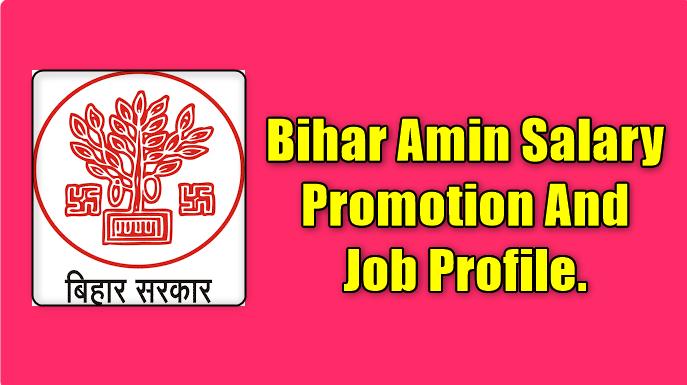 Basic information related to Bihar Amin Salary
Some of the basic information of vacancy derived by Bihar government are as follows-
Name of the post: Amen
Department – Revenue and Land Reforms Department
Vacancies for Amin's post- 40 vacancies
Grade of salary-Rs 2000
Total 

Bihar Amin Salary

 – 26000 to 40000 approx.
Educational Qualification – 12th pass intermediate
| | |
| --- | --- |
| Post | Amin (Department of Environment, Forest and Culture |
| No. of vacancy | 40 |
| Total Salary | Rs. 26000 to 40000 |
| Grade pay/Level | Rs 2000 (Level 3) |
Bihar Amin Job Profile
Friends, before knowing the job profile of Amin, we get to know who Amin is called. Amen means honest or truthful. That is a person who honestly does not know the map of the land and has knowledge of all the survey related information of the land. This person also keeps information related to consolidation, such people are called Amin. So you must have understood what is Amin's job profile Amino's job is to name the lands of the district and prepare the outline of them and maintain their survey is Amin's job. 
Bihar Vidhansabha Reporter Salary and Job profile
Amin survey tools
Individuals with an Amin job profile have the following types of tools to conduct surveys-
Gunia
Prakal
Talk
Zarib Rectangle
Diagonal
Zero Point 1mm Pen
Pencil
Trace Paper etc.
So far, we talked about Bihar Amin job profile, what he has to do in his job, now we will give you information about Bihar Amin Salary. 
Bihar Police Sepoy Constable Home Guard Previous Year Paper
Salary of Bihar Amin
People working on Bihar Amin post are given different salaries as different promotions, in today's article we will give you information about the basic salary of people working on Amin's post.
| | |
| --- | --- |
| grade pay | Rs 2000 as per Sixth Pay Commission |
| Level of salary | According to level third seventh pay commission |
| basic salary | Rs 21700 |
| Salary in hand at Patna region | Rs 27500 approx |
| Salary in hand other reason | Rs 26000 approx |
Vacancy for the posting of Amin has been removed by Bihar Government for Bihar Level Directorate and District Level Collector.2 level vacancy in Bihar district for the posting of Amin
Bihar Level Director
District Level Collector (DM Level)
Director (Bihar Leval):- Head of State level Bihar Amin. In these has 3 different level post- 
Directors  ⇒ 
 1- Directorate Consolidatation| 
2- Investment Land Records and results 
3- Director of land acquisition 
District Level Collector (DM Level):- Head of District level Bihar Amin. In these has 7 different level post- 
1-Regional 
2- Divisional commissioner 
3- Collector                                                                                                                      
4- Additional collector 
5- Circle Officer 
6- Security Additional Collector 
7-  Revenue employee or Amin Friends are recruited for the post of different types of Amin in both the level. Below we will give you some information related to which of the staff at Director level and District Magistrate level. 
Bihar Police SI Previous Year Question Paper Download
Promotion for Bihar Amin
Like all jobs, Bihar Amin promotion is also given in this job. In this job, promotions up to 2 levels are given to those who work on the post of Amin. After this, he can act as the headhunter in his district. Let us now give you the information related to Amin's promotion and his salary with the help of this table. 
Amin(Grade Pay -Rs 2000) 
⇓  (Level- 4) 
Surveyor (Grade Pay Rs- 2400) 
⇓  (Level- 5) 
Head Surveyor (Grade Pay Rs- 2800) 
Please Vist official Website-bpsc.bih.nic.in  
Friends, hope that you will like this information very much in today's article, we shared information about Bihar Amin Salary. If you liked this information, then you must tell your opinion in our comment box section. Your opinion is important for us, share this information with others.