Hello Engineers, Today we are going to share full details of Bihar Assistant Engineer Syllabus and Exam Pattern in Details. BPSC has released the notification for the recruitment of Assistant Civil Engineer and Assistant Mechanical Engineer Post. The eligible candidates may apply through the official website of BPSC. Here we are going to discuss full detail of BPSC AE Exam pattern ad syllabus for Civil and Mechanical Engineer.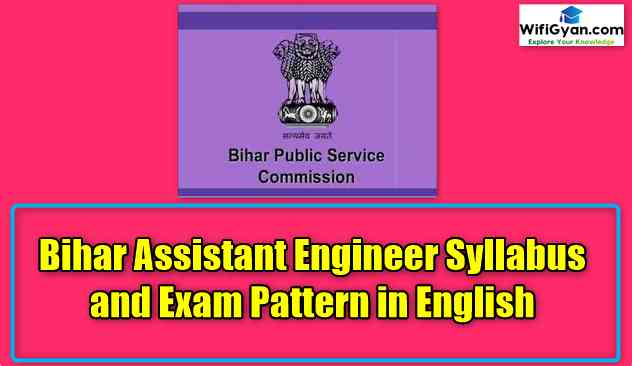 Bihar Assistant Engineer Syllabus and Exam Pattern in Details:-
Recruitment of Assitant Engineer will be purely based on written examination. Before going for the examination all the aspirants of Civil & Mechanical Engineer should know the about the Bihar AE Syllabus and Exam Pattern by this you can prepare well for the examination and you will be able to understand that which subject you have to read for the Bihar AE Examination 2019. Here we are discussing the Selection Process of Bihar Assistant Engineer.
Made Easy Civil Engineering IES Notes Download for All Subjects
BPSC AE (Assistant Engineer) Selection Process:-
The selection process of Assistant Engineer will be based on the written examination consist of 6 objective type Paper, 4 Paper is compulsory and 2 paper is optional.
Exam Pattern of Compulsory Paper:-
General English and General Hindi are qualifying nature, means you have to score 30 % of each paper.
Paper will be offline
If you fail in paper-1 & 2 then your copy of Paper 3,4,5 & 6 will not be checked further.
Paper
Subjects
Type of Paper
Duration of Exam
Marks
1.
General English
Objective
1 Hr
100
Qualifying
2.
General Hindi
Objective
1 Hr
100
3.
General Studies
Objective
1 Hr
100
4.
General Engineering Science
Objective
1 Hr
100
Exam Pattern of Optional Paper:-
Paper
Subjects
Type of Paper
Duration of Exam
Marks
5
Civil Engineering
Objective
1 Hr
100
6
Civil Engineering
Objective
1 Hr
100
OR
5
Mechanical Engg.
Objective
1 Hr
100
6
Mechanical Engg.
Objective
1 Hr
100
OR
5
Electrical Engg.
Objective
1 Hr
100
6
Electrical Engg.
Objective
1 Hr
100
Bihar Assistant Engineer Syllabus-2019:-
For General Hindi and General English:-
The questions of General English and General Hindi will be such that the comprehension of the candidate's language usage can be checked.
Syllabus of General Studies:-
The question paper of General Studies will include information related to current affairs and daily tests, topics and experiences and their scientific aspects. This paper will have scientific, social, economic and political questions and will emphasize the development of engineering science including research and innovative changes which are important for the technical subject in various disciplines of engineering.
Syllabus of General Engineering Science:-
Engineering Mechanics:- General equilibrium-equation experiment, momentum-equation work, power and energy.
Survey and measurement:- 
Distance and area measurement, measurement of direction and angular slop, Leverage and height, General survey tools, Electrical workshop measurement, Measurement of ammeter voltmeter charge meter insulation tester energy meter and their working principle, Mechanical workshop measurement equipment, linear and angular measurement, straight, flat and round measurement.
Formation of solids – Generalized pressure and its relation rules, pressure conversion, pressure-energy, analysis of beam, column and soft, balanced inclination at the centre, Decay theory.
Engineering Materials and its Construction:-
Brick, Cement, Grass, Cast Iron and Steel, Iron-Free Metals, Timber, Paints, Miscellaneous Engineering Materials, Engineering Material Testing, Brick Flooring and Wall Building.
Engineering Economics and Management Engineering:-
Principles of austerity, project, planning, CPM and PERT techniques, construction, decoration and rate analysis of critical decision items
Transport Phenomena:-
Transport and regular conduction, boundary label continuous equation, Bernoulli's theory, transport conduction steam, dimensional analysis, a dimensional study, heat movement through single and multilayer materials including wall and cylinder, natural and induced convective heat transfer, thermal Boundary level concept, Satiken-Bouldmann's theory of diagonal, Kirchhoff rule, black and gray matter concept.
Energy conversion:-
Thermodynamics process, first and second impulse and response of thermodynamics, water turbine-Belton Peel turbine and centrifugal pump.
Elementary engineering:-
Electrical Circuit, Circuit Rules and Principles of Superposition Sound range, Series and parallel connection. Resistance and capacitance, junction transistor, junction diode, equivalent circuit, common emitter electrical circuit, magnetic effect of electric current, magnetic circuit, ideal transformer, transformer as a circuit element, transfer of electromagnetic energy, the function of DC motor and generator, Functions of AC motor and generator.
Environmental engineering:-
Water pollution and purification, air pollution and its control, ecological balance.
Syllabus of Civil Engineering Paper-5:-
Structure analysis
Structural design
Soil mechanics and foundation engineering
Civil Engineering Paper-6:-
Hydrology and Water Resources
Water system flow
Conversion of fluid-structure
Transport engineering
Public health engineering
Syllabus of Mechanical Engineering Paper-5:-
Thermodynamics
Ingestion engine (I.C Engine)
Heat Transfer
Turbines & Governing
Compressors
Gas turbine Cycle
Steam Boilers
Refrigeration
Fluid Mechanics
Air Conditioning
Heat Exchangers
Hydrodynamics Power Transmission
Mechanical Engineering Paper-6:-
Theory of Machines
Engineering Materials
Machine Design.
The Strength of Materials
Production Engineering
Industrial Engineering
Download Written Syllabus of Bihar Assistant Mechanical and Civil Engineering- Click Here
Bihar Assistant Engineer Study Materials download:-
For Better Preparation and Better Study material Please Visit Wifigyan.com on a regular basis. Here You will find all the books related to all subjects free of cost. My main aim to help the students who are not able to buy all the expensive books. if you guys want to appreciate my afford please share my post with your friends by which they can also avail my services.