BPSC Project Manager Syllabus: Hello, dear aspirants. I know you must be waiting for all the news regarding the new job in town. The job is really worth it, I must say: BPSC Project Manager is all through a great deal to apply. Here comes all about the BPSC project manager Exam Pattern and Syllabus. Yeah, well said here you also get to know all about the BPSC Project manager syllabus, BPSC project manager exam pattern as well as all the tips and tricks so as to learn for the syllabus of BPSC Project Manager. As it is a well-known discussion that the Bihar PSC project manager syllabus isn't a small deal to handle, hence Wifigyan is with you to keep you in detailed aura with the examination.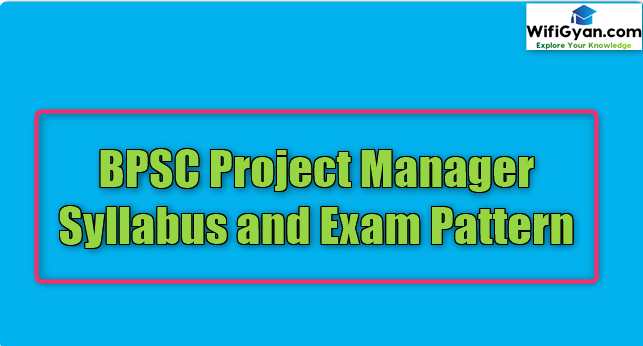 BPSC Project Manager Syllabus:-
Here comes all about the  Bihar PSC project manager examination. This knowledge would help you guys to excel well in your examination as well as all the doubts and problems of yours will be solved here in this space as well. It's our duty to encourage each and every aspirant so as to prepare well for his/her upcoming exams. So do not hesitate to read and ask.
Dreams are not the ones which you see while sleeping, instead they are the ones which dont let you sleep.- APJ Abdul Kalam
Relating to the same quote by our great ex-President. One must be inspired all the time so as to do well in life and examinations. Also to be able to touch all the goals one needs to occupy in his life. One must try to achieve them as hard as he can.
BPSC Project Manager Exam Pattern and Syllabus
Bihar PSC Project manager post applications have been invited by the Department of Industries in District Industry Centres. There are a total of 69 vacant posts. The aspirants those who have Engineering Degree in Mechanical/ Electrical/ Civil/ Textile/ Chemical/ Computer/ Electronics & Telecommunication. Age eligibility is decided on the basis of gender:- 21 years minimum and 37 years maximum for male and 40 years maximum for female.
Online Application starts: 17 Feb 2020
Online application closes: 2 Mar 2020
Examination Date: To be notified soon
Admit Card Date: To be available soon
Telling you about the BPSC Project Manager examination we would recommend you read the whole article so as to understand the whole procedure and phenomenon about the BPSC project manager examination.
Bihar PSC Project Manager Syllabus
Bihar PSC Project Manager is a responsible post to count upon. Not only this, here comes the tits and bits of the Bihar PSC Project Manager syllabus for the year 2020. Have a look upon the given syllabus and download the full syllabus from the link given below the syllabus. Syllabus of the BPSC PM is not really complicated and hence you will have more time to prepare. Also that Bihar PSC PM is being conducted twice a year in the form of Prelims and Mains. The syllabus of the year 2020 is given all through this year. Also that you can view the subject wise syllabus of the Bihar PSC PM examination. The link to view the syllabus is given here, its a direct link to view the complete subject-wise syllabus of the BPSC PM examination-Syllabus 2020. 
Syllabus of BPSC Project Manager-
The detailed syllabus of BPSC PM Prelims examination is discussed here in detail:-
General Science, Events of National and International Importance, History of Bihar and Indian History, Geography, Geography of Bihar, Indian Polity and Economy Changes in the economy of Bihar post-independence, Indian National Movement and the role of Bihar, General Mental Ability.
Under the Preliminary examination syllabus, it is very important to understand greatly the role of Bihar in Indian political and nationalist movements. This would generate a better understanding of the given syllabus of the BPSC Project Manager.
Also, Check
BPSC Mains Syllabus
The shortlisted candidates from the Prelims examination are selected to sit for the Mains examination. the detailed syllabus for BPSC PM mains examination:-
General Hindi(Secondary Level)-Essay, Grammar, Syntax, Precis/Summary. It is just a qualifying paper with just a minimum of 30 marks to qualify. GS 1 and GS 2 are included in the Mains Examination.
| | |
| --- | --- |
| General Studies 1 | General Studies 2 |
| Indian Culture, Modern History of India, Contemporary events of National and International importance, Statistical Analysis, diagrams, and graphs. | Indian(and Bihar) Polity, Indian and Bihar Economy, Indian and Bihar Geography, Role and Impact of Science and Technology in the development of India and Bihar. |
Note: List of Optional subjects to be chosen in BPSC PM is available on the official website. Check the optional ones here bpsc.nic.in.
BPSC Project Manager Exam Pattern
Bihar PSC project manager is a really golden opportunity for all the aspirational candidates. The examination has a total of 3 steps during conduction:-
Written examination(Prelims and Mains)
Interview
Document Verification.
The written examination has two steps i.e. Preliminary exam and Mains exam. The total time of the test is 2hours and 15 minutes. The total number of marks for the Pre exam is 150 marks.
| | |
| --- | --- |
| Subjects | Marks allotted |
| Indian Economics | 70 |
| National and International current affairs | 40 |
| Mental Ability | 40 |
Hereby, the mains paper of BPSC PM has a total of 600 marks. It consists of 4 papers. Out of which 3 are Compulsory and 1 is Optional. These papers are each conducted for 3 hours.
Compulsory subjects are General Hindi 100 marks, General English- 100 marks, General Knowledge-200 marks. The optional Subject has a total of 200 marks counterpart in the examination.
Must Read
I hope we have provided you with all the information about BPSC Project Manager Exam Pattern and Syllabus. If you like this article and find useful then share it with your friends. also, feel free to comment in the below section. if you guys want to appreciate my afford please share my post with your friends by which they can also avail of my services. For any Private adds and other inquiry mail us at [email protected]