Career in Psychology in India:-Deciding a career is a crucial decision in life. We all must be cautious and choose wisely. Here in this article, I am going to share with you the complete details about the Career as a Psychology in India and what are the opportunities, salary available after this, etc. Better career growth in any field depends upon one's performance and his passion for the work etc. We will also see the Salary in Psychology Career etc. To get complete details about this, you must check out the article below. I have shared all the details that are related to this topic.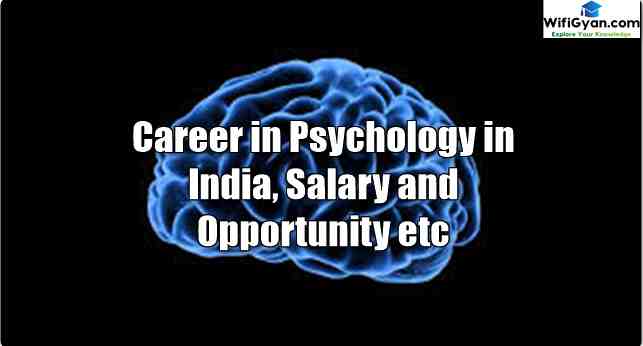 BA LLB Course: Career Scope and Job opportunity. See full detail
A career in Psychology in India, Salary and Opportunity, etc:
As per the experts, We must always convert our passion into a profession. A career in any field can be better—it all about your love and interest. Well, We are here to talk about psychology and a Career as a psychologist, to pursue a psychology course. You need to complete your 10+2 from any State Board or Central Board. You can apply for the Psychology degree courses like:
BSc in Psychology
BA (Hons) in Psychology
Bachelor of Arts in Psychology
These are some famous degree courses in Psychology that is offered by many Universities in India. There are also some diploma courses in Psychology. Once you complete your degree course, you can apply for the job or can pursue a master's degree in that, which adds more value to their profession. Some famous master degree programs are:
Master of Arts in Psychology
Master of Arts in Applied Psychology
Master of Arts in Counseling Psychology
MSc in Psychology
One can also pursue a Doctorate in this particular field. Having a doctorate in this field allows you to work with some best Government agencies in India as well as Abroad. Name of the Doctorate Courses:
Doctor of Philosophy in Psychology
Phill in Psychology
These are the education details in this particular field. There are also many diplomae and certificate courses there, but these are the main courses in Psychology. Diploma courses are just alternate to degree courses. Now let's see the career growth in this field and where you find jobs etc.
List of professional courses after 12th
A career as a Psychologist in India:
A career in Psychology in India:- In today's world, Depression, Complex Relationships, Stressful jobs, anxiety, competition are widespread. In these situations, we always find a person who can solve our problems and give us some relief. Psychology Offers a solution to human society for these types of issues. There are many career opportunities in this field that can make your life better, Personality Development, Job Satisfaction, etc.
Opportunities in Psychology Career: Once a person completes degree or diploma courses, they can apply for the job in school and college and become a Psychology Teacher. There are also many opportunities in Government Agencies, Clinics, and Hospitals, etc.  They can work as a Psychotherapist, Counselor, Teacher, Consultant, Clinical Psychologist, Psychiatrist, Clinical Social Worker, Psychiatrist Nurse, Art Therapist, and Practitioner, etc.  In India, Opportunities might be less but foreign countries are the famous face of Job Opportunities. Now let's see the recruitment Area a Psychologist.
Recruitment Area of a Psychologist:
Rehabilitation Centers
Psychological Research Centres
Advertising Industry
Teaching
Welfare Organizations
Psychological assessment and testing
Research Establishments
Development of prevention programs
Forensics Department
Universities/schools
Child/ Youth Guidance Centers etc.
There are considerable opportunities in this field but only for a qualified psychologist. Suppose you are well qualified and have a degree in this particular. This can be the best decision of your life. Let's see some everyday duties and work of psychologists.
Duties and common Work of a Psychologists:
They study the human brain function and identify the social and their behavior pattern etc. They check any person's way of thinking, behavior, diagnosis Disorder by talking to the person for a while.
Based on this, They write and prepare a report, write an article, research theory, etc., and make proper conclusions. Most of the person who opts for this career, they love to do this. Well, these are some standard work of a psychologist. Now let's see the salary of Psychologists in India as well as in other countries.
List of Professional Courses after Graduation
Salary in Psychology Career:
The Salary depends on many factors like your education, experience, and some other skills, etc. On average, in India, you can make around two lakhs to 3 lakhs at the beginning. After a few years of experience in this, It can be more. The Salary in foreign countries is more than India. Like in the United States, A well-qualified Psychologist earns around 70 thousand dollars per year.
A career in Psychology in India:- Well, Life Experts say that. It would help if you chose your career and your partner wisely; they can make your life better or worst. It is entirely up to you. Never look at the money, follow your passion, and turn your power into your profession. A study says that Most of the person, Specially in India, are not happy with their job, They want to quit and start another life, but due to the family pressure and financial situation, they can't leave. The age of 16 to 25 is the golden age of everybody. This is the age where we make our future.  Decide very wisely what you will do in these next ten years and prepare yourself according to that. Experts say that A person who follows their passion or dream is very happy than the person who chooses the career based on money.