Combined Defense Services (CDS)1/2020 examination held on February 02, 2020, in three shifts. Union Public Service Commission (UPSC) conducted the exam for granting entry to IMA, INA, AFA, and OTA. As per their reviews of candidates, the examination level was moderate. Now CDS aspirants are waiting for UPSC to release CDS 1/2020 Cut Off. CDS 1/2020 Result will be declared in April 2020 at upsc.gov.in as a pdf file containing the roll number of shortlisted candidates, after that CDS Answer key will be published. For all those inquisitive minds here we present CDS 1/2020 Expected Cut off and SSB Interview details. Dos and don'ts during the SSB interview.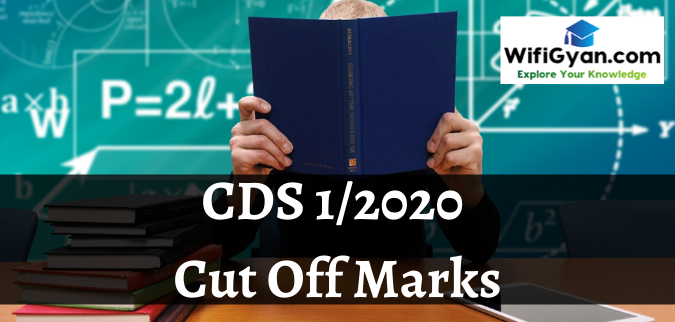 CDS 1/2020 Cut Off
If we go through the past few years of statistics than we can easily figure out what could be this CDS 1/2020 examination cut off marks? However, we will provide the cut off marks after calculating the past few years stats, in no manner those predicted marks will match UPSC's cut off list.
For Indian Military Academy (IMA), Indian Naval Academy (INA), Air Force Academy (AFA) candidates have to give an examination of 300 marks, and for OTA the maximum marks are 200.
Out of the maximum marks the candidates have to secure a minimum of 20% in order to qualify. But if we calculate 20% of 300 it will be 60 marks and 200 will be 40 marks. But stats are not depicting the same. The reason is UPSC's selection process.
CDS Cut Off of Past Few Years
| Academy | 2018 CDS 2 Cut Off for SSB | 2018 CDS 1 Cut Off for SSB | 2017 CDS 2 Cut Off for SSB | 2017 CDS 1 Cut Off for SSB |
| --- | --- | --- | --- | --- |
| IMA | 116 | 118 | 120 | 125 |
| INA | 102 | 98 | 111 | 118 |
| AFA | 131 | 138 | 135 | 144 |
| OTA Men | 80 | 69 | 86 | 82 |
| OTA Women | 80 | 69 | 86 | 82 |
The minimum qualifying marks for CDS written exam are 20% in each subject.

-By UPSC.
CDS 1/2020 Expected Cut Off
According to the above statistics the CDS 1/2020 Expected Cut Off could be near 40% of maximum marks, and if we see it in marks then
For IMA Approx 120 marks and the same for INA.
AFA up to 130 -140 marks Approx
For OTA men and women expected cut off could land around 80 – 90 marks approx.
Importance Of CDS 1/2020 Cut off Marks
UPSC releases the CDS cut off marks after the final selection of candidates, that contains the marks of last recommended candidates in the written exam and final exam. That's why it becomes necessary for the students to know their marks and cut off marks to ensure the selection when they get CDS 1/2020 Result. So here we tried to resolve your problem by providing a glimpse of CDS 1/2020 Cut Off Marks.
CDS 1/2020 Result & Marks Dates
UPSC will release the CDS 1/2020 Result in the month of April 2020 at its official website at upsc.gov.in. The result gets declared in the form of a pdf file that contains the roll number of qualified candidates. After  15 days of result declaration, UPSC does release the marks of candidates at its website and that stays there for a month.
CDS 1/2020 Answer key
You should also know about the CDS 1/2020 Answer Key. As a result, the official answer key of the CDS exam is published by the UPSC on its official website. UPSC publishes the CDS answer key after the declaration of result. These CDS answer keys are for reference purpose only, candidates can't object them. However, they are useful resources for the aspirants who are going to appear in the next CDS examination.
CDS 1/2020 SSB Interview Call Letter Dates
The next step after the written examination in the CDS selection process is the SSB interview. Once UPSC declares the result, after 3 weeks the Navy candidates can download their interview call letter for SSB interview. And the rest of the candidates get their SSB interview call letter at their presidential address by post.
| | | |
| --- | --- | --- |
| Academy | SSB Call Letter Date | Method Of Getting Call Letter |
| INA | May 2020 | Download from www.joinindiannavy.gov.in |
| IMA | August 2020 | by post |
| AFA | August 2020 | by post |
| OTA | November 2020 | by post |
In case a candidate does not get the interview call for SSB interview for IMA / OTA they should write to
IHQ of MoD(Army)/Rtg.
CDSE Entry/SSC Women Entry for
Officers Training Academy,
West Block-III, Ramakrishnapuram,
New Delhi-16 110066
Contact – 26173215
regarding non-receipt of the call-up letter. For Naval candidates the address is
IHQ of MOD(Navy) DMPR (OI&R Section),
Room No. 204, 'C' Wing,
Sena Bhawan, New Delhi-110011
For those candidates who opted AFA as the first choice.
PO 3 (A) Air HQS.
'J' Block, Room No. 17,
Opp. Vayu Bhawan,
Motilal Nehru
Marg, New Delhi-110 106
Note: In order to get obtain the call letter, the candidates have to take some actions. Once UPSC declares the result, the shortlisted candidates who have opted IMA/OTA as their first choice have to register themselves at www.joinindianarmy.nic.in. Only then they can get their call letter and other relevant details of CDS 1/2020 SSB Interview. Those who have already registered need not do again.
In case you have changed your address after applying for CDS 1/2020 then you should write to the headquarters regarding this after the declaration of CDS 1/2020 result. While notifying don't forget to attach an unstamped self-addressed envelope. In the same your SSB interview call up letter will be sent to you.
Documents To Carry in CDS 1/2020 SBB Interview
The candidates who will qualify the written examination have to keep ready following documents in original and self-attested copies
10th certificate to verify the date of birth
Bachelors Degree /Provisional Degree Certificate/Marks sheet
The candidates who are still in their final year, of course, need to provide
Candidates who have not yet qualified a certificate in original from the Principal of the College/Institution stating that the candidate has appeared/is appearing at the final year Degree examination
It's mandatory to carry the above-mentioned certificate, failing to which can leads to disapproval for the interview.
CDS 1/2020 Vacancies
The total vacancies for which the written examination was conducted by UPSS are 418. The vacancy distribution is as follows
Indian Military Academy, Dehradun – 100
 Indian Naval Academy, Ezhimala – 45
Air Force Academy, Hyderabad -(Pre-Flying) 32 (3 vacancies are reserved for NCC)
Officers' Training Academy, Chennai (Madras)-225 [170 vacancies for SSC Men, 05 vacancies for JAG (Men)  50 vacancies for NCC Special entry]
Officers Training Academy, Chennai – 16 SSC Women (Non-Technical)
Things to Consider During CDS 1/2020 SSB Interview
Very few students know this fact that their marks will be shown publicly only if they want. To reduce the unemployment rate UPSC publishes the marks of candidates on public portals so that private organizations can hire those disqualified candidates who cleared the CDS written examination.
During SSB interview the candidates can opt for the option not to disclose their marks. A candidate may opt-out of the scheme also and in that case his/her details will not be published by the Commission.
Marriage and Other Restriction During Training
Every candidate who has opted the Indian Military Academy Course /Naval Academy Course or
Indian Air Force Academy Course or Officers' Training Academy, Chennai can't get married until the course completion.
If a candidate marries subsequent to the date of his/her application and clears the written examination will not be selected for training.
In case a candidate marries during the training, they will be discharged and have to refund all the expenditure spent on him/her.
Once a candidate is selected for any training in IMA/INA can't appear for any other examination or interview.
About CDS 2020
Combined Defense Services examination is conducted by the most presumed organization of the country, the Union Public Service Commission (UPSC) twice a year in February and November month. Both male and female candidates can apply to appear for this examination. The eligibility asks to have a Bachelor's degree in the respective field. Male candidates can apply for IMA/ INA/ AFA/OTA, but female candidates can only apply for OTA.
CDS  1/2020 SSB Dates
| Name of Academy | SSB Interview Dates |
| --- | --- |
| For candidates who qualify IMA/INA/ AFA | August-September 2020 |
| For candidates who qualify SSC | October – December 2020 |
Selection Process of CDS 
At first, the candidates have to secure the minimum qualifying marks in the written examination.
Then the shortlisted candidates will be called for the further process that is an interview conducted by the Service Selection Board (SSB).
The candidates have to qualify the written examination and interview separately.
Then all the qualified candidates of SSB rounds will be called for the medical examination at the associated academy.
The final selection of candidates in the opted academy purely depends on the medical fitness and suitability in all other respects and the number of vacancies available.
Every candidate for the Air Force and Naval Aviation is given Pilot Aptitude Test only once.
This is all about the CDS 1/2020 Cut Off – Expected Cut Off and SSB Interview Date. If you like this article and find useful then share it with your friends. also, feel free to comment in the below section. if you guys want to appreciate my afford please share my post with your friends by which they can also avail of my services. For any Private add and other inquiry mails us at [email protected]