Childhood and Growing up Pdf Download:- Today we are presenting the pdf of a most demanding topic for B.ed students who are pursuing in 1st year. This is a very important topic, so just go to the bottom of this post and find the downloading button. You can download it to your desktop or mobile. Childhood and Growing up Notes is free for our viewers so download it for B.ed examination.
If you want to become the teacher in near future and pursuing your b.ed or BTC then this notes is only for you. Lot,s of questions asked from Childhood and Growing subject in TET examination or Teacher Bharti examination. So just download it now.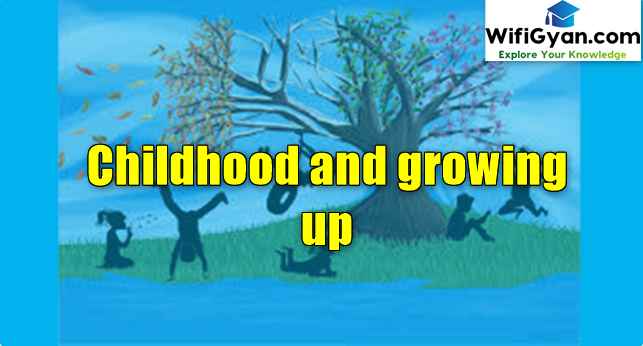 Childhood and Growing up Pdf:-
Through this article, we are presenting Childhood and Growing Pdf in Hindi and English. For your help, we are writing Childhood and Growing Notes here. Let's read it and download for full detail.
Introduction of Childhood and Growing up
As a teacher trainee, when you are engaged in the teaching-learning activity if you understand the student's interests and needs you can make your teaching according to their needs, they will be interested in learning and consider you as a good teacher. How do you understand the attitudes, interests and needs and aptitudes of the students? Psychology helps you to understand the mental activities, experiences and behaviour of human beings. Psychology deals with not only the behaviour of the conscious level, it also deals with the experiences of sub-conscious and unconscious levels of the human mind.
Behaviour in Psychology includes the physical activities and mental activities such as thinking, imagining that could be indirectly observed and emotions such as anger, joy. Behaviour in Psychology is explained in terms of stimulus and response. The Psychologists feel that the changes in the development are not uniform at all ages. Growth and development are studied in biological, psychoanalytical and cognitive implications.
Child Development Questions Answer Pdf Download For CTET and Others
Objective of Childhood and Growing UP Pdf:-
After learning this unit, you will be able to
Understand the meaning of Psychology
Identify the importance of educational psychology
Explain the human development process
Discuss the cognitive development factors

MEANING OF PSYCHOLOGY:-
The word Psychology is derived from two Greek words Psyche and Logus. 'Psyche' means soul, 'logus' means science. So psychology, in the beginning, was meant to be the science of the soul. Later people began to question the existence of the soul.

So Psychology was defined as the science of mind. The activity of the mind cannot be externally observable, so Psychology was defined later as the science of human behaviour.
BRANCHES OF PSYCHOLOGY:-
As knowledge expands different disciplines branch from basic disciplines and from the interface between basic disciplines. Psychology also different disciplines developed. We now have child Psychology, abnormal Psychology, Social Psychology, Educational Psychology, Counselling Psychology, Industrial Psychology and many other Psychologies developed from the basic Psychology. As a teacher trainee, you may be interested more in educational Psychology and a few other allied branches namely social Psychology, developmental Psychology and counselling Psychology.
EDUCATIONAL PSYCHOLOGY:-(Childhood and Growing up Pdf)

Educational psychology will help the teacher to get answers for the following questions.
(i) Who are to be educated?
(ii) Why should one be educated?
(iii) Where should education be given?
(iv) When it should be given?
(v) How should it be given?
and many other questions relating to the teaching-learning process.  

Educational psychology has different dimensions. It deals with the characteristics of students, teaching-learning context, methods of teaching-learning strategies, the mentality of the students, mental hygiene and other aspects of education. The teacher is responsible for the development of the student in all three dimensions of human behaviour namely cognitive, affective and psychomotor. Psychology explains the interdependent of these three domains and the need for the importance of the development of all the domains in the students. Thus the knowledge of psychology will help the teacher in self-understanding, developing professional skills and fulfilling social demands.
See the Live pdf of Childhood and Growing UP Notes:-
If you like this pdf then download it from the below link and if you need more Childhood and Growing up Books the please buy it from the Amazon, I have given the link below.
Download Childhood and Growing up Pdf Now
For more books and pdf do visit our website daily and also join our telegram channel for regular update. Thanks.