It may be a bit easier to get settled in life if you pursue any career-oriented courses. Here in this article, I am going to talk about teaching and how can become a teacher by pursuing the BEd or BTC course. Here you will get to know the complete Difference Between B.Ed and BTC Course Full Details. To get the complete details about these courses, you must check the entire article, and I share all the points that make a clear difference in these courses. It may help you a lot in the understanding of a selection of better courses for your career.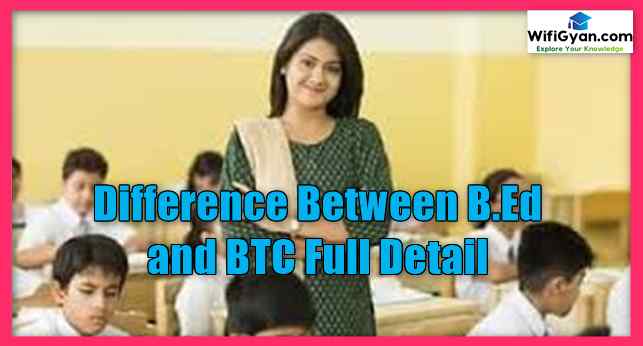 UP Assistant Teacher Salary, Pay Scale
Difference Between B.Ed and BTC Full Detail:
All the candidates who have Aim to be a teacher in the middle school education or Higher School Education they should know as per the government rules, Having a particular degree, a Certificate in the field of Teaching in mandatory. Most government teacher vacancies are only eligible for the candidates who have done B.ED (Bachelor of Education) or BTC (Basic Training Certificate). Here in this article, we will only see the exact Difference Between B.Ed and BTC and the eligibility required to pursue these courses.
If you did BTC then you can teach in Primary school in government school while a B.Ed holder can teach in primary school, Junior High School, and Inter College.
BTC is just a diploma Course while B.Ed is a degree course for teaching.
You need to have a graduation degree for both courses.
Both courses completed in 2 years and the exam will be done on semester wise.
Both the courses have the same purpose, if you have b.ed then you got a chance to teach in higher classes.
B.Ed Course details:
The B.Ed is a Bachelor's Degree program that qualifies a person as a teacher in the Schools. All the candidates who want to become a teacher, it is mandatory to pursue this course as per the government rule. Here are the required eligibility criteria for this course and other details regarding this course.
Duration of the Course: 2 years
Type: Professional Course
Level: Degree
Eligibility required to apply for BEd:
All the candidate who has passed graduation are Eligible to apply for this course.
A candidate must have scored at least 50% marks.
There are no age criteria that have been set for this. but some institutes have these criteria.
Admission Procedure:
The Admission in the B.Ed course is basically done on the basis of the entrance examination. The Entrance Exams are conducted by Each college individually. There are some private colleges that have their own rule for admission.
Career Opportunity After the Course:
After the Course, one can work as a Teacher, Administrator, Assistant Dean, Content Writer, Counsellor, Education Researcher, Instructor, Librarian, Principle and Syllabus Designer, etc. They can get recruited in the:
Coaching Centres
Education Consultancies
Education Departments
Home Tuitions
Private Tuitions
Publishing Houses
Research and Development Agencies
Schools& Colleges etc
UP Primary Teacher Salary: What is Primary Teacher Salary in UP
BTC Course Details:
The BTC (Basic Training Certificate) is basically an Educational Certificate Program that qualifies the candidates to be a teacher in the Primary Schools. As per the government, This course has become mandatory for all those candidates who want to become teachers especially in primary Schools (Class 1 to 6).
Duration of the Course: 2 years
Level: Certificate
Eligibility Required to apply for BTC:
All the candidates who have done graduation are eligible to apply for this.
There is no age bar to apply for this.
Admission Procedure:
The Admission in the BTC Courses is conducted as per the rules and procedure formed by the NCTE(National Council of Tacher Education) and State Government Concerned.
Career Opportunities after the course:
After this course, they can work as a Content Writer, Executive Trainee Recruiter, Front Office Coordinator Teacher, or Lecturer and Training Coordinator, etc. They can get recruited in the area:
Administrative Jobs 
Private Coaching Centres
Schools & Colleges
Websites
The Best way to get a better career after this course is to apply for the government vacancies. The Central Government, as well as the State government, pays really well to the teachers. They also get paid some awesome allowance and other benefits as well. So, the
MP Primary Teacher Eligibility, Age Limit and Educational Qualification
Best Colleges are B.Ed and BTC Course in State:
For the BTC Course:
A.H. Rizvi Degree College, Kaushambi
Bhagwan Buddha Primary Teachers Education College, Siwan
Bon Maharaj Institute of Management and Technology – BIMT, Mathura
Baba Kheta Nath Mahila Vidyapeeth, Alwar
For the BEd Course:
Annamalai University, Cuddalore
Amity Institute of Education, New Delhi
Bangalore University, Bangalore
Indira Gandhi National Open University – IGNOU, Delhi
Panjab University – PU, Chandigarh
DSSSB Eligibility Criteria for JE, Assistant Teacher 2020
This is the major Difference Between B.Ed and BTC Course Full Details. Choose your best course, Both are good for being a teacher, If you want to teach in private school it is better to pursue B.Ed Course.