The Medical field is one of the most demanding profession among youths. When it comes to Medical courses. MBBS is one of the most famous degree course that almost every medical aspirant want to pursue. Here in this article, I am going to share with you the difference between MBBS and BAMS Course. It is hard to get admission in Government MBBS Colleges due to the huge competition, in this situation, students move towards the BAMS course. Here you will get to know the complete information about this course, its eligibility, Admission Process and what is a difference in MBBS and BAMS etc.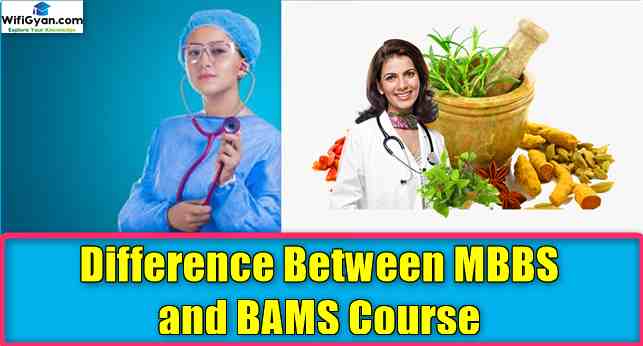 Difference Between Pharma D and D Pharma Course
Difference between MBBS and BAMS Course:
The MBBS course is Medical course in which you get to learn about the latest medicines and modern techniques of treatments etc and it is the most famous and demanding course in the medical field.  The BAMS is Bachelor in Ayurvedic Medicine and Science. This course is specially designed to teach and educate the candidates about the traditional Ayurveda treatment system of India.
These courses are completely different from each other. The MBBS is modern while the BAMS is Ayurveda and trying to enter in the right manner in modern technology. Let's see this one by one, it will be better to understand. Here we will see the Eligibility Criteria, Admission Process and Career Opportunities etc.
List of Government College for MBBS through NEET Exam
MBBS Course details:
The MBBS Course is 5.5 years long, in which 4.5 years would be at the college, and you will be taught theoretical knowledge, as well as Practical experience and the last one year, would be the Internship at the hospital.
Eligibility for MBBS Course:
A candidate must have passed class 12th with PCB (Physics, Chemistry and Biology).
The marks of the candidates in class 12th should not be less than the 50%
The age of the candidate should not be less than 17 years old.
There are relaxation has been given to any special categories and caste.
Admission Process: The Admission is done through the examinations like NEET (National Eligibility Cum Entrance Test), AIIMS (All India Institute of Medical Science) and JIPMER etc.
Fees Structure of MBBS Course: The Fees at the government college as very less as compared to the Private college. Government college fees may range between 11,000/- to 7.5 lakhs per month, but in the private college, it can be between 20 lakhs to 80 lakhs and even more than this.
Career Scope after MBBS Course: After this course, One can become a:
Specialist Doctor

Physician

Surgeon

Medical Professor or Lecturer

Research Scientist, etc.
The career scope is excellent, and It is effortless to get a job in private hospitals. One can also apply to become a government doctor. This is the details of the MBBS Course and now let's see the complete details about the BAMS Course (Bachelor in Ayurveda Medicine and Surgery).
Difference Between MBBS and BDS Courses in detail
BAMS Course details:
The BAMS course is 5.5 years long and in this, A candidate will get theoretical knowledge as well as practical knowledge for 4.5 years and one year of internship Program with live practical etc.
Eligibility for BAMS Course:
To apply for this course, A candidate must have done class 12th with Biology and Sanskrit. It is a compulsory subject.
A candidate must have scored at least 50% marks in 12th board.
The age of the candidate should not be less than 17 years old.
Top 10 Medical College for MBBS in India
Admission Process: Earlier the admission used to be done on a direct basis but now 2018 onwards. Candidates are selected on the basis of the Marks scored in NEET Examination (National Eligibility Cum entrance test).
Fees Structure of BAMS Course: The fees structure in the government colleges are very less as compared to the Private colleges. In government colleges, it can be range between 10,000/- to 5.5 lakhs. In private colleges, it can be between 40,000/- per annum to 3.5 lakhs per annum.
Career Opportunities after BAMS: There are many jobs available after the BAMS courses. One can work in the government sector or in the private sector etc. To work in the government sector, you will need to clear the governmental exam. You can work as:
Therapist
Sales Representative
Pharmacist
Clinical Trial Coordinator
Medical Representative
Ayurvedic Doctor
Sales Executive etc
You have also an option to pursue an MD or MS after the BAMS Course. You can pursue many postgraduates courses like:
Master's in Public Health
Master's in Health Administration
Post Graduate Diploma in Emergency Medicine and many other postgraduate courses.
To make a better career in this field. You must opt for the government sector. The government also promotes the Ayurveda medicine as . per the reports the Ayurveda medicine has very fewer side effects as compared to other modern medicines that are made up of using drugs and other harmful chemicals etc. The government pays a better salary to Ayurvedic doctors.
It is all about your interest. Both are better at their place. In the MBBS, there is a huge competition and tough to settle in a short time. There is no huge competition in the BAMS Course if you do better, you can get settled easily.