There are many career options available in the medical field. There are numerous courses that one can do to get a Doctor before his name. Many courses are even confusing with the name and their durability etc. Here in this article, I am going to cover the Pharm D and D Pharm courses. Here you will get to know about the Difference between Pharma D and D Pharma Course and will get to know the complete details about this course. I will also share with you the job opportunities after these courses etc. To get full information check the full out the article below: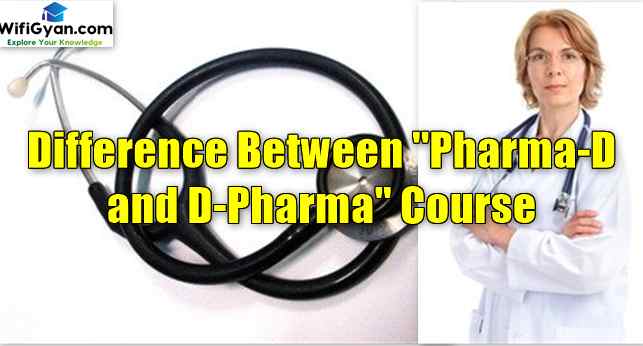 Difference Between MBBS and BDS Courses in detail
Difference between Pharma D and D Pharma Course:
The name of these both courses may seem a bit similar, but there is a huge difference in this. The eligibility criteria and all other things are very different. A candidate can take admission or pursue D-Pharm after class 12th if you have physics, chemistry, and mathematics/ Biology in your 12th board and this is a diploma course. And Pharma D is a Degree course. Let's discuss this one by one, and it will be better to make you understand in a better manner.
What is D-Pharm Course?
The D Pharm is a diploma in pharmacy. It is an entry-level career option in the field of medicine. This is a two-year-long course, and in these two years, you will get a train to work under the supervision of the pharmacists in the hospitals. Let's see the admission Process and Eligibility Criteria etc.
Admission Process: The admission is done based on the performance in the class 12th examination. Some of the best institutes also conduct the Entrance examinations.
Eligibility Criteria to pursue Pharm D: To apply for the D Pharma course, one must have done class 12th with physics, chemistry and mathematics/bio and having age 17 years old or more than that.
Now let' s see the details about the career options after this course like which field you can choose and what kind of job opportunities you would have after having this course:
List of Government College for MBBS through NEET Exam
Job Opportunities after D Pharma:
Many companies directly hire candidates from college. The top recruiting companies for the Diploma holder would be:
Mankind
Cipla
Sun Pharmaceuticals Industry Ltd
INTAS Biopharmaceuticals etc.
These companies usually hire the candidates on the intern, and after the year or two years, they get a permanent placement if they perform well. To get employed in better companies, you will have to join the top institutes. The top companies only hire candidates from top colleges. You can get posted on the following posts in the companies.
Pharmacist
Scientific Officer
Quality Analyst
Production Executive
Medical Transcriptionist etc.
There are also many more opportunities if you do not get selected in any company. You can join any private hospital, Chemist shops, research agencies, etc. You can also open your Chemist Shop if you have a D-Pharma certificate.
Now let's see the details about the Pharm D and what its admission procedure, eligibility criteria, and what kind of job opportunities available for the Pharm D.
Various Medical Courses after 12th in Biology
Pharm D:
Pharm D is a doctorate level course of 6 years. After this course, one will get prefix "Dr" before his name. In these six years, of course, you will be trained with five years of academics knowledge and one year of Internship, etc.
Eligibility Criteria to pursue Pharm D: To apply for the Pharm D course, one must have done class 12th with physics, chemistry and mathematics and having age 17 years old or more than that. It is also mandatory to have done D Pharma to apply for the Pharm D.
Admission Procedure: The admission is done on the basis of the national and state level entrance examinations. One can appear for these examinations:
GPAT (Graduate Pharmacy Aptitude Test)
UP-CPMT (Uttar Pradesh Combined Pre-Medical Test)
PMET (Punjab Pre-Medical Entrance Test)
UPSEE Pharmacy (Uttar Pradesh State Entrance Examination)
These are some of the major entrance examinations to take admission in the Pharm d course. There are also many private colleges that offer this course without entrance examination. The fee structure of the private college is too much as compared to government colleges. In the government college, the fees can be range between 6 lakhs to 17 lakhs and in the private colleges, it can be 10 lakhs to 70 lakhs to even more.
Job opportunities after Pharm D:
There are numerous job Opportunites available after pharm D. One of the easiest jobs to get is teaching. start teaching in college or universities. Here are some areas where one can work:
College/University
Pharmaceutical Company
Private practice firm
Hospital
Franchise
Self- Employed
To get placed well, you need to find the best colleges where the top companies hire the employee. Your college is the first place where you get placed well. If you didn't get placed, you can have the license for the medical store. The Medical store is one of the finest businesses for new graduates. You can a very handsome income from there.
The Salary in this isn't defined because that depends on which field you choose. But whichever field you choose, it would not be less than 3 lakhs per annum.