Hie viewers! Today, on our page you will be able to read about DRDO CEPTAM 09 Exam Pattern and Syllabus for Various Posts. As you guys may be knowing that Defence Research & Development Organization (DRDO) has invited for online applications of recruitment on their official website for the post of Stenographer, Administrative Assistant, Store Assistant, Security Assistant and Other Posts under Admin & Allied (A&A) Cadre.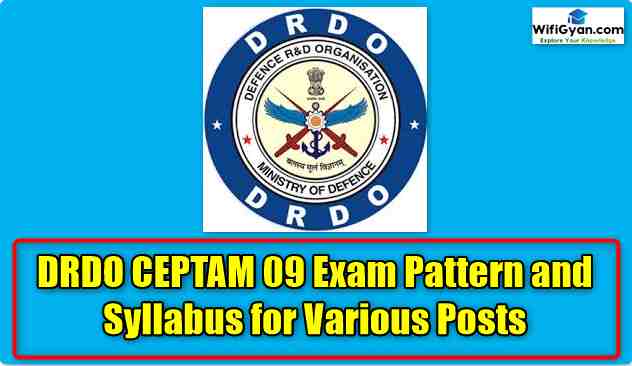 DRDO CEPTAM 09 Exam Pattern and Syllabus for Various Posts
Centre for Personnel Talent Management (CEPTAM) is a corporate body of DRDO with an Independent Chairman and Director as its Administrative Head. Those who aspire to be a part of Country's prestigious institute should not miss this opportunity to conquer their dream. The application's filling would be started from 21/09/2019 up to 15/10/2019. Aspirants who wanna join the DRDO will have a golden opportunity so as to save about their hard work and time as well.
Note: To read Defence-related content do watch CDS Previous Year Papers Download (Combined Defence Services)
DRDO CEPTAM 09 Exam Pattern:-
The exams like DRDO CEPTAM 09 are conducted once a year and the Candidates who are applying for the given posts can get here the complete syllabus along with exam pattern. Also, download the syllabus pdf from the below links which would help you get updated with all the forthcomings of the DRDO CEPTAM 09 examination.
| | |
| --- | --- |
| Name of the Organization | Defense Research & Development Organisation |
|  Name of the Post | Technician A (TECH A) |
|  No of Vacancies | 351 |
| DRDO CEPTAM Tier I & II Exam Date | To be Notified Soon |
| Official Website | www.drdo.in |
Also Check: NDA Examination Pattern 2019, Marking Scheme and NDA Syllabus
Exam Pattern:-
Defence Research & Development Organisation (DRDO) Has Recently Announced the 351 vacancies for the  Technician Recruitment. As Per Selection Process for DRDO CEPTAM 09, Tier-I & Tier-II will be conducted at the end of the year 2019.
The selection procedure will be divided into two tiers i.e. First is a CBT based test, while the second one is a qualification test.
The Computer Based first tier will consist of a total of 150 questions with a maximum score of 150.
The maximum time duration for tier-I will be of 120 min that is 2 hours.
While the second test will be a qualification round which consists of Trade Test will be of qualifying nature.
The trade test will be of ITI level in the related trade to test the practical skills of the candidates
The total duration for the trade test will be of 1 to 2 hours.
Mode of Examination
Post name
Subjects
No of Questions
Time Duration
Computer-Based Test
Stenographer II, Administrative Assistant (English Typing), Administrative Assistant (Hindi Typing), Store Assistant (English Typing), Store Assistant A(Hindi Typing),
Quantitative ability/aptitude, General
intelligence & Reasoning ability, General awareness,
General Science, Arithmetic & Numerical Ability
50
2 Hr
General English
50
Hindi or English Language
50
Security Assistant, Clerk(Canteen Manager Gr III), Assistant Halwai, Vehicle Operator, Fire Engine Driver, Fireman
Quantitative ability/aptitude, General
intelligence & Reasoning ability, General awareness,
General Science, Arithmetic & Numerical Ability
100
2 Hr
General English
25
Related to Job
25
Trade/Skill/Physical
Fitness and Capability
Test, wherever
applicable
(Qualifying in Nature)
All Post
It is also mandatory for shortlisted candidates to pass the prescribed Trade/Skill/Physical
Fitness and Capability Tests as per the norms, wherever applicable.
For Detail Skill Test Please Download DRDO CEPTAM 09 Notification- Click
Hope we are helping you guys to go throughout your exam sessions. Here are a few more of our content, Do read all of this and be updated;
Must Read: CDS Pathfinder Book Pdf Download By Arihant Publication
Syllabus of the

DRDO CEPTAM 09:-
The first step in the preparation of any examination should be to keep yourself updated with the exact syllabus of the forthcoming examination. Here we wifigyaan.com are working each hour to provide you with the matter that's really important and suitable syllabus required by you guys.
Any examination conducted over the Country gives you students new hope to prepare and get selected in the best part of the Government Jobs. Same applies for us, we work for the betterment of the data provided to you. For example, this DRDO CEPTAM 09 examination will be held at the end of the year 2019. Hence, we consider it our moral responsibility to notify you about the updated syllabus for DRDO CEPTAM 09.
The tabulated syllabus of the exam is given as follows:-
TIER-I is a Computer Based Test (CBT) consist of 2 sections :
Section A:-
Quantitative Ability:-
Analogies, similarities and differences, space visualisation, spatial orientation, problem-solving, analysis, judgement, decision making, visual memory, discrimination, observation, relationship concepts, arithmetical reasoning and figural classification, arithmetic number series, non-verbal series, coding and decoding, statement conclusion, syllogistic reasoning etc.
Quantitative Aptitude:-
Questions will be asked from Simplification, Number Series, Quadratic Equations Average, Percentage, Time & Work, Area, profit & Loss, Simple & Compound Interest, Time & Speed, Investment, HCF & LCM, Problem On Ages, Bar Graph, Pictorial Graph, Pie Chart.
Reasoning Ability:-
Focus on Comprehension Reasoning, Venn Diagrams, Coding and de-coding, Problem Solving Techniques, Statement & Conclusion type questions, arithmetic reasoning, arithmetical number series, non-verbal series, syllogistic reasoning, Seating Arrangements, Decision Making, Input & Output, Logical Reasoning. Questions from Non-Verbal Reasoning may ask in the Exam.
General Awareness:-
Current Affairs (National and International)
Major Financial / Economic News
Budget and Five Year Plans
Sports
Books and Authors
Awards and Honors
Science – Inventions and Discoveries
Abbreviations
Important Days
International and National Organizations are some related topics
English Language:-
Mainly Focus on the topics like Synonyms, Antonyms, Sentence Error, Sentence correction, fill in the blanks, Sentence Arrangements/ Word Arrangement, Comprehension & Cloze Test nothing can be out of these mentioned Topics etc. Comprehension will be lengthy & Difficult.
Section B:-
Specific to the trade /discipline of the postcode.
Here it goes, Students! so you have now all the contents related to the DRDO CEPTAM 09, all the best for your upcoming examination.
Must See:- KVIC Previous Year Paper Pdf Download for Junior Executive, Assistant Etc.
Must See:- Sarvesh Verma Quantum Aptitude for CAT, GMAT, GSAT. Pdf Download
For Better Preparation and Better Study material Please Visit Wifigyan.com on a regular basis. Here You will find all the books related to all subjects free of cost. My main aim to help the students who are not able to buy all the expensive books. if you guys want to appreciate my afford please share my post with your friends by which they can also avail my services. Contact Us at [email protected] Thank You.