Hello Friends, Today Wifigyan.com is going to share FSSAI Previous Year Paper Download for Assistant, Central Food Safety Officer, etc. Food Safety and Standards Authority of India (FSSAI), hereinafter referred to as 'Food Authority' is a Statutory Body under M/o Health and Family Welfare. FSSAI has been created for laying down science-based standards for articles of food and to regulate their manufacture, storage, distribution, sale, and import to ensure availability of safe and wholesome food for human consumption to 130 crore citizens of the country.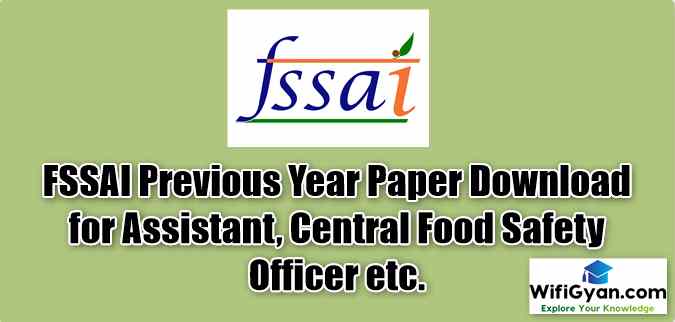 FSSAI Previous Year Paper Download for Assistant, Central Food Safety Officer, etc.
Recently Food Safety and Standards Authority of India (FSSAI) has released vacancy for various post like, Assistant Director, Assistant Director (Technical), Technical Officer, Central Food Safety Officer, Administrative Officer, Assistant, Junior Assistant-I, Hindi Translator, Personal Assistant, IT Assistant and Deputy Manager, Etc. Please check educational qualification of all the post and apply for the relevant post.
After applying you need to know the exam pattern and syllabus of FSSAI, and then you need previous year Questions paper of FSSAI. Today here we are going to share all the detail related to FSSAI Examination.
FSSAI Exam Pattern and syllabus for Assistant and Junior Assistant Grade-I:-
The paper would be 100 Objective MCQ type questions to be attempted in 120 minutes.
4 marks would be given for each correct answer and 1 mark deducted for each wrong answer.
Subjects
Questions
Marks
Time
General Intelligence
20
80
120 Min (2Hr)
Quantitative Aptitude
20
80
English Language
15
60
General Awareness
25
100
Computer Literacy
10
40
FSSAI – Role, Functions, Initiatives (A General Understanding)
10
40
Total
100
400
Syllabus of FSSAI (Assistant / Grade-1):-
General Intelligence:
It would include questions of both verbal and non-verbal type. The test will include questions on Semantic Analogy, Symbolic operations, Symbolic/ Number Analogy, Trends, Figural Analogy, Space Orientation, Semantic Classification, Venn Diagrams, Symbolic/ Number Classification, Drawing inferences, Figural Classification, Punched hole/ pattern-folding & unfolding, Semantic Series, Figural Pattern – folding and completion, Number Series, Embedded figures, Figural Series, Critical Thinking, Problem Solving, Emotional Intelligence, Word Building, Social Intelligence, Coding and decoding, Other sub-topics, if any Numerical operations.
Quantitative Aptitude:
Number Systems, Computation of the Whole Number, Decimal and Fractions, Relationship between numbers Fundamental arithmetical operations: Percentages, Ratio and Proportion, Square roots, Averages, Interest (Simple and Compound), Profit and Loss, Discount, Partnership Business, Mixture and Allegation, Time and distance, Time and work.
English Language:
Spot the Error, Fill in the Blanks, Synonyms/ Homonyms, Antonyms, Spellings/ Detecting misspelled words, Idioms & Phrases, One-word substitution, Improvement of Sentences, Active/ Passive Voice of Verbs, Conversion into Direct/ Indirect narration, Shuffling of Sentence parts, Shuffling of Sentences in a passage, Cloze Passage, Comprehension Passage.
General Awareness:
Questions are designed to test the candidate's general awareness of the environment around him and its application to society. Questions are also designed to test knowledge of current events and of such matters of everyday observation and experience in their scientific aspect as may be expected of an educated person. The test will also include questions relating to India and its neighboring countries especially pertaining to History, Culture, Geography, Economic Scene, General policy, and scientific research.
Computer Literacy:
The candidate is expected to be able to handle all regular office work on computers. Knowledge of MS office (word, excel, powerpoint) including basic commands, Google Doc, emails, commonly use social media handles (WhatsApp, FB, Twitter, etc). would be tested.
FSSAI – Role, Functions, Initiatives (A General Understanding)-
Genesis and Evolution of FSSAI, Structure and Functions of Food Authority, Overview of systems and processes in Standards, Enforcement, Laboratory ecosystem, Imports, Third Party Audit, Promoting safe and wholesome Food (Eat Right India, Food Fortification, SNF, Clean Street Food Hub, RUCO and various other social and behavioral change initiatives), Training and capacity building, Role of State Food Authorities.
FSSAI Previous Year Paper Download for Assistant, Central Food Safety Officer, etc.
Download FSSAI Question Paper- Click Here
FSSAI Previous Year Paper- Click Here
Answer Key of FSSAI Paper- Download
Paper-II answer key Of FSSAI:- Download
FSSAI English sample paper:- Download
Download FSSAI Reasoning Paper:-Download
FSSAI Computer Literacy Study Materials:- Download
Must Read:- Computer Question Answer Pdf for SSC, Bank Exams Download
Must Read:- Interim Budget 2019 Pdf in Hindi by GS World Download For UPSC
For Better Preparation and Better Study material Please Visit Wifigyan.com on regular Basis. Here You will find all the books related to all branch free of cost. My main aim to help the students who are not able to buy all the expensive books. So if you guys want to appreciate my afford please share my post with your friends by which they can also avail my services.
Must Read:- Economics GS Pointer Pdf Download by घटना चक्र, सभी प्रतियोगी परीक्षा के लिए|
Must Read:-  Environment and Ecology GS Pointer Pdf Download
Friends, if you need an eBook related to any topic. Or if you want any information about any exam, please comment on it. Share this post with your friends on social media. To get daily information about our post please Click The Bell Icon Which is Given Below.
Disclaimer
Wifi Gyan does not own this book, neither created nor scanned. We just provide the link already available on the internet. If anyway it violates the law or has any issues then kindly mail us: 
[email protected]