Gramin Dak Sevak Salary: Hello Aspirants! we understand the importance of preparation value for your studies. Hence brought around for you all the required information about Gramin Dak Sevak and its Salary, UP GDS Work and Promotions. Here in this article you would get to learn all about UP GDS related information, This time Uttar pradesh government is going to recruit Gramin Dak Sevak in village area. Here read the all detail.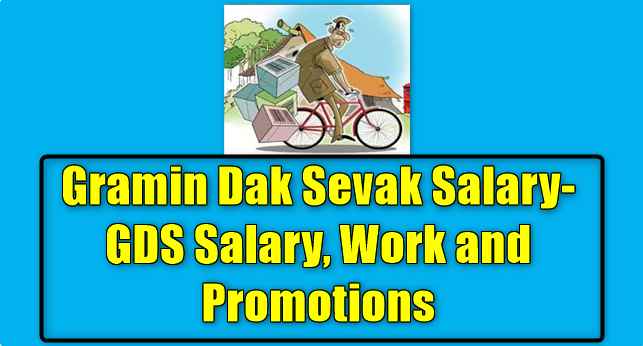 It is to say that do scroll the article upto the end of the page so as to understand all the aspects of the UP Gramin Dak Sevak Salary, his job profile and the Upgradations of UP GDS post.
Gramin Dak Sevak Salary, UP GDS Salary, Work and Promotions
When you prepare for any examination, its important to understand well about all its aspects related to the salary of the job, its job profile and also about its promotions. We have mentioned all about it here. Made for all your interests here in this single article you get to learn all about the post you are preparing for.
Hence, to understand it in a better way read our article further.
Salary of Gramin Dak Sevak of Uttar Pradesh
To understand more about the salary issues of a Dak Sevak in Uttar Pradesh just read the total article and let us know about various FAQ's related to it.
Not only this for all of you out their, it is important for you to better understand all the aspects of UP Gramin Dak Sevak Salary. Therefore in this article we are going to tell you all about the post wise salary management of a UP Gramin Dak Sevak.
As per preparaing for your selection in Gramin Dak Sevak post we would preassume about you being well aware about all kind of salary and allowances that are offered to various posts of a Dak Sevak. Hereby read the elsewhere required informations about all of this just over here. Basically a Dak Sevak has been categorised into four different posts:-
Branch Post Master- BPM
UP Mail Deliever- MD
Mail Carrier/Collector-MC
UP Packers
Gramin Dak Sevak Salary:-
Hereby it is to say that coming towards the salary for other posts you need to learn about the following things:-UP GDS Salary for ABPM, MD, MC and Packers:-
According to TRCA slab, salary increament for Assistant Branch Post manager (ABPM)
Level-1: Rs. 10,000-Rs. 24,470
Level-2: Rs. 12,000- Rs. 29,480
Talking about the TRCA that is a travel allowance for level 1 it has been increased to Rs. 12000/- month and maximum to Rs. 29,380/- month according to the TRCA slab. While according to the TRCA slab in the level 2 the amount will be increased from Rs. 14,500- Rs. 35,480. Whereas the professional tax for all working hours is Rs. 110.
Whereas the basic salary after 7th pay commission is mentioned in the table below:-
While, allowances are mentioned the professional taxes are allowed as Rs. 110. Whereas the basic salary is tabulated below:-
| | |
| --- | --- |
| Hours of Work | Total Salary(Including Basics and Increaments) |
| 3 Hours | 5836 |
| 3 Hours 45 Mins | 7293 |
| 5 Hours | 9242 |
When you check towards the salary of MC and packers post, the TRCA is same as ABPM post while the gross salary is mentioned as below:-
| | |
| --- | --- |
| Hours of Work | Total Salary(Including Basics and increaments) |
| 3 Hours | 5026 |
| 3 Hours 45 Mins | 6285 |
| 5 Hours | 7961 |
The professional taxes and basic allowances are almost same for all the posts of a UP GDS.
Job Profile for India Post GDS
When you are preparing for getting a job into Gramin Dak Sevak first of all you should be well aware about the tough competition hanging around. Although all other kinds of competetions are hard to enunciate yet when you know the exact data you can determine the level of competetion really well.
First of all you should understand that UP GDS post is appointed by the Department of Posts (DoP), working under the Indian Communication Ministry. Hereby under the GDS recruitment a total of 3,951 vacancies are announced this year for recruiting fresh candidates.
The work division based on different posts of Gramin Dak Sevak is categorised as below:-
Work Profile of BPM Post:-
Branch Post master is appointed as the team leader of the Dak Seva. He words for managing all the duties of other posts of UP GDS. He also manages the postal operations, to ensures the online transactions, maintaining the postal records and also managing the affairs of the GDS Branch Post Office, IPPB etc.
Work Profile of ABPM Post:-
He has to mainly organize the mela, marketing buisness and also the works given by BPM, IPO, SSPOs etc. His functions include all of it like to manage the marketing of stamps, stationery, conveyance and also the footstep mail delievery service and also the other transactions related to the IPPB and BPM.
Work Profile of Dak Sevak Post:-
All the functions of a Dak sevak are assigned by the procurement of BPM and ABPM. The TRCA and other allowances are also given to him on the incentive basis.
Promotions Related to the India Post GDS
Conclusively now coming towards the promotions and upgradations of a Gramin Dak sevak. Here it is to say that you can read all the duties, salaries, perks and promotions related to the GDS post.Above all, a Gramin Dak sevak is a person who is always there to help you. He delivers your mails and messages upto your doorsteps. Secondly, it is also necessary to understand the role of a Dak sevak in your day to day lives. So read us upto the last and for more informations regarding all of these for example the salary, work profile and promotions. However the official website of the India Post GDS is also given here: http://www.appost.in/gdsonline/home.aspx
Click on the link to know more. To clarify you about the various posts we have given these enumerations below:-
Branch Post Master(BPM): Highest post for promotion.
Assistant Branch Post Master(ABPM): Second highest post.
Dak Sevak Post: The basic post of recruitment.
All the candidates are thus recommended to read all of it about the work profile, salary, perks and allowance etc all of it just in a single article.
Must Read:-
I hope we have provided you with all the information about Gramin Dak Sevak Salary, UP GDS Salary, Work and Promotions. If you like this article and find useful then share it with your friends. also, feel free to comment in the below section. if you guys want to appreciate my afford please share my post with your friends by which they can also avail of my services. For any Private adds and other inquiry mail us at [email protected]