How to Join RAW: There are many ways by which you can serve your nation. Here in this article, I am sharing with you the complete details about the RAW (Research and Analysis Wings). You will get to know about the Selection procedure in this service and what are the required eligibility criteria to be a RAW Agent etc. The Process to join RAW is completely different, there is no direct recruitment for this post. To get complete details about How to Join RAW India or How to become RAW Officer. Check out the complete article, I have shared all the information regarding your doubts.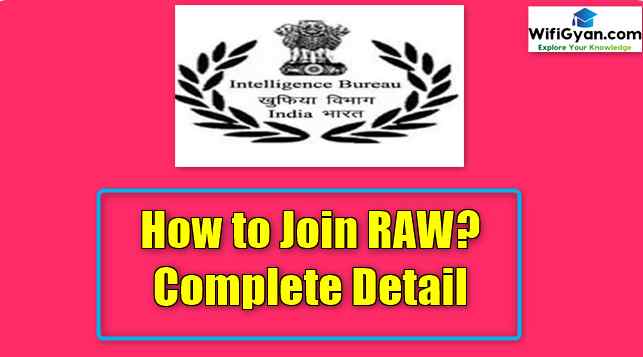 SSC CGL: CBI Job Profile, Salary & Promotion In Hindi
How to Join RAW? Complete Detail:
The RAW (Research and Analysis Wings) department directly works under the Prime Minister Office. This is basically an External Intelligence Agency. Their work is to keep an eye on the other countries' development that is related to India.  If you are thinking to join the RAW department then think twice, you may have a very good opportunity to serve the nation but without public credit. If you are interested to join this service just read the complete article, Here I will share with you the complete details about how to join RAW and become an officer in Research and Analysis Wings and will also tell what kind of job roles are available in this, etc.
Must-Know:-  What is RAW Agent Salary, Job Profile, Lifestyle
Recruitment Process in RAW (Research and Analysis Wings):
If you are wondering that How to Join RAW India, then you should know that, there is no direct recruitment process in the for Joining RAW. All the recruitment process are done very secretly. Mostly, the recruitment process is done through the UPSC Examination. Recently a year ago some of the candidates who had passed the UPSC Examination, were offered to work as RAW Agent.
Mostly an IPS Officers are recruited as RAW Officer after getting some experience and they have to make their own team. They recruit the candidates directly from the Universities/Colleges etc. These things are done very secretly. In order to join the RAW, one will have to clear the UPSC Examination, Once you become A grade Officers in the Army, You may get the opportunity to apply to join RAW India as Agent.
Mostly the A grade Officer from the Indian Armed forces, Intelligence Agency, Police Service, and Administrative service, etc they get Opportunity to become an officer in the RAW(Research and Analysis Wings).
CBI Sub Inspector Salary, Promotion and Job Profile
Job Roles in the RAW Department after Join:
In the Department, there is a need for almost every post which is important to run an office administration. Here are some common roles that are a must.
Clerk
Stenographer
Analyst
Desk Officer
Field officer
Accountant
Admin Officer etc.
For the recruitment of Clerks, Accountant, and some other lower grade posts, they directly hire the candidates from the College/universities, etc.  Under the Field Officer post, there are some posts like Assistant field Officer, Field  Officer, Senior Field officer, and Deputy Field Officer. One can get these posts on the basis of the experience, The experience does matter a lot in this field, You will have to prove yourself better to be the part of this service.
Training of RAW Agents after Join:
The Basic training starts with the 10 days to make them familiar with the real world and they will be also taught about the Countries Internal Security. Once they get the basic idea about the Department, they will be sent to the Indian Military Training Academy, Dehradun for the extensive training.
At the military Academy, they will get trained to fight, trained to escape, and other military tactics, etc. They are also trained in various languages, common techniques, Information Security, Scientific Knowledge, etc. They get very advanced training in the military field. They become capable of fighting with the four-five person at a time. Now let's see some of the best contributions of the RAW for the nation.
SSC CPO SI Physical Eligibility Standard
Contribution of RAW for the Nation:
Since its creation, The RAW (Research and Analysis Wings) has played a vital role in the Indian Foreign  Policies and has achieved various feet:
Operation Kahuta
Operation Mesgdoot
Operation Cactus
Libration of Bangladesh in 1971
Afganistan's growth and development
Sikkim's accession to India 1975
India Nuclear Program (Operation smiling Budda)
Supporting the African Liberation Movement during the cold war etc.
There are many other operations where the RAW department played a vital role but could not get recognized and didn't get any public credit.
It is very tough to live the life of a RAW agent. They are not even allowed to share their identity with their family member and friends. keeping identity secret is their first priority. They are sent to different countries and they have to match themselves with their culture.
So if you still wandering that how to join RAW, So Basically there is no direct recruitment in the service, One will have to be part of the Indian A grade officer in Indian Armed/Administrative Service and later they may get a chance to become RAW officer/Agent. Not everybody can be part of itRAW. You will have to prove that They are capable of being a RAW Agent.