Hello Friends, आज Wifigyan.com आप लोगो के लिए IBPS RRB (Gramin Bank) Exam Pattern And Syllabus के बारे में जानकारी लेकर आया है| दोस्तों IBPS ने ग्रामीण बैंक के लिए Office Assistant, Officer Scale I, II & III के लिए विज्ञापन जरी कर दिया है जो छात्र इस परीक्षा के लिए तैयारी कर रहे है वो लोग 02/07/2018 तक आवेदन कर सकते है| पर आवेदन से पहले आप लोग IBPS RRB (Gramin Bank) Exam Pattern And Syllabus को अच्छी तरह समझ ले इसलिए आज हम आप लोगो के लिए यह पोस्ट लिख रहे है उम्मीद है आप लोगो को पसंद आयेगा| अगर आप लोगो को हमारी यह पोस्ट उपयोगी लगे तो अपने दोस्तों के साथ जरुर साँझा करे|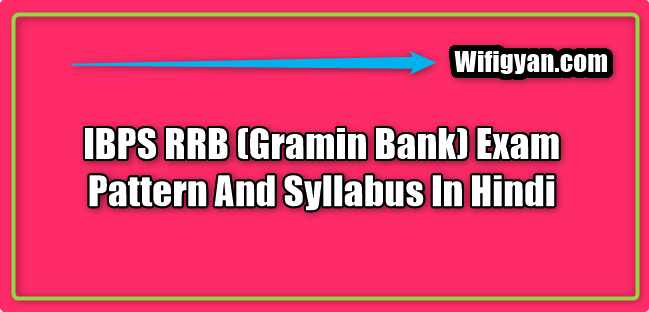 IBPS RRB (Gramin Bank) Exam Pattern And Syllabus In Hindi:-
IBPS RRB (Gramin Bank) Selection Process:-
Pre Exam (कंप्यूटर आधारित परीक्षा)
Mains Exam (कंप्यूटर आधारित परीक्षा)
Interview (Office Assistant, को छोड़ कर सभी में )
Note:- Pre और Mains परीक्षा में पास होने पर 100 अंक का Interview होगा|
IBPS RRB (Gramin Bank) Pre Exam Pattern:-
For Office Assistant (Multipurpose)
सभी प्रश्नों Objective Type के होंगे और प्रत्येक प्रश्न के लिए 1 अंक निर्धारित होगा तथा गलत उत्तर देने पर 1/4 (.25) अंक काट लिया जायेगा|
विषय 
 परीक्षा का माध्यम 
 प्रश्नों की संख्या 
 अधिकतम अंक 
 समय 
Reasoning
Hindi/English
40
40
45 मिनट
Numerical Ability
Hindi/English
40
40
Total
80
80
For Officer Scale-I:-
विषय 
 परीक्षा का माध्यम 
 प्रश्नों की संख्या 
 अधिकतम अंक 
 समय 
Reasoning
Hindi/English
40
40
45 मिनट
Numerical Ability
Hindi/English
40
40
Total
80
80
जो छात्र दोनों पदों के लिए आवेदन किया है उन्हें दोनों पदों के लिए जरी की गयी कट ऑफ को पार  करना होगा|
अगर वो एक पद के लिए Qualify हो गए और दुसरे के लिए नहीं तो उन्हें उस पद के मुख्या परीक्षा में बैठने की अनुमति मिल जाएगी पर दोनों पदों की मुख्या परीक्षा में सामिल होने के लिए आपको दोनों के Pre Exam का कट ऑफ पार करना होगा|
IBPS RRB (Gramin Bank) Mains Exam Pattern:-
 For Office Assistant (Multipurpose):-
सभी प्रश्नों Objective Type के होंगे और प्रत्येक गलत उत्तर देने पर 1/4 (.25) अंक काट लिया जायेगा|
आप लोगो को IBPS RRB (Gramin Bank) की मुख्या परीक्षा में Hindi and English Language में से किसी एक विषय का चयन करके उसके प्रश्नों को हल करना होगा|
विषय 
 परीक्षा का माध्यम 
 प्रश्नों की संख्या 
 अधिकतम अंक 
 समय 
Reasoning
Hindi/English
40
50
2 घंटे
Numerical Ability
Hindi/English
40
50
General Awareness
Hindi/English
40
40
English/Hindi Language
English/Hindi
40
40
Computer Knowledge
Hindi/English
40
20
Total
200
200
For Officer Scale-I:-
विषय 
 परीक्षा का माध्यम 
 प्रश्नों की संख्या 
 अधिकतम अंक 
 समय 
Reasoning
Hindi/English
40
50
2 घंटे
Quantitative Aptitude
Hindi/English
40
50
General Awareness
Hindi/English
40
40
English/Hindi Language
English/Hindi
40
40
Computer Knowledge
Hindi/English
40
20
Total
200
200
IBPS RRB (Gramin Bank) Single level Examination For Officer Scale-II Exam Pattern:-
सभी प्रश्नों Objective Type के होंगे और प्रत्येक उत्तर देने पर 1/4 (.25) अंक काट लिया जायेगा|
आप लोगो को IBPS RRB (Gramin Bank) की मुख्या परीक्षा में Hindi and English Language में से किसी एक विषय का चयन करके उसके प्रश्नों को हल करना होगा|
विषय 
 परीक्षा का माध्यम 
 प्रश्नों की संख्या 
 अधिकतम अंक 
 समय 
Reasoning
Hindi/English
40
50
2 घंटे
Quantitative Aptitude & Data
Interpretation
Hindi/English
40
50
Financial Awareness
Hindi/English
40
40
English/Hindi Language
English/Hindi
40
40
Computer Knowledge
Hindi/English
40
20
Total
200
200
Officer Scale-II (Specialist Cadre):-
आप लोगो को IBPS RRB (Gramin Bank) की मुख्या परीक्षा में Hindi and English Language में से किसी एक विषय का चयन करके उसके प्रश्नों को हल करना होगा|
विषय 
 परीक्षा का माध्यम 
 प्रश्नों की संख्या 
 अधिकतम अंक 
 समय 
Reasoning
Hindi/English
40
40
2:30 घंटे
Quantitative Aptitude & Data
Interpretation
Hindi/English
40
40
Financial Awareness
Hindi/English
40
40
English/Hindi Language
English/Hindi
40
20
Computer Knowledge
Hindi/English
40
20
Professional Knowledge
Hindi/English
40
40
Total
240
200
For Officer Scale-III:-
विषय 
 परीक्षा का माध्यम 
 प्रश्नों की संख्या 
 अधिकतम अंक 
 समय 
Reasoning
Hindi/English
40
50
2 घंटे
Quantitative Aptitude & Data
Interpretation
Hindi/English
40
50
Financial Awareness
Hindi/English
40
40
English/Hindi Language
English/Hindi
40
40
Computer Knowledge
Hindi/English
40
20
Total
200
200
IBPS RRB (Gramin Bank) Syllabus:-
Syllabus of 

Logical Reasoning:-
Coded Inequalities/ Mathematical Inequalities, Syllogisms, Coding & Decoding, Circular Seating Arrangement, Linear Seating Arrangement, Blood Relations, Directions & Distances, Ordering & Ranking, Arrangement & Pattern, Double Lineup, Scheduling, Analogy, Classification.
Syllabus of  

Quantitative Aptitude

:-
Simplification, Average,Percentage, Data Interpretation, Quadratic Equations, Number Series, Data Sufficiency, Permutation & Combination / Probability, Miscellaneous Questions.
Syllabus of  

English Language

:-
Reading Comprehension, Sentence Improvement/Phrase Replacement, Para Jumbles/Odd One Out, Cloze Test, Error Spotting, Single Fillers/Double Fillers/Sentence Fillers.
Syllabus of  

GA (General Awareness)

:-
Financial/Banking Awareness, Current Affairs, Static G.K, Economy.
Syllabus of Computer:

–
Internet, Memory, Keyboard shortcuts/Abbreviations, Microsoft Office, Computer Hardware, Computer Software, Operating Networking, Computer Fundamentals/Terminologies.
This is All About IBPS RRB (Gramin Bank) Exam Pattern And Syllabus
---
Related Post:-
Friends, if you need an eBook related to any topic. Or if you want any information about any exam, please comment on it. Share this post with your friends on social media. To get daily information about our post please Click The Bell Icon Which is Given Below.
Disclaimer
Wifi Gyan does not own this book, neither created nor scanned. We just provide the link already available on the internet. If anyway it violates the law or has any issues then kindly mail us: 
[email protected]