Indian Institute of Technology conducts the Joint Entrance Examination to select the candidates in the Engineering College. To get selected in India's best Engineering Colleges, One will have to clear the JEE Mains Exam and JEE Advance exam. Here in this article, I am going to share with you the complete IIT JEE Mains Syllabus in Detail. To get complete details about this examination and the full syllabus of JEE Mains, check the entire article below. I have shared details about this.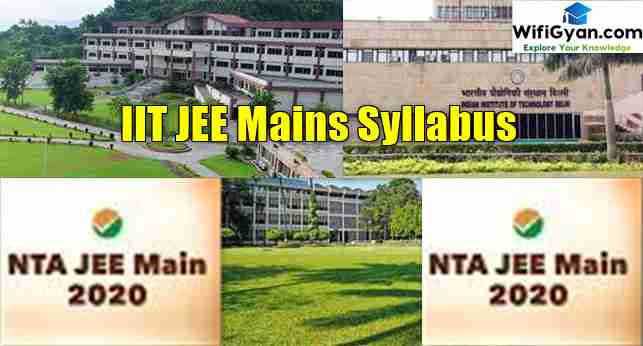 IIT JEE Advanced Syllabus and Exam Pattern for B.tech Entry.
IIT JEE Mains Syllabus in detail (JEE Mains Full Syllabus):
The Engineering career is one of the most demanding among youths. One will have to clear the JEE Mains and Advance examination to get the IIT college. Both exams are conducted by the IIT (Indian Institute of Technology). Before checking out the syllabus, get some information about the Exam and its pattern, etc.
Exam Pattern of JEE Mains Examination:
The JEE Mains would have two papers.
The exam will be conducted Online, Computer Based Examination.
Total Time Duration: 3 hours
Paper one would be consists of Physics, Chemistry and Mathematics
Paper second would be consists of Mathematics, General Aptitude, and Drawing etc.
Paper Pattern of Paper I and Paper II:
Subject
No. of Questions
Type of questions
Maximum Marks
Physics
25

20 Questions would be Objective types of questions with Multiple choice Answer.
5 questions would be Numerical

100
Mathematics
25
100
Chemistry
25
100
Total 
75
300
Paper-II
Subject
Number of Questions
Types of questions
Maximum Marks
Aptitude Test
50
Objective Type – Multiple Choice Questions.
200
Mathematics
25

20 Questions would be Objective types of questions with Multiple choice Answer.
5 questions would be Numerical

100
Drawing Test
2
Questions of drawing
100
Total
77 questions
400 marks
There is a difference between Paper 1 and Paper 2. Paper 1 is for the B.E ane B.tech while paper 1 is for the B.arch and B/Plan etc. Now let's see the complete syllabus of the examination that one has to prepare for the Computer Based Online Examination.
Atomic Structure Notes Pdf Download for IIT JEE And NEET Examination.
IIT JEE Mains Syllabus:
For the IIT JEE Mains Examination, One will have to prepare for three subjects either it is for the BE/B.tech or for the B.Arch or B.Plan etc.
B.E/B.tech:
Physics
Chemistry
Mathematics
B.Arch/B.Plan:
Mathematics
Aptitude test
Drawing Test
Now let's see the name of the chapter or topics that you have to prepare in this. It may help you a lot in the preparation:
JEE mains Physics Syllabus:
Physics and Measurement
Kinematics
Thermodynamics
Work, energy and power
Rotational Motion
Gravitation
Laws of Motion
Properties of solids and liquids
Electronic devices
Kinetic theory of gases
Oscillations and Waves
Communication systems
Current electricity
Magnetic effects of current and magnetism
Electromagnetic induction and alternating currents
Electromagnetic waves
Optics
Dual nature of matter and radiation
Electrostatics
Atoms, and Nuclei
Experimental Skills
JEE Mains Chemistry Syllabus:
Some basic concepts in chemistry
States of matter
Atomic structure
Chemical bonding and molecular structure
Chemical thermodynamics
Solutions
Equilibrium
Redox Reactions and Electrochemistry
Chemical kinetics
Surface chemistry
Purification and characterization of organic compounds
Hydrocarbons
Chemistry in everyday life
Principles related to practical chemistry
Organic compounds containing halogens
Organic compounds containing oxygen
Organic compounds containing nitrogen
Polymers
Some basic principles of organic chemistry
Biomolecules
Classification of elements and periodicity in properties
Hydrogen
Block elements (alkali and alkaline earth metals)
P Block elements group 13 to group 18 elements
d- and f – block elements
Co-ordination compounds
Environmental chemistry
General principles and processes of isolation of metals
JEE Mains Mathematics Syllabus:
Sets, relations, and functions
Complex numbers and quadratic equations
matrices and determinants
Mathematical reasoning
Mathematical induction
Permutations and combinations
Sequences and series
Limit, continuity, and differentiability
Integral calculus
Differential equations
Binomial theorem and its simple applications
Three-dimensional geometry
Vector algebra
Coordinate geometry
Statistics and probability
Trigonometry
JEE Mains Aptitude test Syllabus:
The IIT JEE Mains Aptitude Test. The Question paper would be divided into two sections. Here are the topics of both the section.
Section-1
Awareness of persons, places, Buildings, Materials
Objects
Texture related to Architecture and build—environment
Visualizing three-dimensional objects from two-dimensional drawings
Visualizing different sides of three-dimensional objects
Analytical Reasoning Mental Ability (Visual, Numerical and Verbal)
Chemistry Notes Pdf Download For IIT JEE And NEET Examination
Dinesh Khattar Pearson Mathematics Guide For IIT JEE Entrance Exam
MTG Chemistry Practice Paper for JEE Mains, Advanced, JIPMER and AIIMS
Section: 2
Three-dimensional perception: Understanding and appreciation of scale and proportion of
Objects
Building forms and elements
Colour texture
Harmony and contrast.
Design and drawing of geometrical or abstract shapes and patterns in pencil. Transformation of forms:
2D and 3D union
Subtraction
Rotation
Development of surfaces and volumes
Generation of Plan
Elevations and 3 D views of objects
Creating two dimensional and 3D compositions using given shapes and forms. Sketching of scenes and activities from memory of urbanscape:
Public Space
Market
Festivals
Street scenes
Monuments
Recreational spaces
Landscape riverfronts
Jungles, trees, plants and
Rural life.
P Bahadur Numerical Problems in Physical Chemistry for IIT-JEE, Pdf
This is the full syllabus of the IIT JEE Mains Examination. This Exam is tough to clear if one does not prepare well for this. There are many books by which you can prepare but make sure that you are buying the best books. Most of the books are just full of questions and nothing else. Prepare well and do better in the Exam.