Indian Army JAG Entry Salary:- Become a Judge is a dream of every law graduate students, some of them prepare for PCS-J examination. But if you want to become Judge in Indian Army then Army JAG Entry Scheme is the only option for you. Men and Women both can be the Judge in Indian Army through this JAG Entry Scheme. Many students wanted to know the salary of Judge in Army, so here in this article you can read all the detail about Indian Army JAG Entry Salary, Pay Scale, Allowances and Promotions Criteria.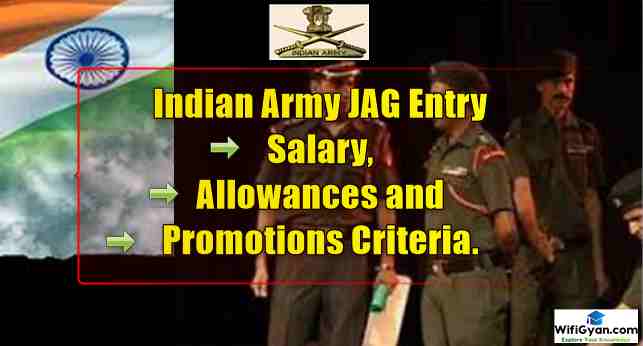 Army JAG Entry Salary:-
A judge in Indian Army earns a handsome salary along with to so many Allowances. Stipend to Gentlemen or Lady Cadets during the entire duration of training in Service academies i.e. during training period at OTA Army JAG Entry Salary will be Rs 56,100/-p.m. And this would be fixed during the training of 49 weeks at OTA, Chennai.
Note- On successful commissioning, the pay in the Pay Matrix of the Officer Commissioned shall be fixed in first Cell of Level 10. The period of training shall not be treated as commissioned service. Arrears on account of admissible allowances, as applicable, for the training period shall be paid to cadets.
All India Bar Examination Syllabus and Pattern, AIBE Syllabus
Army Judge Salary after the completion of Training:-
In below table i am mentioning the Army JAG Entry Salary, Pay Scale, after the commissioned so please refer to this-
| | | |
| --- | --- | --- |
| Rank | Level  | Pay(in Rs.) |
| Lieutenant | Level-10 | 56,100 – 1,77,500 |
| Captain | Level-10B | 61,300 – 1,93,900 |
| Major | Level-11 | 69,400 – 2,07,200 |
| Lieutenant Colonel | Level-12A | 1,21,200 – 2,12,400 |
| Colonel | Level-13 | 1,30,600 – 2,15,900 |
| Brigadier | Level-13A | 1,39,600 – 2,17,600 |
| Major General | Level-14 | 1,44,200 – 2,18,200 |
Along with this Army Judge Salary you are also eligible for Allowances which is depending on your location of posting.
Must Read- Army JAG Entry Selection Procedure
Military Service Pay (MSP):-
MSP to the officers from the rank of Lt to Brig Rs 15,500/- p.m. fixed.
Army Judge Allowances:-
Dearness Allowance
Admissible at the same rates and under the
same conditions as are applicable to the
civilian personnel from time to time
Para Allce
Rs 10500/-pm
Para Reserve Allce
Rs 2625/-pm
Para Jump Instructor Allce
Rs 10500/-pm
Project Allce
Rs 3400/-pm
Special Forces Allce
Rs 25000/-pm
Technical Allce (Tier-I)
Rs 3000/-pm
Technical Allce (Tier-II)
Rs 4500/-pm
Enrollment process in Bar Council of India full details
Field Area allowances:-
Depending upon rank and area of posting, officers posted to Field Areas will be eligible for the following Field Area allowances:- 

This allowance is applicable for all grade officer i.e from Lieutenant to above.
Highly Active Field Area Allowance (

HAFA

):- 

Rs 16900/- R1H2

Fd Area Allowance (Per month):- Rs10500/- R2H2

Mod Fd (Modified Field) Area Allowance (Per month):-Rs 6300/- 60% of R2H2

High Altitude Allowance:-
CAT-I (Per month):- Rs 3400/- R3H2

CAT-II (Per month):- Rs 5300/- R3H1

CAT-III (Per month):- Rs 25000/- R1H1

Siachen Allowance:- 
Siachen Allowance will be Rs. 42,500/- per month, this is applicable for those who is posted at Siachen area.

Uniform Allowance:-
Subsumed into the newly proposed Dress Allowance i.e. Rs. 20,000/- per year given to all who is working in Indian Army.
Transport Allowance (TPTA) of Judge in Army:-
Pay Level
Higher TPTA Cities
(Per month)
Other Places
(Per month)
10 and above
Rs. 7200+DA thereon
Rs. 3600+DA thereon
NOTE:-
Higher TPTA Cities (UA). Hyderabad, Patna, Delhi, Ahmadabad, Surat, Bengaluru, Kochi, Kozhikode, Indore, Greater Mumbai, Nagpur, Pune, Jaipur, Chennai, Coimbatore, Ghaziabad, Kanpur, Lucknow, Kolkata.



The allowance shall not be admissible to those service personnel who have been provided with the facility of Government transport.

Officers in Pay Level 14 and above, who are entitled to use official car, will have the option to avail official car facility or to draw the TPTA at the rate of Rs. 15,750+DA p.m thereon.

The allowance will not be admissible for the calendar month(s) wholly covered by leave.

Physically disabled service personnel will continue to be paid at double rate, subject to a minimum of Rs 2,250+ DA p.m.

Children Education Allowance (CEA) in Indian Army:-
Rs 2250/- per month per child for two eldest surviving only. CEA is admissible from Nursery to 12th Class.

Hostel Subsidy:- Rs 6750/- per month per child for two eldest surviving only. Hostel Subsidy is admissible from Nursery to 12th Class.
Please note that pay & allowances and rules/provisions thereof are subject to revision from time to time.
Indian Army Group Insurance Fund (AGIF):-
The Gentlemen/Lady cadets when in receipt of stipend are insured for Rs. 75 lakh with effect from 01 Oct 2016. Those who are invalidated out by Invaliding Medical Board (IMB) on account of disability and not entitled to any pension will be provided Rs. 25 lakhs for 100 percent disability. This will be proportionately reduced to Rs 5 lakhs for 20 percent disability. However, for less than 20 percent disability, only an Ex-Gratia Grant of Rs. 50,000/- for initial year of training and Rs. 1 lakh during the last year of training will be paid. Disability due to alcoholism, drug addiction and due to the diseases of pre-enrolment origin will not qualify for disability benefit and Ex-Gratia Grant. In addition, Gentleman/Lady cadets withdrawn on disciplinary grounds, expelled as an undesirable or voluntarily leaving the Academy will also not be eligible for disability benefits and Ex-Gratia. Subscription at the rate of Rs. 5,000/- will have to be paid in advance on monthly basis by Gentlemen/Lady cadets to become member under the main AGI Scheme as applicable to regular Army Officers. The subscription for the relegated period would also be recovered at the same rate.

Termination of Commission:-
An officer granted Short Service Commission will be liable to serve for ten years but his/her Commission may be terminated at any time by the Government of India for:-

Misconduct or if his/her services are found to be unsatisfactory, or
On account of when found medically unfit, or
If his/her services are no longer required, or
If he/she fails to qualify in any prescribed test or course.
An officer may on giving 03 months notice be permitted to resign his/her commission on compassionate grounds of which the Government of India will be the sole judge. An officer who is permitted to resign his/her commission on compassionate grounds will not be eligible for terminal gratuity.
Indian Army JAG Entry Promotion Criteria:-
Rank
Promotion Criteria
Lieutenant
On commission
Captain
On completion of 2 years
Major
On completion of 6 years
Lt Colonel
On completion of 13 years
Colonel (TS)
On completion on 26 years
Colonel
On selection basis subject to
fulfillment of requisite service
conditions
Brigadier
Major General
Friends, This is all about the Indian Army JAG Entry Salary, Pay Scale, Allowances and Promotions Criteria. Do comment if you want more information.
Official Website of Indian Army-joinindianarmy.nic.in