Indian Navy Sailor Salary: Aspirants, here as you are preparing to enter the Indian Navy as a big part of it you ahould be well aware about Indian Navy Sailor Salary and What is Navy SSR and AA Salary? All that what is required for an intutive and complete preparation you would get to read about it just over here. All about Indian navy sailor salary, and sailor salary slip etc. Scroll upto the end of the article to understand well about the total salary of sailor in Indian navy and other facts related to it.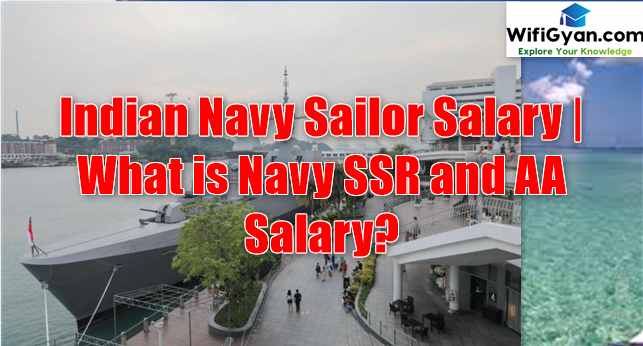 Indian Navy Sailor Salary | What is Navy SSR and AA Salary?
Coming towards the topic of your interest getting you all about the salary purposes so it would be easier for you to figure out whether you want to do a particular job or not. Not taking much of your time before coming towards the original topic of this article we would like to tell you some small details with respect to the Indian navy sailor post.
Looking forward to enter the Indian Navy? Being a sailor can be a sufficiently easier and worthy part of it. Straight forward a sailor is the one who takes the navy sails towards the shores hereby now when you try and be a part of the Indian navy you have to undergo a selection procedure. It has following steps:-
Written Examination.
Phase-II
Medical Examination.
A candidate who has the wish to serve the country being a sailor in the Indian navy has the best opportunity now to do so and attain the same.
Total Salary of Sailor in Navy
The people in Indian Navy are not just awarded with the salary slip but also they have many allowances, perks and promotions awarded along with the job. Not only this we will get you with all the salary details along with perks and promotions offered to them.
Read the full article to understand it about in details. Each word of it mentioned here would be to tell you about the salaries, perks, promotions, selection procedure and also you would get to understand well about the life of a sailor.
The basic salary of a sailor in Indian navy is mentioned as below. All the allowances and all other perks are as below.
Starting from the basics you should know first of all about the salary offered to the sailors during training. Their basic stipened salary during training period is Rs. 5700/- month. Once after completing the training period a sailor in the Indian navy would be appropriately applicable for all kind of grade pay, miliatry service pay and the Group X or Group Y pay as applicable according to their division. Along with the stipened salary they are being provided they also have acess to all of such allowances. Also while preparing for such a tough competition you should know about other salary basics as well.
The sailors in Indian navy are classified into two classes:
These both groups have a stipened increase by 50% whenever the Dearness allowance incfreases by 50% that is to be paid on the revised pay band. The group X consists of the Artificer Apprentices (AA). While the other Y group consists of all other sailors like Senior Secondary Recruit (SSR), Matric Recruit and Non Matric Recruit. Here is all of it for you to learn about the total salary of sailor in navy.
Indian Navy AA Salary:-
Group
Rank
Pay Band
Pay in pay band
Grade pay
MSP
Group pay
Group X
Apprentice
PB 1
5200-20200
2000
2000
1400
Artificer V
PB 1
5200-20200
2400
2000
1400
Artificer IV
PB 1
5200-20200
2800
2000
1400
Art III-I
PB 2
9300-34800
3400
2000
1400
Chief/Art
PB 2
9300-34800
4200
2000
1400
MCPO-II
PB 2
9300-34800
4600
2000
1400
MCPO- I
PB 2
9300-34800
4800
2000
1400
That was all about the Group X to talk about but there is also a group Y which has a role to play in. This group consists of three divisions of sailors as mentioned in the article above. The salary and basics of the Group Y is below:-
Indian Navy SSR Salary:-
Group
RANK
PAY BAND
Pay in Pay Band(Rs.)
Grade Pay(Rs.)
MSP(Rs.)
Group Y
Seaman II
PB-1
5200 – 20200
2000
2000
Seaman I
PB-1
5200 – 20200
2400
2000
Leading Seaman
PB-1
5200 – 20200
2800
2000
Petty Officer
PB-1
5200 – 20200
2800
2000
Chief Petty Officer
PB-2
9300-34800
4200
2000
MCPO II
PB-2
9300-34800
4600
2000
MCPO I
PB-2
9300-34800
4800
2000
Note: Other than the above mentioned salary and grade pay both the groups of sailors have different allowances and perks in their package as well. For more informations regarding all the allowances, salaries and perks of a Indian Navy Sailor you may check the joinindiannavy.gov.in
Indian Navy Sailor Allowances and Perks
Being a Sailor in the Indian Navy means a lot to many. They serve the Country for entire their life. Hence, the Navy also provides them some perks and allowances along with their earned salaries in the Navy.
Instructional allowances offered towards the Instructor at Training establishments according to their rank varies from Rs. 900-1500.
Submarine allowance is for the qualified submariners that is of Rs. 10500-12600. Whereas same as a flying allowance for the flying aircrew that is of the same amount.
Marine Commando Allowance is allowed for the qualified commandos that is for Rs. 10500-12600.
Diving allowance for the Drivers in the ships and clearance etc. that is for Rs. 600- 900.
For those who sail on the ships on sea duty are allowed for rs. 3000-5400.
The hard area allowance are for those who are posted in Lakshdweep and Nicobar islands area that is for 25% of pay in their pay band.
CILQ allowance is given only for the married sailors for the married accomodation of Rs. 2400-8100.
Now the transport allowances are offered for all the sailors of Rs. 400-1600.
Other than that Indian navy sailors have been provided with perks of free fooding and accomodation.
Also entitled for the accomodation and a lot of insurance cover etc are given for the Sailors.
The sailors are allowed with pension after requisite time of duty and children fee and house rent allowances are also given for them.
What is Navy SSR and AA Salary?
The Navy SSR or the Senior secondary recruit is the officer of Group Y sailor in the Indian Navy. Whereas the Artificer Apperentice (AA) is a group of sailors in the Group X of the Indian Navy. Their salaries are stipened same as the other sailors in the respective groups. Along with the DA and other allowances the SSR and AA of the Indian navy sailor are proposed same as that of the normal man of the Group X and Group Y in the Indian navy.
If you join the navy as a sailor then you will get around Rs-25,000 – 30,000 per month.
Must Read:-
I hope we have provided you with all the information about Indian Navy Sailor Salary/What is Navy SSR and AA Salary? If you like this article and find useful then share it with your friends. also, feel free to comment in the below section. if you guys want to appreciate my afford please share my post with your friends by which they can also avail of my services. For any Private adds and other inquiry mail us at [email protected].