Jharkhand Staff Selection Commission released the notification for ANM (Auxiliary Nursing Midwifery, महिला स्‍वास्‍थ्‍य कार्यकर्ता ). Eligible candidates may apply before the last date of JSSC Jharkhand ANM, and you may apply only from the commission website and the link is given below of this article. Here we are going to share JSSC Jharkhand ANM Syllabus and Exam Pattern for the upcoming examination. You will able to understand what is the selection process of JSSC ANM exam, What is the Syllabus of JSSC ANM, What is the Exam Pattern of JSSC ANM Exam.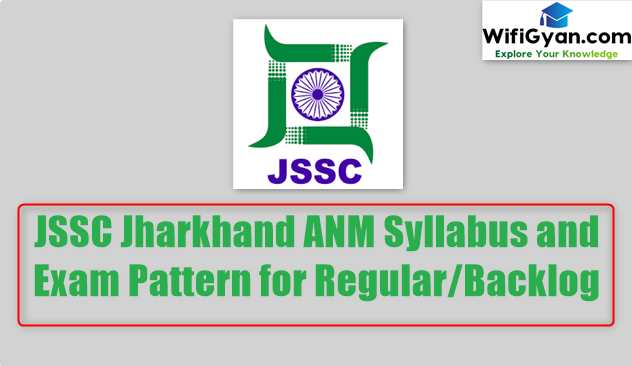 JSSC Jharkhand ANM Syllabus and Exam Pattern for Regular/Backlog:-
Jharkhand ANM Selection Process:- Selection process will be based on-
Written Exam (Offline OMR Based)
Evaluation of Technical Ability (ANM Exam) Marks + संविदा अनुभव
Evaluation of Intermediate (10+2 exam) Marks
Matric Exam Marks
JSSC Jharkhand ANM Exam Pattern-2019:-
ANM exam will be on OMR Based paper
All questions will be multiple choice objective type
There will be 50 questions and you have to solve in 60 Minutes. Every question has equal marks.
Paper will be English and Hindi language.
One marks will be provided for a correct answer. There will be no negative marking in Jharkhand ANM (महिला स्‍वास्‍थ्‍य कार्यकर्ता) Examination.
The minimum score to qualify the Written Exam:-
For General/OBC:- 40 %
For SC/ST:- 35%
Final Merit List will be based on- 
Final merit list decided on 150 marks, and marks distribution is given below:-
A) Written Exam- 50 Marks (Max)
B) Technical Ability (A.N.M Course Marks)- 10 Marks (Max)
Candidates who score 60% and Above will get- 10 Marks
(60- 45)% will get- 7 Marks
Lower than 45%- 5 Marks
 C) Intermediate (10+2 )Marks- 
Candidates who score 60% and Above will get- 20 Marks
(60- 45)% will get- 15 Marks
Lower than 45% will get- 10 Marks
D) Matric 10th Exam:-
Candidates who score 60% and Above will get- 20 Marks
(60- 45)% will get- 15 Marks
E) Contract Basis Work experience in Jharkhand Government Hospital:-
For 1 year experience, 5 Marks will be provided to the candidate. Maximum marks can be given is 50.
If you have 10-year experience in Jharkhand Govt. Hospital then awarded 50 marks to you.
So final merit list of JSSC Jharkhand ANM will be based on 150 Marks. Now we are going to discous about JSSC Jharkhand ANM Syllabus of Written Exam, which will be conducted by the Jharkhand Staff Selection Commission.
JSSC Jharkhand ANM Syllabus of Written Exam:-
A) Community Health Nursing:-
Concept of Health
Community Health practices
Health problems and policies
Health Organization
Role of Health team
Structure of Community
Rural community
Dynamics of Community
Community need assessment
Community methods & Media
Counselling
Community-based Rehabilitation.
B) Health Promotion:-
Nutrition: Essential nutrients, Nutritional problems, Nutritional assessment, promotion of Nutrition.
Human body and Hygiene: The Human Body, Hygiene of the Body, Optimal functioning of the Body.
Environmental Sanitation – Environmental Sanitation, Safe water, Disposal of Excreta and Waste, Community participation.
Mental Health – Mental Health, Maladjustment, Mental illness, Old age care.
C) Primary Health Care:-
Infection and Immunization – Concept of Disease, Infection, Immunity and Body defence mechanisms, immunization, Collection of Specimen (Principles & Methods), Disinfection and Sterilization, waste Disposal.
Communicable Diseases – Introduction to Communicable diseases, Communicable diseases, Care in Communicable diseases, Epidemic Management.
Community Health Problems – Care of the Sick In the Community, Fever (Vital signs), Respiratory problems (Types & Classification), Aches and Pains (Nursing Management), Digestive problems, Urinary Problems, Cardiovascular problems (Signs & Symptoms), Diseases of the nervous system (Neurological problems, Metabolic diseases, Diseases of Musculoskeletal system, care of Handicap.
Primary Medical Care – Types of Drugs, Administration of Drugs, Drugs used in minor ailments, Common Emergency Drugs
First Aid and Referral – Need for First Aid, Minor Injuries and Ailments, Fractures, Life-threatening conditions.
D) Child Health Nursing:-
Growth & Development
Nutrition of Infants and Children
Children's Rights
Care of the sick child
Care of School children
School Health
Care of Adolescents
Care of Adolescent girls.
E) Midwifery:-
Human Reproductive System, Female Pelvis and Foetal skull, Foetus and Placenta, Normal Pregnancy, Antenatal Care, Normal Labour, Care during Normal labour, Normal puerperium, Care of New-born, High risk New-Born, Safe Mother-hood, High risk Pregnancies, Abnormalities of pregnancy, Abortion, Abnormal childbirth, Abnormal puerperium, Surgical Intervention, Medications used In midwifery, Life cycle approach, Status of women and empowerment, women Heath Problems, RTIs and STIs, HIV/AIDS, Infertility, Population Education, Family welfare.
F) Health Centre Management:-
The Sub-centre, Maintenance of Stock, Co-ordination, Implementation of National health programs, Update knowledge.
This is all about JSSC Jharkhand ANM Syllabus and Exam Pattern for Regular and Backlog. Please read it very carefully before appearing for the examination. If you like this article then please share it with your friends who are also preparing for JSSC ANM Examination.
Important Link:-
Official Website of JSSC- Click Here
Jharkhand General Knowledge Pdf Download in Hindi
Friends, if you need an eBook related to any topic. Or if you want any information about any exam, please comment on it. Share this post with your friends on social media. To get daily information about our post please Click The Bell Icon Which is Given Below.
Disclaimer
Wifi Gyan does not own this book, neither created nor scanned. We just provide the link already available on the internet. If any way it violates the law or has any issues then kindly mail us:
[email protected]