The General Knowledge portion always plays important is any competitive examination. Here in this article,  I will share with you the complete details regarding the List of Important books and It's author, name of Important books for Exams, books and its author name for exams, etc. This book's name and author names are very important for the exams. I will share the only books that are important and that usually asked in the examination. To get complete detail regarding this, check the article below: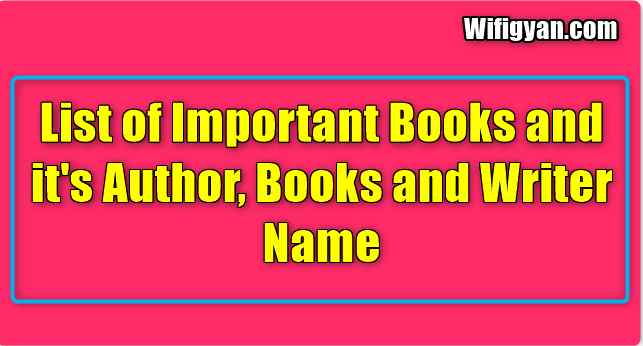 Book and it's the Author:
In the portion of the General knowledge, any question can be asked from Books and it's Author. you have to prepare almost all the general things that are related to the General knowledge or common knowledge. there are many competitive exams like CSE (Civil service Examination), SSC(Staff Selection Commission) and exam of UPSC (Union Public service Commission) they all focus more on the general knowledge.
One will have to prepare well for the General knowledge Portion to score well in this particular section. Here I will share with you today the List of Important books and the name of its author. these all the books which I am going to share with you are important and some are award-winning books. let's see the list of books and its author name.
Books and Authors List Current Affair 2018 for All Exams
Name of Important book and Lekhak
| | |
| --- | --- |
| Name of Author | Name of the books |
| Abdul Kalam Azad | India Wins Freedom |
| Abul Fazal | Ain-i-Akbari |
| Abul Fazal | Akbar-Nama |
| Adam Smith | Wealth of Nations |
| Adolf Hitler | Mein Kampf |
| Sachchidananda Vatsyayan | Kitne Navon Men Kitni Bar |
| Akhil Sharma | An Obedient Father |
| Akhil Sharma | Family Life |
| Akhilesh Tilotia | The Making of India |
| Albert Camus | Plague |
| Albini | Tahakak – E – Hind |
| Alexander Doma | Three Marketers |
| Alexander Dumas | Count of Monte Cristo |
| Alexander Dumas | Three Musketeers |
| Alexander Solzhenitsyn | One Day in the Life of Ivan Denisovitch |
| Amartya Sen | Development as Freedom |
| Amish Tripathi | The Immortals of Meluha |
| Amish Tripathi | The Oath of the Vayuputras |
| Amish Tripathi | The Secret of the Nagas |
| Amit Chaudhuri | A New World |
| Amit Chaudhuri | A Strange and Sublime Address |
| Amit Chaudhuri | Afternoon Raag |
| Amit Chaudhuri | Freedom Song |
| Amit Chaudhuri | The Immortals |
| Amit Dasgupta | India for A Billion Reasons |
| Amitav Ghosh | Circle of the Region |
| Amitav Ghosh | Countdown |
| Amitav Ghosh | Flood of Fire |
| Amitav Ghosh | In an Antique Land |
| Amitav Ghosh | Incendiary Circumstances |
| Amitav Ghosh | River of Smoke |
| Amitav Ghosh | Sea of Poppies |
| Amitav Ghosh | Shadow Line |
| Amitav Ghosh | The Calcutta Chromosome |
| Amitav Ghosh | The Circle of Reason |
| Amitav Ghosh | The Glass Palace |
| Amitav Ghosh | The Great Derangement |
| Amitav Ghosh | The Hungry Tide |
List of Pustak aur Lekhak (Books and it's author):-
| | |
| --- | --- |
| Aurobindo Ghosh | Hero of Nymph |
| Aurobindo Ghosh | Life Divine |
| Ayub Khan | Friend Not Master |
| B. Bhattacharya | Shadow of Ladakh |
| B. R. Ambedkar | What Congress and Gandhi have done to the untouchables |
| B. R. Nanda | The Nehrus; Motilal and Jawaharlal |
| Babur | Baburnama |
| Baby Halder | A Life Less Ordinary: A Memoir |
| Baby Halder | Aalo Aandhari |
Important Books and it's author
Books and Authors List Pdf Download for Competitive Examination
| | |
| --- | --- |
| Name of Author | Name of Books |
| Bankim Chandra Chattopadhaye | Indira |
| Bankim Chandra Chattopadhaye | Kopalkundala |
| Bankim Chandra Chattopadhaye | Rajsingha |
| Bankim Chandra Chattopadhaye | Sitaram |
| Bankimchandra Chattopadhyay | Anand Math |
| Bernie Krause | The Great Animal Orchestra |
| Bhabani Bhattacharya | Shadow From Ladakh |
| Bhagat Singh | An Introduction of the Dreamland |
| Bhisham Sahni | Tamas |
| Bibek Debroy and Ashley Tellis | Getting India Back on Track |
| Bibhuti Bhushan Bandopadhaye | Pather Panchali |
| Bibhuti Bhushan Bandopadhyay | Aparajito |
| Bibhuti Bhushan Bandopadhyay | Aranyak |
| Bibhuti Bhushan Bandyopadhyay | Ashani Sanket |
| Bibhuti Bhushan Bandyopadhyay | Ichamati |
| Bilhon | Bicramanchadev |
| Bimal Mitra | Ekak Dasak Shatak |
| Bimal Mitra | Kori Diye Kinlaam |
| Bimal Mitra | Mrityuheen |
| Bimal Mitra | Saheb Bibi Golam |
| Bocachio | Decameron |
| Boris Pasternak | Blind Beauty |
| Boris Pasternak | Dr.Zhivago |
| Bulwar Lytton | Last Days of Pompeii |
| C P Surendran | Hadal: Inspired by a True Story |
| C.P.Shaw | The Masters |
| Cervantes | Don Quixote |
| charles Darwin | Origin of species |
| Charles Dickens | A Tale of Two Cities |
| Charles Dickens | David Copperfield |
| Charles Dickens | Oliver Twist |
| Charles Dickens | Pickwick Papers |
| Chaucer | Canterbury Tales |
| Chetan Bhagat | 2 States |
| Chetan Bhagat | Five Point Someone |
| Chetan Bhagat | One Indian Girl |
| Chetan Bhagat | One Night @ the Call Centre |
| Chetan Bhagat | Revolution 2020 |
| Chetan Bhagat | The 3 Mistakes of My Life |
| Chetan Bhagat | What Young India Wants |
| Churchill | Gathering Strom |
| Coleridge | Ancient Mariner |
| Coleridge | Kubla Khan |
| Coomi Kapoor | The Emergency – A Personal History |
| D. C. Sircar | Indian Epigraphy |
| D. N. Dhanagre | The Nadars of Tamil Nadu |
| D. N. Majumdar | Races and Cultures of India |
| D. V. Savarkar | Indian war and Independence |
| D.H.Lawrence | Sons and Lovers |
| D.P. Moynihan | A Dangerous place |
| Dadabhai Naoroji | Poverty & Un-British Rule in India |
| Daniel Defoe | Robinson Crusoe |
| Dante | Devine Comedi |
| Dante | Divine Comedy |
| David Cameron | Cameron on Cameron |
| David Foster Wallace | Infinite Jest |
| David Grossman | A Horse Walks Into a Bar |
| Dinbandhu Mitra | Neel Darpan |
| Dominique Lapierre | The City of Joy |
| Dominique Lapierre & Collins | Freedom at Midnight |
| Dostoevsky | Crime and Punishment |
| Dr. A. P. J. Abdul Kalam | Wings of Fire |
| DR. A.P.J. Abdul Kalam | Ignited Minds – Unleashing the power within India |
| DR. A.P.J. Abdul Kalam | India 2020 – A Vision for the New Millennium |
| DR. A.P.J. Abdul Kalam | My Journey |
| Dr. Ravindra Nath Shrivastava | Sunrise in Slums |
| Dr.Rajendra Prasad | India Divided |
| Dr.S.Radha Krishnan | Hindu View of Life |
| E.M.Forster | A passage to India |
| Earnest Hemingway | Old Man and the Sea |
| Edmond Spensar | Ferary Queen |
| Edward Gibbon | The Decline and Fall of the Roman Empire |
| Edward Gibbon Empire | Decline and Fall of the Roman |
| Einstein | Theory of Relativity |
| Elliot | Murder in Cathedral |
| Erich Byron | The Class |
These are the books are very important for the competition exams, you must know the names of these books and their Author's name. Important Books and it's author
Pustak and Writer Name Pdf:-
This is all about the List of Important Books and it's the author. If you like this article and find useful then share it with your friends. also, feel free to comment in the below section. if you guys want to appreciate my afford please share my post with your friends by which they can also avail of my services. For any Private add and other inquiry mails us at [email protected]. Books and Writer Name