Usually, It happens that most of the students who have done their class 12th with Science, Commerce or Arts, they opt for graduation in their particular streams. What about after graduation. Here in this article, I am going to share with you the complete list of Professional Course after Graduation that one can pursue after graduation. Most of the courses that I am about to share are also career-oriented, and one can have a better career in future. To get complete details about the courses, you must check the entire article below. It may help you a lot in choosing a better career.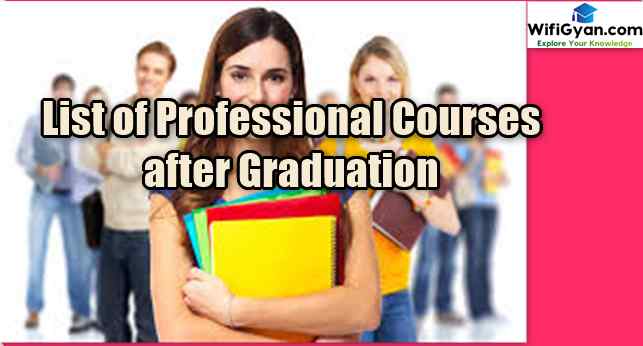 Courses after 12th for Commerce, Science and Art
List of Professional Courses:
There are many career options or courses available after graduation. One can apply for the Post Graduation or also opt for the diploma course that is job oriented. Candidates from the Science Background can opt for a Master Degree in Science (M.Sc), Candidate from commerce side can pursue the Master Degree in Commerce (M.com), and A candidate from Arts side pursue the Masters in Arts(M.A) etc.
There are also some course that a candidate from any stream can pursue and these courses like MBA and some other courses, we will discuss below. So now let's see the list of the courses that one can pursue after graduation.
Professional Courses After Bachelor Degree:
Realizing that, you are trying to pick a course that can give you a better Career. Here is some course that one can pursue after graduation.
PGDM:
This is a Postgraduate Diploma in management. This course pretty much similar to the MBA course. Many colleges even offer internships for students wanting to gain experience. The period for this course is one year.
MBA:
MBA from one of the best universities has got an immense value today, and it resides amongst the world-class career choices of more than 40% of the graduates. You can select any of the MBA specialization courses; and some of the best universities offer lucrative courses such as HR, Finance and Marketing, and many more. If you like Business. This is the best in the List of Professional Course.
Benefits of NCC C Certificate course. National Cadet Corps Course
M.Tech:
Candidates who are finishing their education in B.Tech or Bachelor of Engineering can opt for this two-year program. On the contrary to the courses specified above, which are both management programs, this is a technical course. It is primarily for candidates who aspire to specialize in their discipline. This is the best Professional Courses for B.tech Students.
M.com:
Even though this doesn't fall under a diploma program, getting a graduation degree from a relevant area is not specifically a bad idea. Pursuing a Masters program in your particular domain adds high value and provides the chance of acting as an intern while you're pursuing M.com. It improves your career choices and enhances your scope after graduation.
PGPM:
PGPM is a one-year-long management course. Although the fee for this program is quite high, it is most beneficial for candidates who are eager to finish their management program in a short period. It is a certificate program and not a degree.
Various Medical Courses after 12th in Biology
PGDEMA:
The duration of this course is 1 year and is a full-time course. If you want to add spice to your life. this will get you one step closer to your dreams. Many colleges even offer internships for students wanting to gain experience. The period for this course is one year.
Certification in Finance and Accounts:
This certification program administered by several putative colleges in India has been specially created for candidates who are studying B.Com. Furthermore, the period for this program is, just a few weeks and yes you read it right, it is merely for four weeks! This program gives awareness about various business methods and also finances leading. They will equip you with technologies that entered the market for more prominent productivity.
PGD in Hotel Management (Professional Courses)
If you desire to add seasoning to your life by truly working with seasonings, then you must opt for Hotel Management as this may get you one step further to your aspirations. Candidates from every kind of field qualify for this hotel management program. This program starts with elementary cutlery practice and then to management and hospitality. Several schools also offer internships for candidates desiring to obtain some real experience. The duration of this program is one year.
Difference Between BHMS And BAMS Course in detail
Business Accounting and Taxation:
The course duration of this course is about 90 days the fee charged is approximately 45 thousand. For commerce backdrop graduates who aspire to be a specialist in taxation and accounting, then this is one of the most suitable short-term programs after completing graduation in commerce. The program duration is about 90 days; the fee required is around INR 45,000. This course includes SAP module, accounting models, financial statements, workforce policies, etc.
Tally:
Tally This Course is designed especially for small-sized industries. In this Course get to trained the Topics like Billing, Accounting, Banking and Taxation, Payroll, etc. will be included in this particular Course. The period for this Course is three months.
PGDM in Finance:
A PGDM in Finance prevails as the best option for several candidates who are fascinated about pursuing a career in the management of finances. For candidates who are not so interested in pursuing a 2-year long M. Com, PGDM Finance can be the most suitable alternative. Studying the full-time PGDM Finance program of 2 years is the fittest option for steering profitable job opportunities.
Management in Digital Marketing (Professional Courses):
In this period, where everything relies on the internet, either it is ordering a pizza or searching for the exact route or booking tickets. Digital Marketing has tremendous scope for people who are fascinated by marketing. As online shopping has become more substantial than life, people don't go out anymore, exploring for things they want when they can receive it with a click. Everyone uses social media and spend their time online, so this can be an exciting career if you wish. Most companies are looking to hire graduates as the demand for digital marketing professionals is increasing.
Scope of BSc in Physics Honours in India
Mobile App Development:
Now everyone has a smartphone, you either use Android or IOS, and this pertains to both the young and old. Having such mobiles also implies that we are using multiple applications on our mobile phones for several purposes like food, music, fitness, work, travelling, etc. So, there are hundreds and thousands of applications that you can attain on your mobile device. By pursuing this program, you will gain knowledge to build top-notch and most reliable mobile applications.
Machine Learning:
Many professionals foresee Artificial Intelligence to be the coming future. Whether it is a day to day life or digital set-up, machine learning and AI will eventually grow to be the significant game-changer that you will encounter. Regular cars are converting into autonomous vehicles with the guidance of Artificial Intelligence. The forthcoming AI revolution is, being utilized for improvements in several areas such as insurance, media, banking, etc. This is also best in the List of Professional Courses after Graduation.
These are the some best and trending Course that one can pursue to have a better career. It all up to you that which is suitable for you and where you can do better.