NABARD Assistant Manager Salary: National Bank for Agriculture and Rural Development recruits Assistant Manager Grade A, every year, Graduate students who have the eligibility can apply for Nabard Grade A Post, Here in this article we are telling you about NABARD Assistant Manager Salary, Perks and other benefits. If you are preparing for the NABARD Grade A post then you should know about the NABARD Grade A salary,  There is so many benefit of joining the Assistant Mananger in Nabard. Lets check all the article for complete information.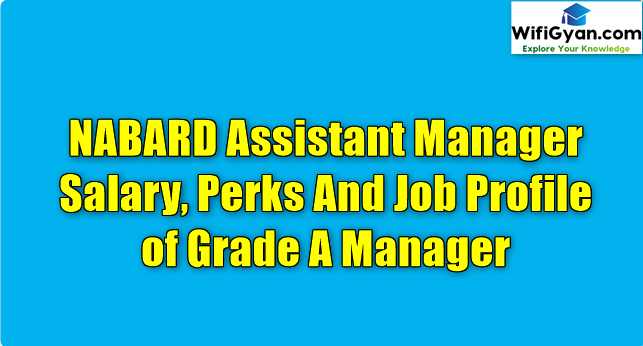 NABARD Assistant Manager Salary:-
If you are preparing for the Grade A post and searching for Salary of Nabard Assistant Manager then you guys are in right platform, Here we are explaining you how much Emaluments will be during training period and after the training periods. First of all you should I am telling you, working in the National Bank for Agriculture and Rural Development (Nabard) is a proud for you and your family. Nabard offers very goof perks and Perquisites if you join as Assistant Manager along with the Nabard Assistant Manager salary.
Knowing the Nabard Grade A salary will motivate you to prepare hard for this examination. This examination is not easy to clear because of the vast syllabus. So keep motivate you is the best way of preparation and you can motivate to know the Salary of Nabard Assistant Manager.
Eligibility Criteria of Nabard Assistant Manager:-
You can apply for the various branch of Assistant Manager, lets see the one by one Educational qualification for Nabard Grade A.
Educational Qualification:-
Bachelor's Degree in any subject/Post Graduate degree/ Ph.D/Chartered Accountant /Cost Accountant / Company Secretary/Bachelor's Degree in Agriculture Engineering/Bachelor's degree in Food Processing /Food Technology/ Dairy Sciences and /or Dairy Technology/Bachelor's degree with Environmental Science/ Post graduate degree in Environmental Engineering or Environmental Science with 50% marks/BE/B.Tech/BSC degree in Geoinformatics/Bachelor's Degree with Economics/Bachelor's Degree in Computer Science/BBA (Finance/Banking) / BMS (Finance/Banking) with 50% /Bachelor's Degree in Statistics with 50% marks.
Having Degree in above displine are eligible for apply, But before apply please read the notification in detail.
AGE Limit for Nabard Grade A:-
The candidate must be between 21 and 30 years of age.
Selection process of Assistant Manager:-
Selection will be done in three phases of examination I.e-
Premilinary test
Mains
Interview
1. Phase I – Preliminary Examination
Objective Type: MCQ (Multiple Choice Questions) Duration: 120 Minutes Composite Time – Total Marks : 200 I)
Test of Reasoning – 20 marks
English Language – 40 marks
Computer Knowledge –20 marks
General Awareness – 20 marks
Quantitative Aptitude – 20 marks
Economic & Social Issues (with focus on Rural India) – 40 marks
Agriculture & Rural Development (with focus on Rural India) – 40 marks 

Phase II – Mains Examination:-
Paper-I- 
General English: (Descriptive – writing skills – online through key board). The paper will have descriptive questions. 
Duration: 1 ½ hrs – 100 marks 
The analytical and drafting abilities of the candidate shall be assessed through this Descriptive Paper on General English comprising essay writing, comprehension, report writing, paragraph writing & letter writing. 
Paper -2:- 
This paper will be based on the discipline you have applied for.
Phase III – Interview:-
Applicants qualifying in the Phase-II – Main Examination and securing sufficiently high rank in merit shall be short-listed for interview.
Interview – 25 Marks

For detail Syllabus and Exam pattern- NABARD Grade A Syllabus for Assistant Manager
NABARD Assistant Manager Salary:-

NABARD Grade A salary Pay Scale:-
Selected candidates will draw a starting basic pay of Rs.28150/- p.m. in the scale of Rs.28150-1550(4)-34350-1750(7)–46600–EB-1750(4)-53600- 2000(1)-55600 applicable to Officers in Grade 'A' and they will be eligible for Dearness Allowance, Local Compensatory Allowance, House Rent Allowance, and Grade Allowance as per rules in force from time to time.
At present, initial monthly gross emoluments are approximately Rs. 62,600/-

Perquisites/Perks : 
Bank's accommodation subject to availability, reimbursement of expenses for maintenance of vehicle for official purpose, newspaper, internet, telephone charges, book grant, allowance for furnishing of residence, etc. as per eligibility.
Free dispensary facility besides reimbursement of medical expenses for OPD treatment/hospitalisation as per eligibility.
Interest free festival advance, Leave Travel Concession (once in two years for self, spouse and eligible dependents), Loans and Advances at concessional rates of interest for Housing, Car, Education of children, Consumer articles, Personal computer, etc.
Initial appointment of a selected applicant will be on probation for a period of 02 years, which may, at the Bank's discretion, be extended for a further maximum period of one year.
Candidates selected for the post will be governed by "the defined contribution to New Pension Scheme (NPS)' in addition to the benefits of Gratuity and Optional Group Term Insurance Plan
Job Profile of Nabard Assistant Manager:-
The post of Assistant Manager is a managerial posts.
Assistant Manager has to do a lot of multitasking work.
An Assistant Manager has to work on various policies and programmes mandated by Central/State Governments related to Agriculture and Rural Development.
Moreover, as per the HR policy home state postings are not allowed.
So this is the complete salary of Nabard assistant manager, if you have applied for this post then I hope you have motivated after seen the Nabard Grade A salary Perks. Stay in touch with this website we are here to help the needy students, We provide study material as well as information regarding any competitive examination.
This is all about the NABARD Assistant Manager Salary, Perks And Job Profile of Grade A Manager. If you like this article and find useful then share it with your friends. also, feel free to comment in the below section. if you guys want to appreciate my afford please share my post with your friends by which they can also avail of my services. For any Private add and other inquiry mails us at [email protected]