The Indian Navy is one of the most demanding careers in youths. Every youngster has a dream of joining the Indian Navy Service. Here in this article, I will share with you details about the entry in the Indian Navy that is known as the AA/SSR Exam. I will talk about the Physical Fitness Test for AA/SSR and Required Medical Standard for AA/SSR  etc. I will cover these both topics today in this article, To get complete details regarding this, Check the article below: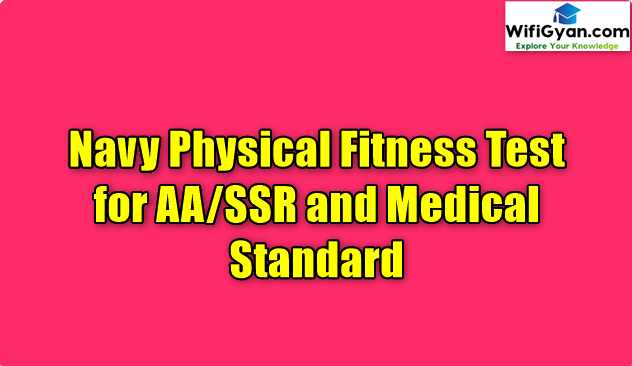 Navy Physical fitness test for AA/SSR and Medical Standard:
The Indian Armed force never compromises with the Fitness of the Soldier or officer. A person will have to be fit to be in the service. The Indian Navy is very strict in terms of physical and medical Standard of the candidates while selection. A candidate will have to go through the tough phase of medical tests and physical tests to be part of this prestigious service. we are here to talk about the medical standard and Physical fitness test of Indian Navy AA/SSR exams.
This Exam is basically for the selection of the Sailor into the service. these exam Stands for Artificer Apprentice (AA) and Senior Secondary Recruits (SSR). The selection process of this is very simple and after clearing the written test which is actually an Online computer-based test. Let's discuss the selection process and then we will discuss the medical standard and Physical Fitness Test.
General Knowledge Top 100 One Liner Questions and Answers In Hindi
Selection Process of Navy AA/SSR:
A candidate will appear for the Online Computer Based Test and candidates who would qualify these phase, they will appear for the Physical fitness test and then Medical tests. So the selection process of Navy AA/SSR would be like this:
Computer-Based Test (Online Test)
Physical Fitness Test
Medical Test
Physical Fitness test of Indian Navy AA/SSR:
In the Physical fitness test of the Navy SSR/AA, there is nothing much to worry about. At the start, your basic things would be checked like height, weight, eyesight, etc. Here are the following tests and its eligibility which you have to appear for:
The minimum height should be 157 cms.
Candidates must have good physical and mental health. They should be free from any defect
Weight and Chest should be proportionate.
The minimum expansion of the chest should be 5 cms.
The candidate's hearing must be normal.
The better eye should be 6/6 and worse eye should be 6/9 without glasses.
Better eye and worse eye both should be 6/6 with glasses.
Tattoos: Permanent tattoos will be allowed only on the inner face of forearms, that is, from inside of elbow to the wrist and on the reserved side of the palm/backside of the hand.
These are the just basic things that are required to be checked to appear for further procedure. After this, Candidates will have to appear for the Physical activities and he has to perform these following activities. It is mandatory to clear each test individually:
1.6 km running to be completed in 7 minutes.
20 squats up.
10 Push-ups
Only these are the three tests that a candidate has to perform in the physical fitness test. Anybody who has just an average body can easily clear this exam. after this exam, A candidate will appear for the Medical test.
Study Material for Navy AA/SSR:-
Required Medical Standard in Navy AA/SSR:
In the medical tests, All body parts will be checked by the Military doctors at the Military hospital. A candidate's Internal Body organs matter's a lot for teh fitness. Your body will be checked at the hospital like:
Heartbeats
Kidney
Liver
Eyesight
Ear
Hydrocele
Gynecomastia etc.
These are the following tests that a candidate has to clear in the Medical tests. If any minor problems occur that can be corrected within some time. The Selection Board will give you some time to correct that and will advise doing so.
If you have a dream of joining the defense, it is very important to be fit. always take care of your body, eat healthily, exercise daily and try to take balanced sleep.
Must Read:-
This is all about the Navy Physical fitness test for AA/SSR and Medical Standard. If you like this article and find useful then share it with your friends. also, feel free to comment in the below section. if you guys want to appreciate my afford please share my post with your friends by which they can also avail of my services. For any Private add and other inquiry mails us at [email protected].