Navy SSR and AA Syllabus: The Indian Navy conducts many Exams to get selected in the service as an Officer or a sailor etc. Here in this article, I am sharing with you the complete details about the Indian Navy SSR/AA Examination. Here you will get to know the syllabus of Navy SSR and AA Examination and Exam pattern of Navy SSR/AA etc. To get complete details about this, check the complete article below. I have given all the details regarding the selection of the candidates and all the important details about this etc.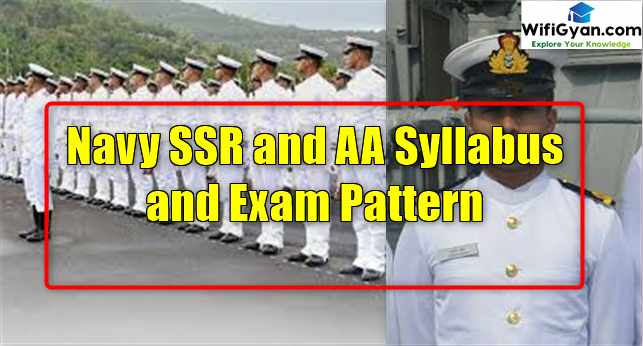 Navy SSR and AA Syllabus and Exam Pattern:
The Selection of the candidates in the Indian Navy through the Navy SSR and AA Examination is done through the Examination. A candidate will have to clear the three phases of the selection process to get selected in the service. A candidate will appear for the Computer-based Online Examination and all the candidates who would clear this, they will appear for the Physical Fitness Test and the Medical Examination, etc.
Indian Navy Sailor Salary | What is Navy SSR and AA Salary?
In this all, the Online written Exam is the toughest part of the selection. Here in this, I will share with you the Navy SSR and AA Syllabus Written Examination and Exam pattern and Marking scheme etc.
Exam Pattern of Navy SSR and AA Examination:
| | | |
| --- | --- | --- |
| Subjects | Total number of questions | Total Marks |
| General Awareness | 25 | 25 |
| English | 25 | 25 |
| Mathematics | 25 | 25 |
| Science | 25 | 25 |
The question paper would be conducted online (computer-based online Application).
Total Number of questions: 100
Total time duration: 1 hour
A candidate will be given 1 marks for each right answer.
0.25 marks will be deducted for each wrong response.
The Question paper would be in two languages- Hindi and English.
Syllabus of Navy SSR and AA Examination:
See the detail Navy SSR and AA Syllabus, A candidate will have to prepare four subjects for the Indian Navy SSR and AA online Examination. Here are the names of the subjects:
General Awareness
English
Science
Mathematics
Navy Physical Fitness Test for AA/SSR and Medical Standard
Now let's see the topics that one has to cover in this following subjects. Here are the topics or subject that one has to cover in this:
Navy SSR and AA Syllabus:-
General Awareness:
Latest Current Affairs
Indian Constitution
History
Economy
Geography
Indian Politics
Indian Navy & Military
Religions
Books & Authors
Sports
Awards, etc
English:
Sentence Improvement
Reading Comprehension
Synonyms
Antonyms
One Word Substitution
Para-Jumble
Sentence-Jumble
Spot the Error
Cloze Test
Science:
Physical World and Measurement
Kinematics
Laws of Motion
Work
Energy and Power
Motion o System of Particles
Rigid Body/ Gravitation
Mechanics of Solids and Fluids
Heat Thermodynamics
Oscillations
Waves
Electrostatics
Current Electricity
Magnetic Effect of Current and magnetism
Electromagnetic Induction and Alternating Current
Electromagnetic Waves Optics
Dual Nature of Matter and Radiations
Atomic Nucleus/ Solid and Semi-Conductor Devices
Principles of Communication
Metals and Non-Metals
Organic Chemistry
Food, Nutrition, and Health
Physiology and Human Diseases
Computer Science.
Mathematics:
Relations and Functions
Logarithms
Complex Numbers
Quadratics Equations
Sequences and Series
Trigonometry
Cartesian System of Rectangular Coordinates
Straight Lines Family of Straight Lines
Circles, Conic Section
Permutations and Combinations
Vectors, Exponential and Logarithmic Series
Sets and Set Theory
Statistics
Introduction to ThreeDimensional Geometry
Probability Function
Limits and Continuity
Differentiation
Applications of Derivatives
Indefinite Integrals Binomial Theorem
Matrices
Determinants
Definite Integrals
This is the complete Navy SSR and AA Syllabus. For the online written test of Navy AA and SSR, A candidate will have to prepare this complete syllabus of this examination. There are many books available in the market for the Indian Navy SSR Exam and AA Examination. You can take help from them. Many Students prepares online through online study materials. This is the digital world. It is easy to prepare for any exam without purchasing any book for that.
Coast Guard Yantrik Salary, Job Profile Promotions
The Written Examination is the toughest phase of selection. A candidate must prepare for this in very well manner. The next phase of selection is Physical fitness test. In this, A candidate will appear for some physical Activity and tests. A person with an average body can easily clear this test. You will get marks on the basis of your performance in the Physical fitness test.
Indian Navy MR Salary Per Month, Work and Promotions etc.
This is all about the Navy SSR and AA Syllabus and Exam Pattern. If you like this article and find useful then share it with your friends. also, feel free to comment in the below section. if you guys want to appreciate my afford please share my post with your friends by which they can also avail of my services. For any Private add and other inquiry mails us at [email protected]