NDA Physical Standard: The NDA Examination is conducted by the Union Public Service Commission twice in a year. One can become an officer in the Indian Armed Forces right after the 12th through the NDA. A candidate who has passed 10+2 with physics and mathematics is eligible to apply for the NDA Examination. Here in this article, I will share with you the complete details about the NDA examination and will also discuss the NDA Physical Standard and NDA Medical Fitness test. To get complete details about this entry or exam, check the complete article below, I have given all the details regarding this Examination.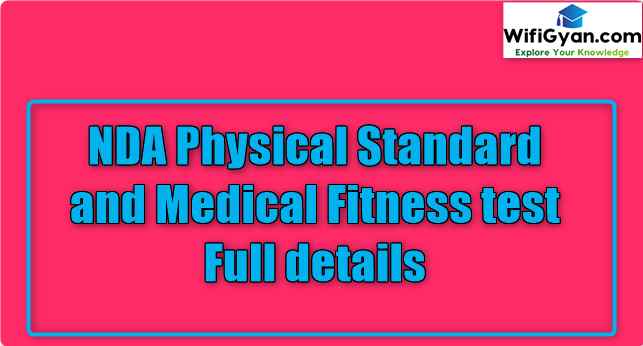 NDA Physical Standard and Medical Fitness test Full details:
The NDA Examination is one of the best entry by which one can become an officer in the Indian Armed Forces right after the 12th. A Candidate will have to appear for the written Examination, SSB (Service Selection Board) Interview and then Medical Examination, etc.
The medical Examination and physical Standards are checked very strictly in the Indian Armed forces either its Indian Navy or Indian Army or Indian Air Force etc. Here in this, we will see the complete details of the required Physical Standard of NDA, Medical Examination of NDA. I will cover this topic in detail and will give you complete information regarding this. First, let's see the selection Process of the National Defense Academy and after that, we will discuss the medical and physical standard of NDA. 
NDA Mathematics Pdf By Zentex Institute PDF Download
Selection Process of NDA:
The selection in the service is done on the basis of written examination. There are a total of three phases of the selection and it is mandatory to clear all of them. Here are those phases:
Written Examination
SSB Interview
Medical Examination/NDA Physical Standard Test
A Candidate will appear for the Written examination which is conducted by the Union Public Service Commission. All the candidates who would pass this phase they will proceed for the SSB Interview and after that Medical test. Here we will discuss the Medical test In detail and will give you complete information regarding this.
Required Medical Standard in NDA:
The Medical Examination in the Indian Armed forces is very strict and it is compulsory for every soldier and officer to be healthy and fit. A minor problem in your body can ruin your Career. Here are some tests that help in the NDA Medical Examination. A Candidate will appear for the Basic Checkups, First, it would start from the basic thing ENT which is Ear, Nose, and throat.
Here A candidate will appear for the Body Measurement test and for this test, A candidate must match with the following criteria for NDA Physical Standard.
The height of the candidate should not be less than 162cm.
You should have Standard body weight as per your height.
Your body should not carry any genetic disease like gynecomastia, joint knees, color blindness or night blindness.
Your chest should be well developed with a 5cm minimum expansion.
Your elbow should not be turned in outer direction for more than 15 degrees.
Your joint and your bones should be completely fine.
Any severe body fracture in any body part can cause permanent rejection.
Dental Checkups in NDA:
This is very normal tests only a few get rejection in this, if you have full-grown set teeth, then you are fine
Eyesight required in NDA:
Your eyesight must be 6/6 without glasses.
If you are wearing glasses it should not be worse than 6/12.
Limits for myopia 0.75D and for Hypermetropia +1.5D
Eye Correction SUrgery is not allowed in the NDA.
Binocular vision III
Limits for color perception I
Should not have color blindness or night blindness.
For the flying branch your eyesight must be 6/6 there is no relaxation for that.
After these following, There would be also some Internal Body Checkups. In this, some of your internal body organs. One will appear for this following body checks:
Chest X-ray for your lungs.
Ultrasound for kidney stones.
The liver problem will be checked
Blood test
Urine test
If any case you get a rejection from the Medical Board you can re-apply for that. And if they reject you again you can again re-apply. There are basically two types of rejection in the NDA Medical Examination.
Temporary Rejection
Permanent Rejection
if a candidate is having any minor Problem in the body and that can be corrected within the Limited period of time. The Medical Board will give you some time to correct this. This is called Temporary rejection.
If A candidate has any series Problem and that can not be corrected. A medical Board will reject you permanently and a candidate has an option to re-appeal to the medical Board. if one gets rejected again, there is no way to join the service.
Physical Standard Required in NDA Examination:
First of all, there is no organized NDA Physical Standard test, basically, there is no physical test in the National Defense Academy entrance examination. The Physical Standard is basically checked in the SSB Interview. while in the SSB Interview, you will appear for the Ground Task Activity. here you may appear for some physical Activities.
This is all about the NDA Physical Standard and Medical Fitness test Full details. If you like this article and find useful then share it with your friends. also, feel free to comment in the below section. if you guys want to appreciate my afford please share my post with your friends by which they can also avail of my services. For any Private add and other inquiry mails us at [email protected]