NIA (National Intelligence Agency) is formed in 2008 after the Mumbai attack, the main motto of this agency is to counter-terrorism. This is a field job with full of adventure. You have to work for the nation with law enforcement agencies to counter-terrorism. The selection of the candidates in this Service is through the SSC-CGL. Here we will discuss the lifestyle of Sub-Inspector of NIA, NIA Sub- Inspector Salary, NIA sub-inspector job profile, promotion of NIA Sub-Inspector. We will cover all this topic in this article to get complete information read the article below-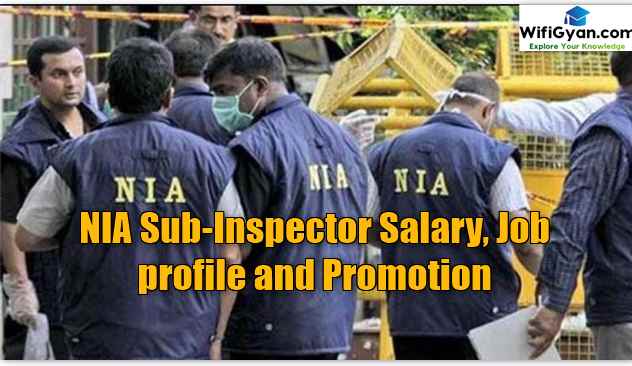 NIA Sub-Inspector Salary, Job Profile, and Promotion:-
The Sub-Inspector of NIA has a different role than the state police Sub-Inspector, they are one of the best and trained for their work. They are highly trained and known for countering terrorism. This is very recently launched organization by the government. Let's see the Job Profile of the NIA sub-inspector, NIA Sub Inspector Salary and what they do while they are on duty.
NIA sub-inspector job profile:-
The National Intelligence Agency's headquarters is on New Delhi and they get all the orders directly from there. Their basic work is to remove terrorism for the country.
They also Work related to that of an intelligence officer and a law enforcement authority.
Sub-inspector also does some clerical court work.
Examine the victim and witnesses related to the particular cases and keeps their custody.
They can be posted anywhere in India, to check the terrorist activity.
They also joined the raid with their senior in the field.
Mostly you will get scheduled timing of work but you have to stay there for more if any important work is going on.
Your promotion can be done any corner of the country where the terrorist activity takes place and you have to be there and set a camp, stay there and investigate.
Sometimes you have to work secretly as a normal civilian.
There are the basic duties of the NIA Sub-Inspector, there is also officer-related work but most of the work is field related. They are the reason behind our happiness. they are the unsung heroes of our nation.
NIA Sub- Inspector Salary:-
The salary of the NIA sub-inspector is different and depends upon the type of work they are doing, here I will tell you the basic pay structure of the NIA sub-inspector. The get some extra pay, let's look at that first and after that, at last, will figure out their salary in hand:-
Pay Scale: 9000/- to 34000/-
Grade Pay: 4600/-
Initial Pay: 9300/-
Total Pay: 13,500
TA (Travel allowance)
DA (Dearness allowance)
House rent allowance etc.
They all get these all the allowance every month and their average salary every month around 40000/- to 65000/- per month. they also get some extra pay, when they work in a dangerous zone and once you get promoted your salary will also hike. Let's see the promotion of Sub-inspector of NIA.
CBI Sub Inspector Salary, Promotion and Job Profile
SSC CGL: CBI Job Profile,Salary & Promotion In Hindi
NIA Sub-Inspector Promotion:-

The promotion of the Sub-inspector is always depended on your performance and your overall work performance etc. You can also get promoted through the promotional exam which held in every department. The very first promotion which you will get as Sub-Inspector:-
When the sub-inspector will be promoted, he will become Inspector when the Inspector gets promoted he will become Superintendant in NIA. after these posts, you have to appear for the promotional exam to get a further promotion. most of the high posts are occupied by the IPS officers, there is no chance for the Sub-Inspector for further promotion without exams.
Assistant Sub-Inspector
Sub-Inspector
Inspector
Superintendent
These are the rank in the National Intelligence Agency. The promotion also depends, if you have done any extraordinary work, in this situation you may get quick promotion.
SSC-CGL Income Tax Inspector: Job Profile,Salary,Promotion In Hindi
How to become Sub-Inspector In NIA?
In order to become the NIA sub-Inspector, you will have to clear the exam called SSC-CGL which Staff selection commission (SSC) Combined graduates level exam (CGL). you can appear for this exam after the graduation through this exam you can also join the other services also Incometax department, CBI, NIA, etc and some other branches also.
SSC CGL Physical Standard for Inspector (Central Excise/ Examiner/ Preventive Officer/CBI)
This is all about the NIA Sub-Inspector Salary, Job profile, and Promotion. If you like this article and find useful then share it with your friends. also, feel free to comment in the below section. if you guys want to appreciate my afford please share my post with your friends by which they can also avail of my services. For any Private add and other inquiry mail us at [email protected].