The CCC Certificate Course is mandatory in all government exams that are related to the Technical things. A candidate who has not CCC Certificate, they can not apply for many exams. here in this article, I will share with you the complete details of NIELIT CCC Syllabus, Exam Pattern of NIELIT CCC, etc.  I will share with you the detail regarding how to apply for this and how to get a CCC certificate. To get complete details regarding this, check the article this.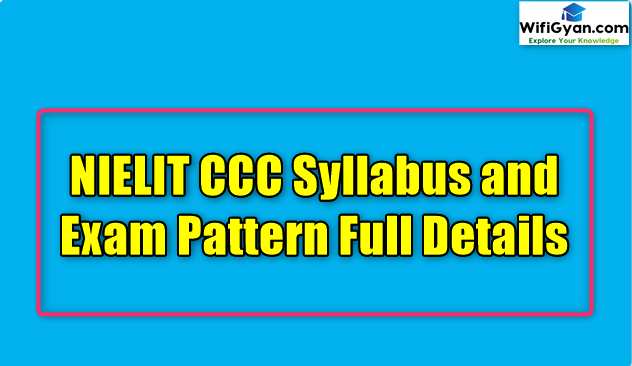 NIELIT CCC Syllabus and Exam Pattern full details:
NIELIT conducts many exams under the Digital Literacy Program under the ministry of electronics and Information technology. These courses are running by the many private institutes and they give you complete guidance and also prepare you to appear for the CCC Examination to get a certificate. To apply for this, you can apply online without the help of any Institute or a teacher. This certificate basically proves that you have enough knowledge to use a computer.  Now Let's see the Syllabus and Exam Pattern of this Examination and how to prepare for this.
Exam Pattern of CCC:
The Exam pattern is pretty much simple. A candidate will appear for the Online Computer-Based Test and the paper pattern of the exam would be like this:
CCC Examination will have Objective Type questions with multiple choice answers.
Total Number of Question-100
Time Duration- 1 hour
A candidate will be given 1 marks for each right answer.
There is no negative Marking.
Candidate needs to score at least 50 marks to get the Certificate.
The Marks of the candidates will not be written on the certificate. Marks would be written in the Grading System and it would be like this:
There is a total 5 grade which is as:
Grade S for a candidate who scores more than 85%
Grade A for a candidate who scores between 75% to 84%
Grade B for a candidate who scores between 65% to 74%
Grade C for a candidate who scores between 55% to 64%
Grade D for a candidate who scores between  50% to 54%
Syllabus of CCC:
The syllabus of NIELIT CCC is a bit broad and hard to prepare. Here are the topics which you have to cover for this Exam:
Introduction to computer and Basic Concepts:
What is Computer
Concept of Hardware and Soft ware
Operating System:
Basics of Operating Systems
The User Interface
Operating System and Simple Setting
Elements of Word Processing:
Word processing Basics
Opening and Closing Documents
Test creation and Manipulation
Formatting the test
Table Manipulation
Spread Sheet:
Spreadsheet Basics
Elements of Electronics spread Sheet.
Manipulation of cells
Function and Charts
Introduction to the Internet, www and web Browers:
Internet and web browsing basics
Basics of Computer Networks
Internet
Services on the Internet
Preparing Computer for Internet Access
Web browsing Sofware
Search Engines
Overview of future skills and Cyber Security:
Introduction to future Skills
Application of Digital Financial Services:
Basics of Application of Digital Financial Services
Why saving is needed
Drawbacks of keeping cash at home
why the bank is needed
Banking products etc.
Application of presentation:
Basics of Application and Presentation
Creation of Presentation
Preparation of slides
Providing of slides
Slide slow
Communication and Collaboration:
Basics of Communication and collaboration.
Basics of E-mail
Using Mail
Advantage of Email features
Instant messaging and Collaboration.
This is the complete Syllabus of  NIELIT CCC, One will have to prepare this all, in order to get good marks in the examination. Hope this article was helpful to you. NIELIT CCC Syllabus
Must Read:-
This is all about the NIELIT CCC Syllabus and Exam Pattern Full Details. If you like this article and find useful then share it with your friends. also, feel free to comment in the below section. if you guys want to appreciate my afford please share my post with your friends by which they can also avail of my services. For any Private add and other inquiry mails us at [email protected]