NPCIL Executive Trainee Salary: NPCIL, a job thats just a dream for many. Because aspirants are really more and number of vacancies really less.  A dream job to many and realistic to just a few. Mind the words, No body can be a challenger until there's a tough challenge ahead. Hence, to join the competition along with the others remain completely sure about the tough competition. Today here we are going to tell you all about NPCIL Executive Trainee salary, NPCIL Executive trainee promotion, work and NPCIL Executive Trainee recruitment. All of this just here on a single page.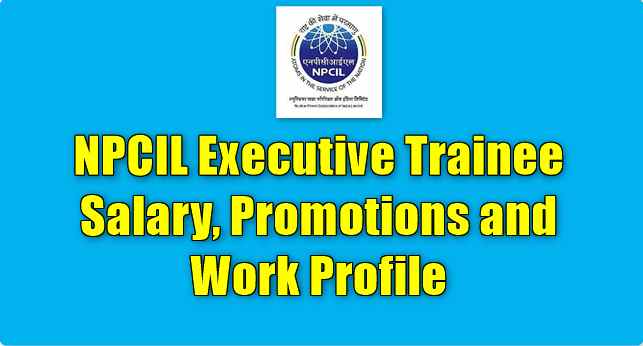 So keep reading be connected and follow our tips and tricks to excel in your dream examinations. We will always try and keep you updated about all the latest jobs and exams that come through.
NPCIL Executive Trainee Salary, Promotions and Work Profile
NPCIL is a job that actually affects many lives. The selection process is not that tough although everyone cant give it. The selected candidates can only appear for the selection of NPCIL Executive trainee selections. In this article we would tell you all about the trainee selection procedure . Read the full length to understand in detail about the promotions, wages, allowances and job profile about a NPCIL Executive trainee.
NPCIL is the short form of Nuclear Power Corporation of India Limited. It is a public sector enterprise of India which serves for the nuclear power balance in India. Those who wanna be a part of the corporation are recommended to join the company as an executive trainee. Aspirants need to gear up and prepare well for the examination as it is really hard to qualify for an exam that has many candidates and less vacancies. Such a competition can only be beaten by hard work and rather smart work.
Read about the things know the tips and tricks so as to understand the strategy to pass out the examination really well. So here we are to help you up to understand all about the NPCIL Executive Trainee recruitment.
Selection Procedure of Recruitment of an Executive Trainee
Here you are reading about the selection procedure step by step for the better preparation of NPCIL Executive trainee. All the study material and guidelines required by the aspirants are given here on our page. Therefore the following steps are to be folowed to understand the Selection procedure of an Executive trainee.
Executive Trainee 2020 candidates are shortlisted from the qualified candidates in GATE 2018, GATE 2019 and GATE 2020 on the basis of their scores.
The selected candidates will be called for a personal interview. This the final qualification round for the candidates. The unreserved candidates require 70% for the selection in interview round whereas the reserved ones require 60% marks for qualification.
Final results of the interview round will be uploaded on the official website http://www.npcilcareers.co.in.
Those selected in the interview round will be called for a medical fitness test.
Document Verification and all the papers checking type of works will be done before the interview round.
Hereby it is to say that, it is really important for a candidate to understand all the here's and does of the examination. Read all the other content regarding NPCIL Executive trainee recruitment procedure further in the article.
NPCIL Executive Trainee Work
In the year 2020 a total of 200 vacancies are available for the executive trainee post in the nuclear power corporation of India limited. You can read about all the work and job profile of the executive trainee in this article. So keep scrolling.
Currently NPCIL has 21 nuclear reactors with its headquarters in Mumbai. The executive trainee are appointed so as to manage these reactors. Here is to say that NPCIL Executive Trainee recruitment is basically done on the basis of their talents in the respective education fields. Therefore NPCIL Executive trainee work is hence now explained to you. Read it all well before going ahead for giving the paper.
NPCIL Executive Trainee Salary and Allowances
The executive trainee appointed by the National Power Corporation of India Limited are not only provided the salary wages but they are also provided with many allowances. The architecture for their complete facilities is taken good care by the NPCIL board. These executive trainees are well paid including a basic grade pay and the wages are increased along with the increament in division of an executive trainee.
Here we are mentioning for you a list of NPCIL Executive trainee salary according to the different positions of the trainee:-
Training :- 
The selected candidates will be required to undergo one year orientation training in any of the Training Facilities as follows:
1. Pressurised Heavy Water Reactor (PHWR) Stream:-
A candidate of this stream shall undergo one-year induction training at any of the Nuclear Training Centres (NTC) of NPCIL sites.

2. Light Water Reactor (LWR) Stream:-
A candidate of this stream shall undergo one-year induction training at Nuclear Training Centre (NTC), located at Kudankulam Nuclear Power Project (KKNPP) Site, Nagarcoil, Tamilnadu.

3. For Mechanical, Chemical, Electrical, Electronics, Instrumentation and I&FS disciplines, training will be either in Pressurised Heavy Water Reactor (PHWR) Stream or in Light Water Reactor (LWR) Stream. Candidates of these 6 disciplines have to indicate preference of 'Reactor Stream' in the online application.
4. Candidate of Civil discipline are not required to indicate choice of 'Reactor Stream.
5. NPCIL reserves the right to change the training stream, venue and duration.
Stipend – During Training :
Monthly Stipend – ` 55,000/-
One time Book Allowance – ` 18,000/-
Mandatory Lodging & Boarding – In accommodation as provided by NPCIL.
Pay – On Appointment as SO/C:-
After successful completion of training, Executive Trainee will be appointed as Scientific Officer/C in Group 'A' as detailed below : –
Grade
Pay Level in
the Pay Matrix
Pay in the
Pay Matrix
Dearness Allowance (DA)
Scientific
Officer/C
Level 10
`56,100/-
17% of Pay in the Pay
Matrix
Allowances:-
House Rent Allowance.
Site Conveyance Allowance.
City Conveyance Allowance(For the HQ/City based Emplyoees).
Family Planning Allowance.
Professional Update Allowance.
Children Education Assistance.
Qualification Incentive etc.
Other than that many other perquisites are given to an executive trainee like canteen subsidy, newspaper subsidy etc.
NPCIL Executive Trainee Promotions
Conclusively after telling you all about the NPCIL and its functions. Its really important to understand the levels of positions for an executive trainee which he can be posted to.
An Executive Trainee after the training period is posted as a Scientific Officer/C. The other positions are given as follows:-
Scientific Officer/C to Scientific Officer/D
Scientific Officer/D to Scientific Officer/E
Scientific Officer/E to Scientific Officer/F
Scientific Officer/F to Scientific Officer/G
Scientific Officer/G to Scientific Officer/H
Hereby we have told you all about the NPCIL executive trainee promotions. Now coming towards the end of this article wishing you a best of luck we would just say that prepare well.
This is all about the NPCIL Executive Trainee Salary, Promotions and Work Profile. If you like this article and find useful then share it with your friends. also, feel free to comment in the below section. if you guys want to appreciate my afford please share my post with your friends by which they can also avail of my services. For any Private add and other inquiry mails us at [email protected]