The Rajasthan Patwari Vacancy has been released by RSSSB. There are some changes that have been made in the exam pattern and its syllabus. Here in this article, I will share with you the complete details of the Exam pattern of Rajasthan Patwari and the Exam syllabus of Rajasthan Patwari 2020. We will cover both the topics in this article. To get complete information regarding the Rajasthan Patwari Exam checks the article below: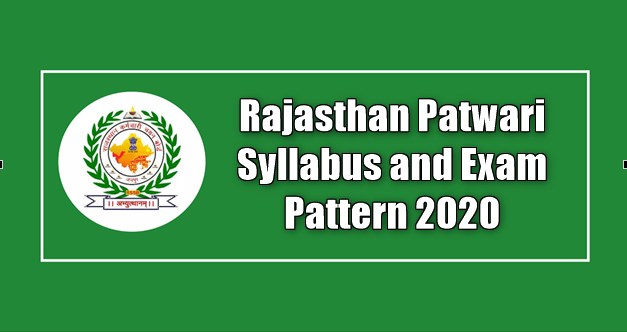 Rajasthan Patwari Syllabus and Exam Pattern 2020:
The Rajasthan Patwari exams are conducted by the RSSSB. There is around 4207 seat available in this vacancy and more than 8 lakhs people have applied for this. According to the recent report,  this exam is about to be conducted in May 2020. but no official announcement has been made regarding the Exam dates.
There are also major changes that have been made in the Exam of Rajasthan Patwari. let's discuss the Exam pattern of Rajasthan Patwari and at last, we will see the syllabus of it.
Exam pattern of Rajasthan Patwari:
The exam pattern of the Rajasthan Patwari: the exam used to be conducted in two phases Preliminary exam and mains exams. but now the examination board has decided to conduct only one written exam which would be for 300  marks. The paper pattern of the Rajasthan Patwari would be like:
Subjects
No. of questions
Total Marks
·         General science

·         History

·         Polity

·         Geography of India

·         General Knowledge

·         Current affairs

38
76
·         Geography

·         Culture of Rajasthan

·         Rajasthan Polity

·         History of Rajasthan

30
60
·         General English

·         General Hindi

22
44
·         Mental Ability

·         Basic Numerical Efficiency

45
90
·         Basic Computer
15
30
TOTAL:
150
300
All the questions would be in Objective type questions with the multiple-choice answers.
Total no.of questions – 150
Maximum marks – 300
Negative Marking- 1/3 marks for each wrong response.
These are all the details regarding the exam pattern of Rajasthan Patwari by the Rajasthan Selection Board. The syllabus of this exam seems bit broad and hard. Now let's see the syllabus of Rajasthan Patwari Exam and discuss each syllabus in details:
General Knowledge Top 100 One Liner Questions and Answers In Hindi
Exam syllabus of Rajasthan Patwari 2020:
The question in the Exam of Rajasthan Patwari will be asked from these following subjects:
General science
History
Polity
Geography of India
General Knowledge
Current affairs
Geography
Culture of Rajasthan
Rajasthan Polity
History of Rajasthan  
General English
General Hindi
Mental Ability and reasoning 
Basic Numerical Efficiency
Basic Computer
These are the subjects which are going to be asked in the exam of  Rajasthan Patwari which is conducted by the Rajasthan Service Selection Board. Now see the complete syllabus in detail:
General knowledge and General Science:
Latest Current Affairs
Indian Constitution
Indian History
Indian Economy
Indian Geography
Indian Politics
Rajasthan history
Religions
Books & Authors
Sports,
Awards, etc
Rajasthan History Notes in Hindi For RPSC-RAS Exam, Pdf Download
General English and General Hindi:
Sentence Improvement
Reading Comprehension
Synonyms
Antonyms
One Word Substitution
Para-Jumble
Sentence-Jumble
Spot the Error
Cloze Test etc.
Mental Ability and Reasoning:
Number Series.
Non-Verbal Series.
Embedded Figures.
Mirror Images.
Figure Classification.
Clocks & Calendars.
Problem Solving.
Decision Making.
Relationship Concepts.
Verbal and Figure Classification.
Blood Relations.
Coding-Decoding.
Number Ranking.
Arithmetical Computation
Arithmetical Number Series etc.
Basic Computer:
Computer Generation
MS Word
MS Excel
PowerPoint
Internet
Operating System
Computer Hardware
Abbreviations related to Computer Knowledge.
This is all the syllabus that is difficult to cover and for the rest of the syllabus, you have to prepare the particular book for each subject. There are no specified topics in those subjects. You have to prepare the complete syllabus of those books like the history of Rajasthan, Indian history, Indian history, Culture of Rajasthan, etc. You have to prepare these syllabus by yourself. there are no specified topics of these subjects.
And for the Current affairs Portion: Develop a habit of reading magazines and daily newspapers to score well in the General Knowledge section. Thankfully, now students have access to the internet and different mobile applications, which they can use to check the daily news even when traveling. You can download such apps on your smartphones.
When reading magazines and newspapers, focus more on the latest books, winners in sports, cities located at the banks of famous rivers, etc.
This is all about the Rajasthan Patwari Syllabus and Exam Pattern 2020. If you like this article and find useful then share it with your friends. also, feel free to comment in the below section. if you guys want to appreciate my afford please share my post with your friends by which they can also avail of my services. For any Private add and other inquiry mails us at [email protected]