दोस्तों आज हम जो पोस्ट लिख रहे हैं वह RSMSSB Computer का  Exam Pattern और  Syllabus के बारे में है| RSMSSB Computer पद के लिए जो प्रतियोगी छात्र अपने आप को योग्य समझता है वो इस पद के लिए आवेदन कर सकता है| RSMSSB Computer पद पर आवेदन करने से पहले आप लोग आयोग के website पर जाकर notification को ध्यान से पढ़े, हम आप लोगो को  RSMSSB Computer exam का pattern और syllabus बताने जा रहे हैं|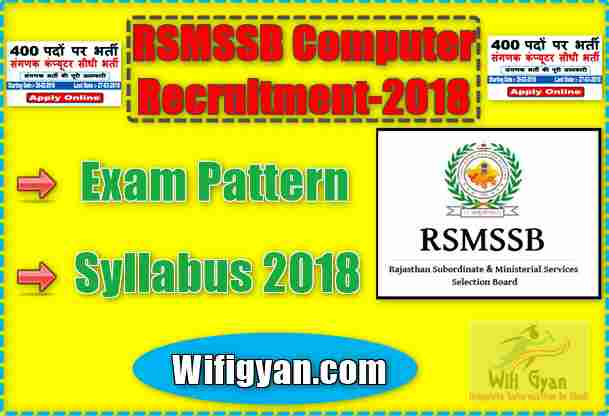 RSMSSB Computer Recruitment 2018 Exam Pattern And Syllabus-
RSMSSB Computer Exam Pattern-
S.No
Subject
No.of Question
Total marks
Examination

Period

Part-1
General knowledge
30
30
2 Hours
Part-2
Statistics Economics and Mathematics
70
70
पाठ्यक्रम के अनुसार, बराबर अंको के कुल 100 बहुबिकल्पिये प्रश्न होंगे|

प्रत्येक गलत उत्तर के लिए 1/3 अंक कट लिया जायेगा|



Qualify करने के लिए कम से कम कुल अंको का 40% अंक लाना अनिवार्य है|

पेपर का Level स्नातक(Graduation) स्तर का होगा|
RSMSSB Computer Syllabus-
Parts (1)-
1.भूगोल, प्राकृतिक संसाधनों और राजस्थान का सामाजिक-आर्थिक विकास:
राजस्थान के प्रमुख भौगोलिक डिविजन, वनस्पति और मिट्टी, प्राकृतिक संसाधनों के खनिजों, जंगल, पानी, जीवित स्टॉक, जीवन और उसके संरक्षण, पर्यावरणीय अनुशासन सिंचाई परियोजनाएं, हस्तशिल्प विकास प्रोग्राम और राज्य सरकार की योजनाएं, राजस्थान के विभिन्न संसाधनों और आबादी|
Geography natural resources and socio-economic development of Rajasthan:
Major physiographic division of Rajasthan, vegetation and soil, natural resource-minerals, forest, water, livestock, wildlife and its conservation, environmental conservation, major irrigation, handicraft, development programme and scheme of the state government various resources of power and pollution in Rajasthan.
2.राजस्थान का इतिहास संस्कृति और विरासत:
राजस्थान का इतिहास, लोक कला, मंदिरों और घाटियां, संगीत और नृत्य, मेलों और त्योहारों, सीमा शुल्क, आभूषण, प्रसिद्ध किलों, मंदिरों और घाटियों के राजस्थान के संतों, चित्रकारी-विविधों के प्रसिद्ध ऐतिहासिक और सांस्कृतिक कृपया राजस्थान में विद्यालय, प्रमुख पर्यटन केन्द्रों और हवाई जहाज़ के पहिये के संरक्षण
History culture and heritage of Rajasthan:
History of Rajasthan, famous historical and cultural place of Rajasthan, folk literature, folk art for drama, lok Devian-Devatha, folk music and dance, fairs and festivals, customs, jewelry, famous forts, temples and Hawelies, saints of Rajasthan, the paintings-various school in Rajasthan, major tourist center and heritage conservation.
3.वर्तमान घटनाओं, राजस्थान और भारत के मुद्दों, महत्वपूर्ण सूचना प्रौद्योगिकी और संचार में प्रमुख विकास|
Current events and issues of Rajasthan and India, the major development in the field of Information Technology and Communication.
RSMSSB Computer  Syllabus-
Parts(2)- Statistics Economics and Mathematics
Collection, classification, tabulation and diagrammatic presentation of data, measures of central tendency, dispersion, moments.
Correlation regression: Correlation and its coefficients linear regression
Design of Sample Survey: Sampling unit, sampling frame, sampling fraction, sampling with and without replacement, population parameter, and sample estimator, simple random sampling, stratified random sampling, systematic sampling, cluster sampling.
Time series analysis: Components, measurement of trend seasonal, cyclical and irregular variations.
Index number: Uses, types, and limitation of index numbers, construction of index numbers, simple and weighted aggregate method, simple and weighted average price relatives, chain base index number, base shifting cost of living index numbers.
Vital statistics: Collection of vital statistics-measures of morality and fertility rate, population growth.
Statistical system and statistical Organisation in India and Rajasthan: The system of national accounting, Ministry of statistics and programme implementation, central statistical office, national Sample Survey organization, registrar general of India, Niti Aayog, Reserve Bank of India and Directorate economics and Statistics Rajasthan.
Economic concepts: Law of demand and supply, the concept of electricity, demand forecasting, price determination under different market, national income, economic growth and planning, inflation, money, banking and financial inclusion.
The economy of Rajasthan: Agriculture, industry, livestock, infrastructure development, public finance, state income, poverty, unemployment and human development.
Elementary Mathematics: Decimal fraction, percentage, rates and ratio, averages, simple and compound interest, square roots.
Basics of computer: MS Word, MS Excel and PowerPoint presentation, basic knowledge of the internet.
---
You May Also Like This
Friends, if you need an eBook related to any topic. Or if you want any information about any exam, please comment on it. Share this post with your friends on social media. To get daily information about our post please Click The Bell Icon Which is Given Below.
Disclaimer
Wifi Gyan does not own this book, neither created nor scanned. We just provide the link already available on the internet. If anyway it violates the law or has any issues then kindly mail us: 
[email protected]