All those who aspire to get a job at the Staff Selection Commission have a golden opportunity so as to become a part of this prestigious commission. SSC CPO 2019-20 is going to be conducted so as to recruit the candidates to the post of Sub Inspector in Delhi Police, Sub Inspector in CAPFs, Assistant Sub Inspector in CISF, Inspector and Sub Inspector. If you are searching for the SSC CPO SI Cut off then you have landed over the right destination to solve your queries. So as to perform the right decisions we have brought for you SSC CPO SI Cut Off. and you will see Last Year SSC CPO SI Cut off, SSC CPO SI CutOff, CPO SI Expected Cut Off.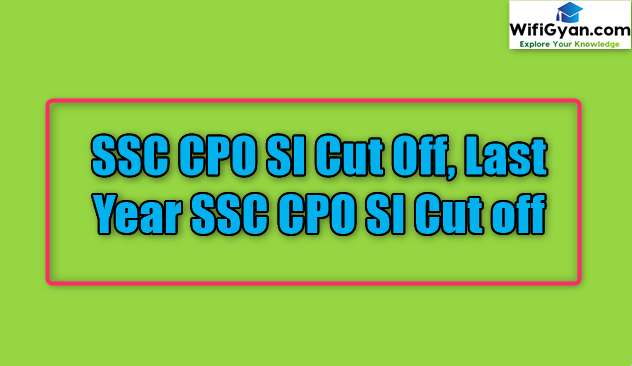 SSC CPO SI Cut Off
The SSC CPO 2019-20 Phase 1 examination is expected to be held within 9th December 2019 to 13th December 2019. Hence, all the preparing candidates who wish to qualify this examination should be well equipped with all kind of information related to the SSC CPO SI Cutoff examination.
As per the given examination, it's really important for you to be updated with all the notifications and last year CPO SI Cut Off and important dates related to this exam. The important dates and notifications are given in this single article. Scroll more to read more. In this article, you will get to learn all the important necessities to pass this exam as well as the tips and tricks to excel in all kinds of SSC CPO SI exams you counter.
CPO SI examination is conducted by the SSC for the recruitment of Sub Inspectors in Delhi Police as well as other armed forces like BSF, ITBP, SSB, CISF Etc. so here we are telling you about SSC CPO SI CUT OFF along with what would be expected cut off for upcoming examinations.
SSC CPO SI(Sub Inspector), Exam Pattern and Syllabus Full Information
SSC CPO Last Five years CUT Off Pattern:-
To Understand the SSC CPO SI CutOff pattern of a particular examination the candidate must keep himself/herself updated with the current patterns. These will show him the idea so as to perform in the examination of the SSC CPO Phase-I exam. Hence, today we have brought for you the pattern of SSC CPO Cut off for the last five years. The pattern is given as below:-
Category

2014

2015

2016

2017

2018

Male

Female

Male

Female

Male

Female

Male
Female

Male

Female

General
85.00
81.85
88.25
83.00
89.75
83.50
117.25
112.50
140.08
137.60
OBC
70.00
68.00
74.00
70.75
77.00
69.50
102.00
97.75
133.36
127.51
SC
63.25
61.00
68.00
62.00
67.75
60.25
90.25
84.75
111.17
99.50
ST
59.25
54.00
65.00
60.00
67.25
58.25
90.00
81.00
111.17
110.31
Ex-Servicemen
40.00
–
63.00
–
30.00
30.00
43.00
–
70.00
–
SSC CPO SI Expected Cut Off for 2019:-
There are four paper naming Reasoning, English, Mathematics and General Knowledge for 200 marks if you want to crack the examination so you have to clear the cut off decided by the SSC. As you see every year SSC CPO SI Cut off goes higher and higher, in 2018 CPO SI Cut off was 140 out of 200 marks, and you can see this was the highest cut off ever for the SSC CPO SI. CPO SI CUT Off for 2019 is given below-
According to the Wifigyan.com, we expected that this year SSC CPO SI expected Cut off would be 135-140. So prepare hard for the upcoming examination
How to apply:
Applications are required to be submitted in online mode only at the official website of SSC Headquarters i.e. https://ssc.nic.in.
For detailed instructions, please refer to Annexure-Iand Annexure-Iof this Notice.
The last date for submission of online applications of SSC CPO SI is 16-10-2019(17:00).
Candidates are advised in their own interest to submit online applications much before the closing date and not to wait till the last date to avoid the possibility of disconnection/inability or failure to login to the SSC website.
On account of heavy load on the website during the closing days. The commission does not accept any responsibility for the candidates not being able to submit their applications within the last date on account of the aforesaid reasons or for any other reason beyond the control of the Commission.
Check Updates:- SSC CPO SI Job Profile, Salary and Promotions in Hindi
How to Download the Admit Card:-
Recently, SSC has released the SSC CPO admit card so as to be downloaded by the candidates whosoever has applied for this post. The procedure to download the admit card for the SSC CPO Exam 2019-20 is given as below:-
Candidates are required to open the official website of SSC first of all.
In the next step, one has to click on the link mentioning Download the Admit Card for SSC CPO Phase-I examination.
A Dialogue box appears saying to fill in the appropriate details for the Candidate's Name, Password and Captcha Code.
Once after filling the correct details, the page is reloaded wherein the candidate's admit card opens up.
Candidates are required to download this admit for further usage.
Read More: SSC CGL Tire-3 Pattern Syllabus and Important Essay Topics
Know more: SSC CGL Physical Standard for Inspector (Central Excise/ Examiner/ Preventive Officer/CBI)
Note: The Admit Card for SSC CPO SI Exam 2019-20 Phase-I exam has been released for different regions as mentioned in the official website of SSC.
This is all about the SSC CPO SI Cut Off, Last Year SSC CPO SI Cut off CPO SI Last 5 Year Cut off. If you like this article and find useful then share it with your friends. also, feel free to comment in the below section. For Better Preparation and Better Study material Please Visit Wifigyan.com on a regular basis. Here You will find all the books related to all subjects free of cost. My main aim to help the students who are not able to buy all the expensive books. if you guys want to appreciate my afford please share my post with your friends by which they can also avail of my services.