Hello Friends, UPSC ने CAPF (Central Armed Police Force) के लिए विज्ञापन जरी कर दिया है, जो छात्र इस परीक्षा के लिए अपने आप को योग्य समझते है वो लोग जल्दी से जल्दी आवेदन कर दे| दोस्तों Wifigyan.com आप लोगो के लिए UPSC CAPF Assistant Commandant Exam Pattern and Syllabus-2019 लेकर आया है| किसी भी परीक्षा के लिए यह तैयारी का पहला चरण होता है की आप उस परीक्षा के Exam Pattern and Syllabus को अच्छी तरह समझ ले| तो दोस्तों अगर आप लोगो को यह जानकारी अच्छी लगे तो इसे अपने दोस्तों के साथ भी साँझा करे|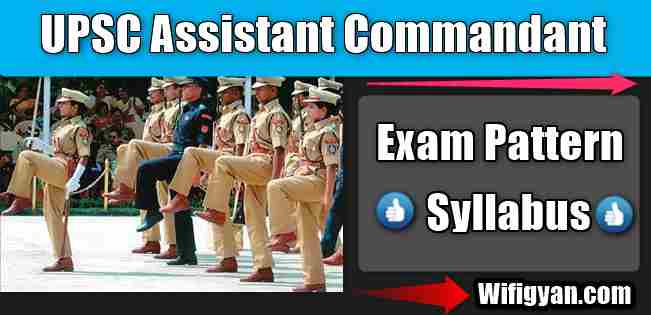 UPSC CAPF Assistant Commandant Exam Pattern and Syllabus-2019:-
दोस्तों UPSC CAPF Assistant Commandant का परीक्षा 3 चरणों में संपन्न होगा-
Written Exam (लिखित परीक्षा)
Physical Standards/Physical Efficiency Tests and Medical Standards Tests (शारीरिक दक्षता परिक्षण)
Interview (साक्षात्कार)
UPSC CAPF Assistant Commandant Written Exam:-
लिखित परीक्षा में 2 प्रश्न पत्र शामिल है और दोनों पेपर एक ही दिन में संपन्न होगा
Paper-I सुबह 10 बजे से 12 बजे तक होगा और Paper-II शाम 2 बजे से 5 बजे तक होगा|
Paper-I का मूल्यांकन पहले किया जायेगा और जो paper-I में सफल होगा उसकी ही Paper-II की कॉपी का मूल्यांकन किया जायेगा|
इसलिए paper-I में आयोग द्वारा निर्धारित Minimum Marks लाना अवश्यक है|
Paper-I में  बहुविकल्पिये प्रकार (Objective Type) के प्रश्न होंगे|
| | | | |
| --- | --- | --- | --- |
| Papers | Subject | Marks | Duration |
| Paper-I | General Ability and Intelligence | 250 | 2 Hours (10AM-12PM) |
| Paper-II | General Studies, Essay and Comprehension | 200 | 3 Hours (2PM-5PM) |
Physical Standards/Physical Efficiency Tests and Medical Standards Tests (शारीरिक दक्षता परिक्षण):-
शारीरिक दक्षता परिक्षण के समय गर्भावस्था एक अयोग्यता होगी और गर्भवती महिला की उम्मीदवारी अस्वीकृत होगा|
| | | |
| --- | --- | --- |
| Physical Efficiency Tests (PET) | Males | Females |
| 100 Meters race | In 16 seconds | In 18 seconds |
| 800 Meters race | In 3 minutes 45 seconds | In 4 minutes 45 seconds |
| Long Jump | 3.5 Meters (3 chances) | 3.0 meters (3 chances) |
| Shot Put (7.26 Kgs.) | 4.5 Meters | ———– |
Interview (साक्षात्कार):-
जो उम्मीदवार लिखित परीक्षा और शारीरिक दक्षता परिक्षण में सफल होंगे उन्हे साक्षात्कार के लिए बुलाया जायेगा|
साक्षात्कार के लिए 150 अंक निर्धारित है|
इसे भी देखे:-UPSC CAPF Previous Year Paper For Assistant Commandant Pdf Download
UPSC CAPF Assistant Commandant Syllabus For Written Exam:-
Paper I: General Ability and Intelligence:-
इस पेपर में विभिन्न विषय शामिल है जो निम्नलिखित है-
1. General Mental Ability:-
The questions will be designed to test the logical reasoning, quantitative aptitude including numerical ability, and data interpretation.
2. General Science The questions will be set to test general awareness, scientific temper, comprehension, and appreciation of scientific phenomena of everyday observation including new areas of importance like Information Technology, Biotechnology, Environmental Science.
3. Current Events of National and International Importance: The questions will test the candidates' awareness of current events of national and international importance in the broad areas of culture, music, arts, literature, sports, governance, societal and developmental issues, industry, business, globalization, and interplay among nations.
4. Indian Polity and Economy: The questions shall aim to test candidates' knowledge of the Country's political system and the Constitution of India, social systems, and public administration, economic development in India, regional and international security issues and human rights including its indicators.
5. History of India: The questions will broadly cover the subject in its social, economic and political aspects. This shall also include the areas of growth of nationalism and freedom movement.
6. Indian and World Geography: The questions shall cover the physical, social and economic aspects of geography pertaining to India and the World.
Paper II:- General Studies, Essay and Comprehension
Part-A:- Essay questions which are to be answered in the long narrative form either in Hindi or English totaling 80 Marks. The indicative topics are modern Indian history especially of the freedom struggle, geography, polity and economy, knowledge of security and human rights issues, and analytical ability.
Part-B:– Comprehension, précis writing, other communications/language skills – to be attempted in English only (Marks 120) – The topics are Comprehension passages, précis writing, developing counter arguments, simple grammar and other aspects of language testing.
This is All About UPSC CAPF Assistant Commandant Exam Pattern and Syllabus-2018
---
Related Post:-
Friends, if you need an eBook related to any topic. Or if you want any information about any exam, please comment on it. Share this post with your friends on social media. To get daily information about our post please Click The Bell Icon Which is Given Below.
Disclaimer
Wifi Gyan does not own this book, neither created nor scanned. We just provide the link already available on the internet. If anyway it violates the law or has any issues then kindly mail us: 
[email protected]