Hello Readers! Here we are back with the UPSC DCIO Eligibility Criteria, age limit, and educational qualification. Read this article up till the end so as to understand the different required qualifications for the DCIO Recruitment 2020. Wifi Gyan will update you here with all the required material about the post of Deputy Central Intelligence Officer in just one article.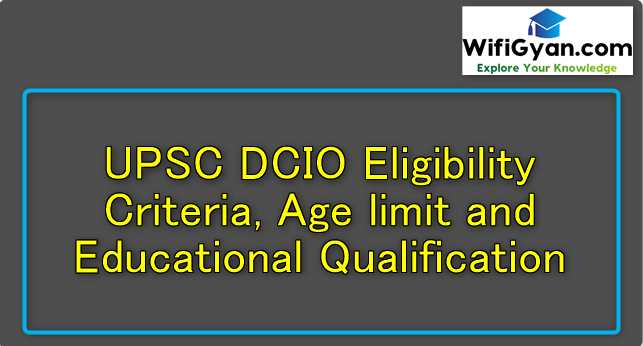 UPSC DCIO Eligibility Criteria, Age limit, and educational qualification
Aspirants, whosever are aspiring to qualify the examination for DCIO post should be aware of the educational qualifications and eligibility criteria related to the examination. This exam is conducted by the UPSC. Every candidate is expected to prepare well. So as to give good results after the examination.
Hence, here we are to tell you all the details about the UPSC DCIO Recruitment 2020. The educational qualifications, the eligibility criteria, the age criteria, and also get to read about the paper pattern and other details related to the examination in this article itself.
Examination Pattern of UPSC DCIO
The notifications for the 29 posts of Deputy Central Intelligence Officer (DCIO) & Data Processing Assistant (DPA) vacancies in Group 'A' and 'B' respectively have been uploaded on 28 December 2019 at its official website, upsc.gov.in. The online applications will be accepted for the vacancies up till 16th January 2020.
DCIO applicants must be knowing that this year the total number of vacancies for Deputy Central Intelligence Officer is 27 while those for DPA officers are 2 posts all over India.
UPSC DCIO Salary, Promotion and Job profile | Deputy Central Intelligence officer
The syllabus of the paper is given below:-
Basic knowledge of subjects related to Science, Mathematics and Physics especially, Knowledge of Computer Languages, namely JAVA, C++, Cellular Technology, Data Communication, Information and Network Security, Communication Skills, Database Management and Science and technology.
DCIO Recruitment 2020
Hereby, before giving the examination for Deputy Central Intelligence Officer 2020. Aspirants must have complete knowledge about DCIO recruitment 2020. Any recruitment requires, you to know well about the duties and responsibilities of the officer is appointed. Hence, here we have listed all the duties of Deputy Central Intelligence Officer:-
Supervision of operation and maintenance of Communication network/equipment.
Maintenance & operation of Cyber Security/forensics equipment.
R&D work, mainly dealing with electronics and telecommunication.
To undertake and supervise the operational work assigned. Supervision of maintenance and operation of audio, video &CCTV equipment.
Head Quarters of the Central Intelligence Office are in Delhi but the Officers are liable for transfers all through the Country. These are basically permanent Governmental posts that are assigned on the basis of interviews held for recruitment.
Deputy Central Intelligence officer
DCIO is a post created by the Indian Government so as to help the Central Intelligence Department of the Country. The recruitments to this post all done on the basis of Direct interviews. In the year 2020, the Union Public Service Commission(UPSC) is going to conduct this recruitment. Hence, those interested may fill up the forms and gear up for the upcoming interview.
UPSC DCIO Eligibility Criteria
The Officer post is issued by the Indian Intelligence Bureau under the Ministry of Internal Affairs of India. The applicants must be aware of all the whereabouts before filling up for this examination. Hence, hereby we have brought for you all the important conditions which will make you eligible for filling the application form for the DCIO post.
Important rules and points related to eligibility criteria of DCIO are as follows:-
Bachelor's Degree in Engineering (B.E. or B. Tech.)
B.Sc. (Engg.) awarded by a recognized University in the fields of Electronics or Electronics and Communication or Electronics and Telecommunication or Computer Science or Computer Engineering or Computer Technology or Computer Science and Engineering or Information Technology or Software Engineering
Associate Membership of Institute of Engineers (AMIE) in Electronics and Communications Engineering
Graduate Ship awarded by Associate Membership of Institute of Electronics and Telecommunications Engineers (AMIETE) in Electronics and Telecommunication Engineering
Degree in Master of Science in Physics with Electronics or Telecommunication
Master of Computer Applications (MCA) after three years Bachelor of Science in Physics
Degree of Master of Science (Information Technology)
Master of Science (Computer Science)
Master of Science(Software)
Above provided are the UPSC DCIO educational qualifications for UPSC DCIO Recruitment 2020.
UPSC DCIO Age Limit
The applicants who are interested to fill the form for Deputy Central Intelligence Officer has to compete for the age limit of 35 Years for the candidates of general category, while for the candidates belonging to categories of Scheduled classes and scheduled tribes the age limit should not exceed 40 Years for Scheduled Caste and Scheduled Tribes candidates, while age limit should not be exceeding 38 Years for Other Backward Classes Candidates.
Here, we have provided you enough information about all the UPSC DCIO  eligibility criteria and UPSC DCIO educational qualification and also about the UPSC DCIO age limit. I hope you get help from this article. Also, refer Wifigyaan for further instances on the same topic.
I hope all of this helps you today and tomorrow. With all the best wishes read us, join us and continue reading.
I hope we have provided you with all the information about UPSC DCIO Eligibility Criteria, Age limit and Educational Qualification. If you like this article and find useful then share it with your friends. also, feel free to comment in the below section. if you guys want to appreciate my afford please share my post with your friends by which they can also avail of my services. For any Private adds and other inquiry mail us at [email protected].