Forest Guards on duty! Today's recruitment letter that you may read here with us is all the UPSSSC Forest Guard Salary, Work Profile, and Promotions. With lots of hard work and ambitions in mind, as you are preparing for different examinations. UPSSSC has released a total of 655 vacancies so as to recruit the Forest Guards on their posts. Here you will be able to read about the Salary of Forest Guard, UPSSSC Wild Life Guard Salary, Promotions and Work Profile.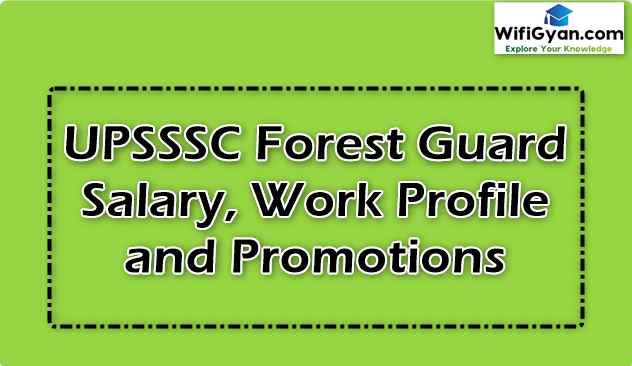 UPSSSC Forest Guard Salary, Work Profile and Promotions
Hello, our readers. welcomes you over this soft landing destination wherein you get to learn everything about the UPSSSC Forest Guard Salary, Work Profile and Promotions. Scroll down over the page to get updated with all the latest files and facts that you want to know.
A Forest Guard has various duties to perform along with additional responsibility for managing the forest ecosystem and conservation of its biodiversity. Various duties of a Forest Guard are mentioned as below:-
Forest Guard Work Profile:-
Forest Guard has to take charge of the forest in which all the produce is confined for the Government and the Court has also confiscated all the produce in that forest.
The Forest Guard should be so vigilant that no fear of theft should be left in order to save all kinds of products from the forest that is government property.
If by chance a theft even occurs in his presence he should apply all kinds of efforts so as to catch the one who did it.
When the offender is unknown the forest guard has to take charge of the apparent property himself.
To save all the new plantations of a given area from all kinds of human activities as well as from the wild animals etc, it is the duty of the forest guard itself.
Forest Guard should repair all boundary pillars, roads, and buildings of his beat area under the orders of Range Officer.
UPSSSC Forest Guard Salary, Wild Life Guard Salary:-
The salary and allowances of a forest guard are although not so much yet not too less. The pros and perks enjoyed come up with a lot of responsibilities as well.
Hence, a forest guard has to enjoy all of these allowances along with major duties to be played. Along with this the government of every state provides a different range of salary as per the grade pay and pay scale of the forest guards. Let's see in the table for Forest Guard Salary, Wild Life Guard Salary.
| | | |
| --- | --- | --- |
| State | Grade Pay | Pay Scale |
| Maharashtra | 1800/- | 5200/- to 20200/- |
| Uttar Pradesh | 2000/- | 5200/- to 20200/- |
| Gujarat | 2000/- | 5200/- to 20200/- |
| Karnataka | | 11600/- to 21000/- |
| Tamil Nadu | 1900/- | 5200/- to 20200/- |
| Kerala | | 5200/- to 20200/- |
| Madhya Pradesh | 1800/- | 5200/- to 20200/- |
|  Uttarakhand |  1900/- | 5200/- to 20200/- |
Talking more about the major allowances of a forest guard. As it is clear that the major role played by a forest guard officer is in the conservation of all these fast diminishing forests. A forest guard has to play a major role while saving these because the forests are the only ones responsible for all kinds of biodiversity and produce whatsoever is required by human beings.
The named work profile of Forest Guards is described as well in this article itself. As we are trying our best to provide you everything whatever you require in really less time lapse. Hence, scroll down be in touch, keep it up with us.
Also Check: UPSSSC Forest Guard Syllabus and Exam Pattern
Promotions related to UPSSSC Forest Guards:-
Basically all the Forest Guards are promoted to a distinct height in their carriers. It is not necessary that promotions are a part of each and every Forest Guard, in fact, it is upon the Government that if a guard is promoted or he is just left till retirement at the same place.
Although the series of Promotions which a Forest Guard may enjoy are as follows;
Forest Range Officer.
Forest Deputy Rangers (also known as Forest inspector ).
Forest Section Officers(also known as Van Daroga).
Know More: UPSSSC Forest/Wild Life Guard Previous Year Paper Download
Read this:- Bihar Forest Guard Exam Pattern And Syllabus- 2018-19
I hope all of this helps you today and tomorrow. With all the best wishes read us, join us and continue reading.
I hope we have provided you with all the information about UPSSSC Forest Guard Salary, Work Profile and Promotions. If you like this article and find useful then share it with your friends. also, feel free to comment in the below section. if you guys want to appreciate my afford please share my post with your friends by which they can also avail of my services. For any Private adds and other inquiry mail us at [email protected].