The Management trainees post vacancy which is released by the Vizag Steel Ltd. All the candidate who matches with the eligibility criteria are eligible to apply for the post. Here in this article, I will discuss the salary of Vizag Steel MT and management Trainee Job Profile, etc. We will also share with you the eligibility Criteria of it and how to apply for this post. To get the complete information regarding this, check the article below:
CIL Management Trainee Salary and Job Profile and Promotions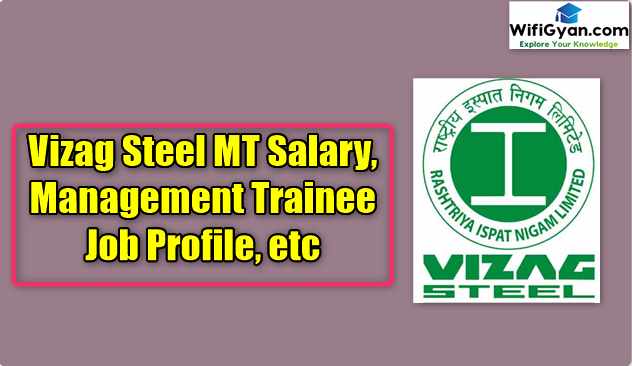 Vizag Steel MT Salary, Management Trainee Job Profile, etc:
The Salary of any job or service always plays the most important role in any employee's life. The lifestyle of the Employee and his family is always dependent on his salary. The Vizag Steel salary to the Management trainee is pretty much awesome, they get paid well for their job and also get some other benefits for being in this service. we will discuss their salary at last but before that. let's see the eligibility Criteria of joining and selection procedure of Vizag Steel Management Trainee.
Best Books for Vizag Steel Management Trainee:-
| | |
| --- | --- |
| | For Mechanical Engineering |
| | For Electrical Engineering |
SK Mandal Notes Mechanical Engineering For Gate, IES and PSU
Eligibility for Vizag Steel MT:
The eligibility which is required to apply for this post isn't much.  These are the following eligibility which is required:
Only Graduates are eligible to apply for this post.
A candidate must have done graduation in a technical field like Ceramic or Chemical or mechanical or civil or electrical and many more which are related to the Engineering.
Age Limit: The age of the candidate should not be more than 27 years old.
There is also special relaxation to some categories like OBC and SC/ST.
The OBC candidates will get 3 years of relaxation in the age.
The SC/ST candidates will get 5 years of relaxation in the age.
Selection procedure of Vizag Steel MT:
The selection procedure of the Vizag Steel management trainee isn't much tough. A candidate will have to appear for the two phases of Tests which is:
Computer-based test (Online Test)
Interview
A candidate will appear for the Online Computer-Based test and only qualified candidates in the Computer-based test will proceed for the Interview. The Interview is basically a personal Interview. There is nothing tough in this. All the candidates who would this both the phases will proceed for the medical test.
Management Trainee Job Profile:
The Work Profile of the Management trainee at the Vizag Steel plant can be different according to their streams of joining like Mechanical/ electrical/ Ceramic/ chemical etc. They all would be posted in their particular streams only. Right after clearing the Online test and interview. A candidate will be posted as a Trainee cadet for the One year.
A Trainee Candidate will learn all the basic rules and regulations of the service and we will do further practice over to his disciplined stream.
In the Vizag steel plant almost all the things run on automation. So, there would not be many things to do every day. You have just look after these machines and electrical Equipment etc. the work profile of each candidate would be different according to their streams and specialization.
Salary of Vizag Steel MT:
The Vizag Steel Management plants pay s pretty handsome salary to their employees. Management trainees while on the training they get paid some fixed stipend and after successful completion of the training. they get posted as management trainees in their particular field.  They get a salary of around 24,400/- to 50,500/- per month.
They also many other benefits being in this service like:
Transportation Allowances
Dearness Allowances
Housing Allowances
Free Rations
Kit Maintenance Allowances
Field Area Allowances
Annual Leave
Encash of Leave
Casual Leave of 20 Days
Death Cum Retirement Gratuity.
Free Hospital Facilities
Low-Interest Loans
The company will not provide any pension and any salary on leave. If the employee takes any extra leaves except those fixed casual and annual leaves. A company will pay any amount to them.
How to apply for this:
To apply for this, you can go to the official website of the Vizag Steel Plant http://www.vizagsteel.com you can apply from here Online. This is an online test so remember these things while you do the preparation of this.
Make proper time management for each paper.
Never stay on a single question for more than one minute.
If anything goes wrong with your system while the exam, contact your instructor immediately.
You will not get a single minute extra for any cause.
Try to complete the paper within time. so that you can revise your paper at last.
if you solve the sample question paper or previous question paper, do not print out the question paper, try to solve them by seeing on the screen.
You would have a better experience in solving the question on the screen.
If you have a problem with the screen, use proper specs for that.
Bihar Assistant Engineer Syllabus and Exam Pattern in Details
This is all about the Vizag Steel MT Salary, Management Trainee Job Profile, etc. If you like this article and find useful then share it with your friends. also, feel free to comment in the below section. if you guys want to appreciate my afford please share my post with your friends by which they can also avail of my services. For any Private add and other inquiry mails us at [email protected]