The Indian Constitution is known as the best ruling constitution in the world. The Constitution of India has many rules and regulation that gives citizens a special power to go against the governments. The Indian Government is of the people, for the people and by the people. Here in this article, I am going to share with you the details about what is a Fundamental Duty in Indian Constitution. I have shared complete information about the fundamental duties of the Constitution of India.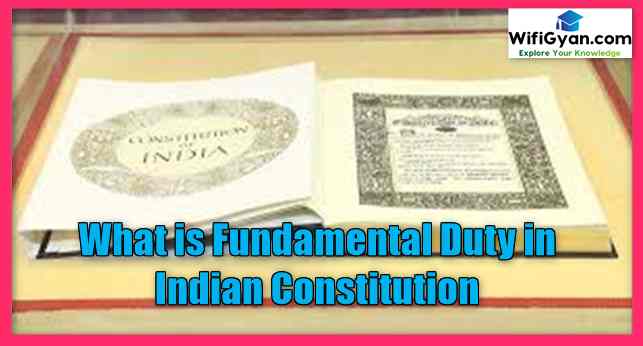 Borrowed features of Indian Constitution from other countries
What is Fundamental Duty in Indian Constitution:
There are a total of eleven fundamental duties in the Indian Constitution and just like every citizen has equal rights, they also have fundamental rights also to uphold other rights that are mentioned in Article 21 and also make sure that you do not violates these laws.
A person can not expect to enjoy all the freedom that is given in the Indian Constitution as Fundamental rights without performing their fundamental duties.  Now let's see those eleven fundamental duties and complete details about this.
Key points
Fundamental Duties
Covered Under
Part-IV-A & Article-51-A
Borrowed from
USSR
Amendments
42nd Amendment 1976 For Article 51-A

86th Amendment 2020 for 11th fundamental Duty.

 

Recommended by
Swaran Singh Committee.
List of 10 Fundamental Duties of Indian Constitution.
To oblige with the Indian Constitution and respect the National Anthem and Flag,
To cherish and follow the noble ideas that inspired the national struggle for freedom,
To protect the integrity, sovereignty, and unity of India,
To defend the country and perform national services if and when the country requires.
To promote the spirit of harmony and brotherhood amongst all the people of India and renounce any practices that are derogatory to women,
To cherish and preserve the rich national heritage of our composite culture,
To protect and improve the natural environment including lakes, wildlife, rivers, forests, etc and
To develop the scientific temper, humanism, and spirit of inquiry,
To safeguard all public property and
To strive towards excellence in all genres of individual and collective activities etc.
The 11th fundamental duties which were added by 86th Amendment ACT, 2002 stated that-
11. All the parents should send their children to school between age group- 6-14 for fundamental education.
What is Article 14 in the Indian Constitution and exception of Article 14
Explaining Fundamental Duties:
Under the Fundamental duties, Every citizen of India is responsible to build a better society and do not perform any anti-Social activities. India is a democratic country and we should help our country in all manner for the growth and make a better atmosphere around you.
It is important to follow the rules of the Indian Constitution and be a responsible constitution of India. If any citizen violates the fundamental duties of the Indian Constitution. He or she will be punishable under article 51 A and it will be considered as the National Dishonor.
The Supreme Court of India said in the recent judgements that if someone has a religious obligation and that can be placed above patriotism. The Indian Constitution doesn't force them to sing the National Anthem.
If the Central Government or state government doesn't provide a proper climate that elaborates the fundamental duties. In this particular Scenario, the Fundamental Duties are not legally enforceable. If any citizen of Indian violates any of these laws.
Indian Constitution Question Answer Pdf Download in English for Competitive Exams
Responsibility of Indian Citizens under Fundamental Duties:
All the citizens are responsible to educate their children specially the children who are under 14 years of age. Pollution has become a big problem for all of us. we all are responsible for this and it is our duty to maintain this. Our laws don't force to follow these rules but are our duty as a citizen of India.
To live a happy life, It is very important to follow the rules and regulation of the Indian constitution and make yourself a responsible citizen. There are separates laws have been made for each religion and under these laws, all the religion has been given equal rights. If any person is involved in any kind of anti-social activity, he or she will consider as a criminal and will be punished under the rules of violating fundamental laws.
The basic idea of forming this law is to protect people's liberty of citizens and maintain the social democracy of the country. we have fundamental rights that give us some special power and feel of a responsible citizen.  The fundamental rights are right to freedom, right to quality, right to freedom of religion, right to privacy, right to Constitutional remedies and cultural and educational rights.
Our Constitution Pdf, हमारा संविधान, सुभाष कश्यप Book Download
It is very important to maintain the dignity of the Indian Constitution and live beyond the law. There is rules are everything in the constitution. Be a responsible citizen of India and do every possible thing for your countries growth.