'What is the best study material for UPSC IAS exam preparation?', is the most commonly asked question by IAS aspirants. Books are an important source of material, required any exam. Thus, choosing the right study material is one of the major tasks to turn it into a useful resource.
As we know there are a plethora of books available in the market with the fake name of authors, therefore it is essential to choose the study material wisely. Here you will find a list of most important books which can be referred to while preparing for IAS 2019 exam.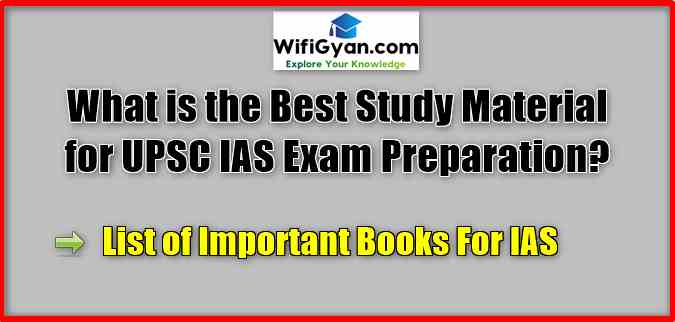 What is the Best Study Material for UPSC IAS Exam Preparation?
UPSC IAS Study Material:-
The basic concepts are almost the same in every book, but what makes the difference is the application of the concepts. Studying from the relevant book is one of the crucial things for an IAS aspirant. Therefore, to score maximum in every stage of an IAS exam follow the below-listed books recommended by the experts for an immense preparation of IAS 2019 exam.
List of UPSC IAS Books for Prelims:-
IAS Preparation Books – Here you will find a list of relevant books that can save your precious time and improve your preparation level. The following list of best books contains many of the basic NCERT and other additional books. Below is the list of books with an updated pattern of the examination with the detailed concept and of the examination. The list is as follows:
1. Geography:-
NCERT Class XI – Fundamentals of Physical Geography
NCERT Class XI – Physical Environment
Certificate Physical and Human Geography by Goh Cheng Leong
NCERT Class XII – Fundamentals of Human Geography
NCERT Class XII – People and Economy
2. History and Art & Culture
Ancient India: Class XI Old NCERT by RS Sharma to cover the entire syllabus of ancient Indian history.
Medieval India: Class XI NCERT History of Medieval India by Satish Chandra to cover the entire syllabus of medieval Indian history.
Modern India: A Brief History of Modern India by Rajiv Ahir.
Art & Culture: NCERT Class XI – An Introduction to Indian Art and Indian Art & Culture by Nitin Singhania.
3. Indian Polity and Governance by Laxmikanth:-
4. Economic and Social Development
Economy: NCERT Class XII – Introductory Microeconomics
Economy: NCERT Class XII – Introductory Macroeconomics
Indian Economy Key Concepts by K Sankarganesh
5. Ecology & Environment:-
Science: Class XII – Biology
Environment booklet by Shankar IAS Academy
6. General Science: Science & Technology by A. Singh
7. Current events of National and International Importance
Daily newspapers, either The Hindu or Indian Express.
8. Other Miscellaneous Books
Geography of India by M. Hussain
History of Modern India by Bipin Chandra
The Wonder that was India by Basham
India's Struggle for Independence by Bipin Chandra
Indian Economy by Dutta/Puri or Ramesh Singh
Manorama Yearbook
20 years IAS Prelims (CSAT) General Studies Solved Papers.
List of UPSC IAS Book for Mains Exam:-
1. General Studies – I
History and Art & Culture of India by Bipan Chandra.
Ancient India by RS Sharma
A Brief History of Modern India by Sujata Menon
Facets of Indian Culture' by Spectrum
Mastering Modern World History by Norman Lewis
Social Problems in India by Ram Ahuja
2. General Studies – II
Polity, Social Justice & Governance
Indian Polity by Laxmikanth
International Relations
India's Foreign Policy since Independence by V P Dutt
Challenge and Strategy: Rethinking India's Foreign Policy by Rajiv Sikri
Indian Economy by Mishra and Puri
Current Economic Survey
NIOS Study Material for Environmental Studies
3. General Studies – III
Economic Development
Indian Economy by Ramesh Singh
Biodiversity, Environment Technology
Security and Disaster Management
Challenges to Internal Security of India by Ashok Kuma
4. General Studies – IV
Lexicon for Ethics, Integrity & Aptitude for IAS General Studies Paper IV
Ethics, Integrity, and Aptitude for Civil Services Examination by G Subba Rao
Previous Year Solved Papers
Monthly Current Affairs
Gist of Yojana
Following the above-mentioned study material by heart and practicing them properly will improve your concepts and surely help you gain marks in the upcoming IAS 2019 exam.
Related Post:-
Must-See:- Important Books for IAS Exam, Aspirants Must Read It
Must-See:- Important Facts About Mahatma Gandhi-Download Notes in Hindi
For Better Preparation and Better Study material Please Visit Wifigyan.com on regular Basis. Here You will find all the books related to all subjects free of cost. My main aim to help the students who are not able to buy all the expensive books. if you guys want to appreciate my afford please share my post with your friends by which they can also avail my services.
Must-See:- Important Facts About Asia Continent Pdf For UPSC Download
Must-See:- UPSC Mathematics Optional Syllabus, For IAS Paper-I and II Pdf Download
Friends, if you need an eBook related to any topic. Or if you want any information about any exam, please comment on it. Share this post with your friends on social media. To get daily information about our post please Click The Bell Icon Which is Given Below.
Disclaimer
Wifi Gyan does not own this book, neither created nor scanned. We just provide the link already available on the internet. If any way it violates the law or has any issues then kindly mail us:
[email protected]